Peter Busby Waite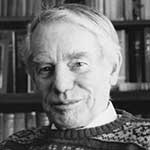 In 2018, at the age of 96, Peter Busby Waite (1922-2020) was still a man of stories. Living at Camp Hill Veterans Memorial Building in Halifax, he'd happily spend an afternoon spinning yarns about the past.
One such tale begins in 1986, as Dalhousie President W. Andrew MacKay was nearing the end of his term. He felt it was time the university had its history properly documented, and that P.B. Waite was the man to do so.
Dr. Waite was surprised by the ask: he was under the impression his esteemed colleague Judith Fingard had been approached with the assignment, given that her scholarship focused more directly on Halifax and Nova Scotian history. But she wasn't sure it was something she could tackle at the time, and so President MacKay turned to one of the university's longest serving and most acclaimed historians, asking him to do for Dalhousie what he'd done for the history of Canadian confederation: detail and document the character of its earliest years.
A World War II veteran educated at the University of British Columbia and the University of Toronto, Dr. Waite joined Dal's Department of History in 1951, and served as department head through much of the 1960s. His most famous work is likely 1962's Life and Times of Confederation, which in 1993 was named one of the top 20 works of the previous half-century in the Canadian social sciences. His follow-up Arduous Destiny, covering the decades immediately following confederation, was included as part of a special series marking Canada's centenary. He wrote in-depth biographies on three different Canadian prime ministers— Macdonald, Thompson and Bennett—and was an Officer in the Order of Canada.
But it wasn't just the scope of Dr. Waite's scholarship that made him an excellent choice to pen a history of Dalhousie—it was his tone. His best writing breathes vibrant life into the people that shaped the past, as if they are actors performing in dramas and comedies both great and small.
The resulting texts are titled The Lives of Dalhousie, with good reason: their plots are driven not by laundry lists of milestones and accomplishments, but by the complicated lives of the people that made them possible. And, oh, are they complicated: amongst the big events like world wars and building booms, you'll find stories of presidential feuds, illicit affairs and all sorts of departmental squabbles. ("Academic rows are almost as good as ecclesiastical ones," the author once said.)
No wonder it couldn't all fit in one book. "I wanted to write it in one volume," Dr. Waite recalls. "I thought anyone could write the history of a small university in one volume… But I hadn't written a page of the Dalhousie history when I knew I couldn't do it in one volume."
He also thought the entire project would only take him a few years; instead, it took more than a decade, with volume two not making its way to shelves until 1998. But the resulting books—engaging, heartfelt and humanistic—are not only a testament to Dr. Waite's talent, but sit proudly alongside his many other impressive contributions to our shared understanding of the past.