Norman Horrocks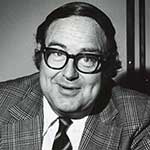 Norman Horrocks (1927-2010) never forgot a face. The professor, dean and school director considered the "lifeblood" behind library sciences at Dal, Horrocks was known for his ability to recall nearly everyone he encountered, whether at a conference of the American Library Association or in a hallway at a publishing house.
Was it a skill he'd learned as a spy in the British Army's Intelligence Corps during World War II? Perhaps. But it's also that whether as a mentor, an ambassador for library studies or just as a friend, he took great pride in his connections with people—a one-man social network, decades before the likes of Facebook existed.
Horrocks began his career in libraries in his hometown of Manchester, earning three degrees and working in libraries in England, Cyprus, Australia and the U.S. In 1971, thanks to a connection with a colleague, Horrocks joined the fledgling School of Library Service at Dalhousie. Instrumental in convincing the American Library Association (ALA) to accredit the Master of Library Service program, Horrocks was vital to the progress of library studies at Dalhousie, and eventually became dean of the Faculty of Administrative Studies (now the Faculty of Management).
He had a similar impact on the field of library studies more broadly, earning national and international renown. Horrocks was a strong advocate for the accessibility of information and for decreasing censorship. He argued for the blending of library expertise with management and business expertise — later a focus of Dal's interdisciplinary Faculty of Management — and embraced the use of computers to store and disseminate information.
Social, thoughtful and visionary, Horrocks did much to dispel the stereotype of librarians as what he called LOLITS: "little old ladies in tennis shoes." As he put it in 1982: "The great challenge to the profession now is the opportunity to make available knowledge . . . to take all that knowledge and link it to people."
Horrocks left Dalhousie for a job in the publishing industry in 1986, but returned to the university in 1995 and stayed until his retirement. Decorated with multiple awards, he was the first person to have been elected an honorary member of the Canadian, American and British national libraries and in 2006 was named an Officer of the Order of Canada.
Throughout his career, Horrocks never forgot the importance of what brings many librarians to the field: a love of books and information. While information science continues to progress, he said, "Books will be around for a long time."