Lucy Maud Montgomery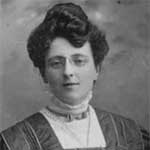 Lucy Maud Montgomery (1874-1942) looms large in the Canadian literary canon. Born in Clifton, PEI, she published 20 novels in her lifetime, along with 530 short stories, 500 poems and 30 essays.
But it's Montgomery's series of novels starting with Anne of Green Gables in 1908 that made her an international phenomenon. With the possible exception of Superman, no fictional character of Canuck creation comes close to rivaling the international fame of Anne Shirley, Montgomery's red-haired orphan girl who came to call the Prince Edward Island town of Green Gables her home. That first book has remained in print for over a century, selling more than 50 million copies in 20 different languages and helping make Prince Edward Island an international tourist destination.
Montgomery came to Dalhousie when she was 21, and only for a single year (1895-96). While her cousin Murray McNeil (later, a Dal math prof and longtime university registrar) was able to study with a scholarship, Montgomery was not — a pointed fact in their tiny rivalry of sorts. Montgomery had to scrimp and save her teacher's salary over two years to afford her short time in Halifax, during which she studied in what is now the Forrest Building and lived at the Halifax Ladies College.
But that one year had a great influence on her artistic legacy that followed. The enthusiasm of Montgomery's English literature professor, Archibald MacMechan, sealed her decision to become a writer. She honed her skills, regularly submitting stories, poems and essays to the Dalhousie Gazette and other publications in Halifax and abroad.  And she later drew heavily on her Dal experience for her 1915 novel Anne of the Island, in which a fictionalized "Redmond College" stands in for Dalhousie, complete with the Forrest Building and its "big staircase of the entrance hall."
During Montgomery's time on campus, the idea of women in higher education was not without controversy, even more than a decade after Dalhousie first began admitting female students. That's why in 1895 she wrote "A Girl's Place at Dalhousie College," first published in the Gazette and later in the Halifax Herald. In it, she argued that a woman should pursue education not just for a job or a career, but "to prepare herself for living, not alone in the finite but in the infinite. She goes to have her mind broadened and her powers of observation cultivated."
Montgomery's final contribution to the Gazette came more than four decades later in 1939, three years before her death at age 67. Her essay offered guidance to Dalhousie students seeking to become writers. After a few hundred words of thoughtful, kind advice, she offered her closing thoughts in all caps: "KEEP ON TRYING."