John Stewart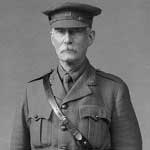 The First World War still resonates as one of history's deadliest conflicts. As millions of men and women joined the war effort, it's no surprise that an urgent call was made for medical personnel to treat wounded on the front lines.
Dalhousie University and its community answered that call by forming the No. 7 Stationary Hospital to serve in Europe. The unit included surgeons, physicians, nurses, and support staff—all volunteers, and many of them Dal students. And their leader was Dalhousie Medicine faculty member Lt. Col. Dr. John Stewart (1848-1933).
Dr. Stewart was born in Black River, Cape Breton. Trained in medicine at the University of Edinburgh, he subsequently earned his MD at Dal in 1877, after which he practised in Pictou, Nova Scotia, and then in Halifax as a prominent surgeon. In his impressive career that followed, he served as president of several prominent organizations including the Canadian Medical Association, the Medical Council of Canada and the Medical Society of Nova Scotia.
Do the math and you'll realize that Dr. Stewart was not a young man when in 1915 he took command of the No. 7 Stationary Hospital. But even at the age of 67, he was still known as one of the foremost surgeons in the country, a reputation that drew others to volunteer to join the hospital. And so, at a time in his life when most would be considering retirement, Dr. Stewart was heading to the western front.
Under Dr. Stewart's command, the hospital arrived in France in June 1916, and served in five locations around the country until February 1919. Its most important work was in "evacuation zones," where the wounded were stabilized and repaired. It was here that the No. 7 Stationary Hospital, under Dr. Stewart's instruction, treated injured soldiers from both the Allied and German forces. In a time when tensions against Germans were at their highest, Dr. Stewart's professionalism and resolve to help others was never stronger. After the war, in honour of his service, Dr. Stewart was decorated with the Commander of the Order of the British Empire.
He returned home to Canada in 1919 to a well-deserved retirement… just kidding. That year, he was appointed dean of Dalhousie's Faculty of Medicine. His 13 years in the role were marked by a period of development, building and expansion. Through generous donations — notably, $1 million from the Rockefeller Foundation and Carnegie Corporation — Dalhousie became recognized as a Class A Medical School by the American accreditation system.
Dr. Stewart passed away in 1933, only a year after he stepped down as dean. From his practice, to the Western front, to the halls of Dalhousie Medical School, he packed enough experiences into those 85 years to span several lifetimes — guided, from the beginning, by his unstoppable spirit of service.
Related links
Dalhousie University Archives
Dalhousie Medical Journal