Izaak & Dorothy Killam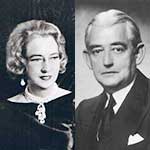 If Izaak Killam (1885-1955) had his way, one of Dalhousie's most important buildings may never have been built. Although the Yarmouth, N.S.-born financier-cum-philanthropist and his American-born wife, Dorothy (1900-1965), were both passionate about supporting universities in Canada, Izaak was against putting money into capital projects such as buildings.
But Dorothy felt strongly about a memorial to her husband after his death on a Quebec fishing trip in 1955 and, in 1964, committed $8 million in her will towards the construction of the Izaak Walton Killam (IWK) Children's Hospital in Halifax. She died a year after announcing that commitment, but not before she had a chance to talk with Dal President Henry Hicks about her desire to contribute to a second building in Halifax — this time, at his university. The Killam Memorial Library was the result.
The Killams built their fortune in the financial industry, initially, and later developed major investments in pulp and paper, and electricity providers. Dorothy inherited Izaak's $83-million estate and built upon it substantially over the  decade after his death.  She made tens of millions by selling shares in some of the companies her husband had invested in, and continued to grow the fortune through savvy investments in short-term bonds.
While the Killam Library may be the most obvious physical reminder of the couple's Dal legacy, it's the academic trusts established by Dorothy's nearly $100-million estate that have been truly transformative for Dal and other post-secondary institutions across Canada. Dal's portion of what became known as the Killam Trusts — built on a $30-million gift from the estate — established academic chairs, a salary fund and new graduate scholarships. It allowed Dal to attract scholars from around the world and helped transform the university into the research powerhouse that it is today.
The Killams lived large — as evidenced by their many homes, Dorothy's $4-million collection of diamonds and pearls, and investments in major league baseball — but their commitment to giving back to society was every bit as large. The remainder of their estate was split primarily among three other Canadian universities, a neurological research institute and the Canada Council for the Arts, which provides prizes and fellowships to scholars in the health sciences, natural sciences, engineering, social sciences and humanities.
Flash forward more than 50 years, and Killam Trusts remain one of the only private, philanthropic trusts for higher education in Canada; as of 2015, they have benefitted more than 6,000 individuals across the country. The buildings that bear the Killam name might not be to Izaak's taste — were he alive to see them — but he'd doubtlessly be impressed by the incredible scholarship and research his fortune has made possible.
Related links
Dalhousie University
Killam Laureates