George Elliott Clarke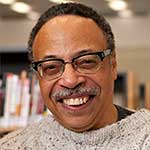 The tiny rural community of Weymouth Falls sits on the banks of the Sissiboo River in a far-flung southwestern corner of Nova Scotia. Best known as the birthplace of world-renowned boxing great Sam Langford, the predominantly African Nova Scotian village also served as muse for Black Canadian writer George Elliott Clarke (1960-present), who channelled the spirit and vernacular of the community into the 1990 book-length poem, Whylah Falls.
Those who'd been paying attention four years earlier when Dr. Clarke was a master's student in English at Dalhousie would have been given a glimpse into the genesis of the epic poem, now regarded as a Canadian literary classic, in the pages of the student newspaper. "Weymouth Falls, founded in 1815 by Black Refugees, is a village in Digby County," reads an introduction to a poem by Clarke in a December 1986 issue of the Dalhousie Gazette. "It is a snowy northern Mississippi, with blood, not on magnolias, but on pines, lilacs and wild roses. This homespun spiritual is one of its first songs."
Dr. Clarke, raised in Halifax, had worked in Weymouth Falls and other rural communities like it as a social worker prior to returning to school at Dal in his mid-20s. (He had previously earned his BA at the University of Waterloo). He says the experience was an "incredible introduction to the beauty of African Nova Scotian . . . speech, and the stories, and the folklore, and the songs" and instilled within him a desire to acknowledge the richness of the language in poetry.
At Dal, Dr. Clarke began to develop the distinctive lyrical style that has come to characterize his body of work. Flip to the acknowledgements in any of his books and you'll find the name John Fraser, the Dal poetry professor Dr. Clarke credits for changing his academic career and making him a much better poet.
Dr. Clarke soon left Nova Scotia to do a PhD at Queen's University and has worked as a professor at universities outside the province for much of his career, including the University of Toronto and Duke University. While geographically removed from his home province, his literary output has remained largely focussed on exploring the history and cultural geography of "Africadia" — a term he coined to refer to the often-marginalized communities in Nova Scotia and New Brunswick built by the descendants of Black Loyalists and African-American slaves.
Dr. Clarke has won praise for tackling issues such as racism, oppression and change in his poetry, and as Canada's Parliamentary Poet Laureate (2016-17) and a member of the Orders of Canada and Nova Scotia — as well as a Dal honorary degree recipient — he gained a broader audience than ever. But even in the pages of the Gazette all those years ago, you'll find evidence that his would be a unique voice in the Canadian literary landscape, chronicling untold stories of love and grief in verse.
Related links
Audio
Poems
Dalhousie Gazette
Dalhousie Alumni
University of Toronto