Fred & Elizabeth Fountain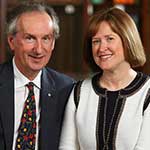 Their names are synonymous with the visual and performing arts, with higher education and medical research, with mental health and youth advocacy.
But for philanthropists Fred (1948 – present) and Elizabeth (1958 – present) Fountain, their support of Dalhousie — and of the performing arts, in particular — combines elements of all the causes they are passionate about.
Indeed, the transformation sparked by their $10 million gift that established the Fountain School of Performing Arts in 2013 has benefitted not only the university but the entire region, positioning the Dalhousie Arts Centre as the primary talent incubator on Canada's East Coast.
"There is an ongoing drive to put more money into science, technology, engineering and medical research — and we have supported and continue to support most of those areas," says Mr. Fountain (LLB'74, LLD'00), a dedicated volunteer and community champion, who served two terms as Dalhousie's chancellor. "However, the arts also play an important role in lending creativity and critical thinking to the more traditional science-based disciplines."
"We all benefit from the arts," adds Mrs. Fountain (LLD (Kings)'12). "They bring such beauty into our lives."
Growing up in the community of Spryfield, Mrs. Fountain recalls a childhood filled with music. Her father sang in a barbershop quartet and her oldest brother (a teacher by training) is a lifelong musician. "I really do have a soft spot for musicians," she admits. "I understand that desire to perform; the sheer joy that comes with performing."
The Fountains' belief in the healing power of the arts is informed, in part, by deep personal tragedy. Their son, Alex, committed suicide in the summer of 2009, just as he was about to enter his fourth year of studies at the University of King's College. "Alex's passion was music," says Mrs. Fountain.  "As a student, he was always involved in musical groups and he took his guitar everywhere with him. It was a huge part of his life."
With their daughter Katharine also an accomplished musician, the Fountains have always been keen supporters of the arts, actively involved with Neptune Theatre, the Art Gallery of Nova Scotia and the National Arts Centre to name a few. They are familiar faces at the Dalhousie Arts Centre, regularly attending performances and getting to know the students by name. Their support of Dalhousie is longstanding and distinguished, with many awards and honours recognizing their generosity. That support continues in 2018, in their role as honorary co-chairs of Dalhousie's Performing Arts Campaign and with their $2 million gift to the capital project.
Looking ahead, Mr. Fountain says he would like his personal legacy to be that he was an engaged contributor who always had the university's best interests at heart. The Fountain School of Performing Arts is certainly a fitting testimony to that legacy.
Related links
Audio
Dalhousie Alumni