Ford Doolittle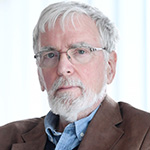 For much of his storied 40-year career, Ford Doolittle (1941-present) has split his time between experimental work in evolutionary biology and what he calls "theoretical interventions."
"I like to come up with ideas I think will be wildly unpopular and try to promote them," he explains with a wry laugh. "Sometimes I'm successful, and sometimes I'm not."
Those interventions haven't always made friends. Dr. Doolittle has frequently challenged traditional ideas of how scientists believed DNA and the human genome worked. In the 1970s, he worked to prove the then-controversial "endosymbiont hypothesis" for the origin of chloroplasts. A decade later he proposed that most DNA is "selfish" or parasitic, its primary purpose being to make copies of itself. And then, at the turn of the millennium, Dr. Doolittle argued for gene-swapping as the driving force in early evolution, figuratively tearing down Charles Darwin's "tree of life" as failing to account for two-thirds of life's history on Earth.
Each of these theories sparked intense debate and criticism from his fellow scientists. And each time, science has eventually proven Dr. Doolittle right. Today, his ideas are widely accepted as core tenets in how we understand and study the very building blocks of life.
DNA was a fresh and novel field when Dr. Doolittle arrived at Dalhousie in 1971 after completing his PhD at Stanford. His decision to eschew his previous postdoctoral research in biochemistry to study cyanobacteria (often better known as "blue-green algae") was the start of a journey that would make him a leading evolutionary biologist — not just in Canada, but the world. From the endosymbiotic origin of plastids to the origins of eukaryotes, Dr. Doolittle has published more than 270 studies across his career, and his leadership of the Canadian Institute for Advanced Research's Program in Evolutionary Biology propelled Canada to global leadership in the study of the early origin of cells.
In 2013, Dr. Doolittle received perhaps Canada's highest recognition for scientific research: the Gerhard Herzberg Canada Gold Medal from the Natural Sciences and Engineering Research Council of Canada (NSREC). He was the first researcher in Dalhousie history — and the first from any university east of Quebec — to receive the prestigious $1 million prize, which recognizes career achievement in the sciences.
"I was surprised, in a way, to get it, because normally these science awards go to people who've discovered something, or developed a cure for something," he says, modestly. "I've discovered some things, or proved some things, but they're generally much more arcane — evolutionarily interesting, but not necessarily practically important."
Yet it's practically impossible to imagine the study of DNA looking the same without Dr. Doolittle's provocations — evidence of a truly original thinker.
Related links
Audio
Dalhousie Gazette