Essy Baniassad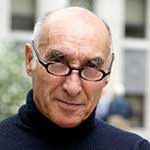 For Iranian-born Essy Baniassad (1936-2023), architecture was always about much more than creating buildings and structures.
"It was a very rich basis for studying life and getting an education," said the former dean of what is now Dalhousie's Faculty of Architecture and Planning.
Linguistics, science, technology and literature all figured prominently in Dr. Baniassad's own education and inspired him throughout his career to re-imagine what architectural education might look like. At Dal, he found particularly fertile ground to explore his unconventional ideas.
"I found a special cultural and intellectual atmosphere at TUNS [Technical University of Nova Scotia] and then Dal that was exceptionally conducive to fresh thinking and clear-sighted objectives," said Dr. Baniassad, who joined the architecture school as a full professor and dean in 1980.
Over the course of the next 20 years (14 of them as dean), Dr. Baniassad transformed the school into a national leader with international profile. Under his watch, TUNS launched its own architectural publishing house and became the first school in Canada to split its traditional five-year program into two parts leading to a Master of Architecture degree, a move other universities later followed.
Dr. Baniassad also led a number of international development initiatives, sending students abroad to work on projects ranging from creating housing cooperatives in Colombia to constructing disaster-resistant apartments in Peru.
It was a proposal from the Government of Botswana in the early 1990s, though, that spurred Dr. Baniassad's most ambitious initiative of all: the TUNS-Botswana Architectural Education Project.
The southern African country was having difficulty finding architecture placements for its students abroad at the time, and Dr. Baniassad agreed to create a special program to lend a hand. Thirty-two students passed through the program during its 20 years of existence (1992-2012), who each went on to teach and practise in Botswana.
"We designed the courses so that our students would be studying more than just architecture. They would be studying how to go back home and use the knowledge they had gained to teach others," Dr. Baniassad said in a 2012 interview as the program was winding up.
In 2003, Dr. Baniassad — who left Dal three years earlier to work in Hong Kong — helped the University of Botswana set up its own architecture program, which eventually reduced the need for students to travel abroad.
Dr. Baniassad remained committed to architectural education. After leaving Dalhousie, he was an adjunct professor at the Chinese University of Hong Kong and continued as an adviser to the University of Botswana. Reflecting on his drive to help students and others push architecture forward, Dr. Baniassad recalled the feeling of anticipation he used to get when hiking in the mountains of Iran as a child.
"I remember . . . looking up and thinking, 'Oh, this in front of us is the top,' only to reach that and realize there were many other peaks beyond," he said. "This was always a lovely feeling of never-ending peaks. Life seems to be exactly like that."