David Precious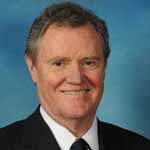 David Stanley Precious (1944-2015) arrived at Dalhousie in 1961 as a fresh-faced 18-year-old from Ottawa to study science and play varsity football. In Halifax, he not only found a home and a vocation — he found a passion that would improve the lives of children around the world.
Dr. Precious's path to becoming an internationally renowned educator, humanitarian, philanthropist and oral and maxillofacial surgeon started with his BSc in 1965, followed by a Doctor of Dental Surgery degree in 1969 (with the University Medal in Dentistry). He then became Dal's first resident in the university's new MSc in Oral and Maxillofacial Surgery. Shortly after graduating in 1972, he returned to Dal to teach, becoming chair of the Department of Oral and Maxillofacial Surgery in 1985 and, in 2003, dean of the Faculty of Dentistry.
But it was a chance encounter at a conference in New York in 1995 that changed Dr. Precious's life and expanded the scope of his work globally. He met Dr. Nagato Natsume, director of the Japanese Cleft Palate Foundation, and they discovered a shared humanitarian view of their profession.
Oral and maxillofacial surgeons treat many diseases and injuries of the head, neck, face and jaws. They also treat birth defects such as cleft palate and lip, which occur when a baby's lip or mouth do not form properly during pregnancy. Children who lack access to treatment for these defects often have trouble feeding and speaking clearly, may have problems with their teeth and hearing, and are frequently teased and bullied because of their appearance.
Dr. Natsume invited Dr. Precious to join a Japanese delegation of surgeons travelling to a remote island in Vietnam to operate on children with cleft lip and palate.
"I was so enthused [after the trip]," Dr. Precious later recalled. "I came back to Dalhousie and told the department I'd like to do this in a more formalized way. We became partners of the foundation and started sending delegations of surgeons to Japan, Vietnam and Tunisia to perform surgeries and train surgical residents."
For more than 20 years, Dr. Precious took time to travel to those countries, and others like India and Brazil, to treat cleft palate and lip, and train others to do the same. Through to this day, faculty members from the Faculty of Dentistry continue to go on annual outreach missions to Vietnam to operate on children and train surgical residents.
In addition to his humanitarian activities, Dr. Precious published and spoke widely. He served as president of the Nova Scotia Dental Association and chief examiner of the Royal College of Dentists of Canada, among other leadership roles. He received the Order of Canada, the Canadian Dental Association's Medal of Honour and two honorary degrees, including one from Dalhousie in 2013.
He also received many offers to work elsewhere, but through until his death from leukemia in 2015 at the age of 70, he remained committed to Dalhousie and Halifax, seeing it as an ideal environment for his teaching and humanitarian work. "I really love the atmosphere at Dalhousie and the Maritime way of life… I found a home."
Related links
Dalhousie University
Canadian Dental Association Journal