Alfred Waddell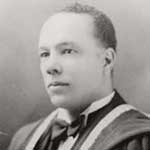 For many people, leaving home represents the beginning of a personal journey — the search for better life and self fulfilment. But for Alfred Ernest Waddell (1896-1953), his journey from Trinidad to Halifax, Nova Scotia, was also motivated by a desire to better the lives of others.
His vehicle for doing so: a medical education. In the late-19th and early-20th centuries, Dalhousie attracted a small but notable population of students from the British West Indies. Waddell followed in their footsteps, immigrating first to the United States with his wife in 1923 and, then, five years later enrolling in Dalhousie Medical School. He became one of its first Black graduates in 1933.
Life in Halifax was not easy for Waddell and his family, including his four children, after his graduation. They faced not only racism, but were perceived as outsiders by Black and white communities alike. Yet Waddell found allies in the city's growing Chinese community, whose members were among his first patients. And over time, the man with a mild and kind personality dedicated his career to providing medical services to isolated people and communities.
Waddell also dedicated his life to fighting systems of oppression and speaking out against racial injustices. He lobbied the city to provide isolated communities with basic amenities such as heating and plumbing. Although his advocacy was not always well received by local governments, the care and compassion he provided patients, coupled with relentless efforts to advocate on their behalf, earned respect and local renown.
Waddell and his wife always intended to return to Trinidad at some point but, as their family grew, their ties to Halifax strengthened and they kept finding reasons to stay. Waddell died in his adopted home of Halifax in 1953, at the age of 57. Those family ties stretch not only across Halifax, but into the Octagon: UFC fighter Ronda Rousey is his great granddaughter.
Despite having not returned home to Trinidad as originally planned, Waddell made a huge difference in the lives of Haligonians from all walks of life through the power of education —becoming a beacon of hope and inspiration in the process.
Related links
White Pine Pictures (video)