Dean's Message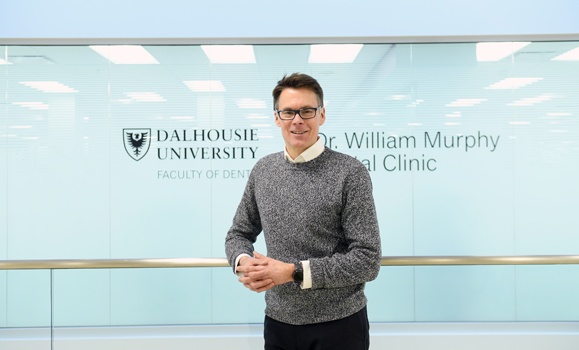 We are delighted to welcome summer, with the prospect of some time off to enjoy the good weather, and to celebrate what we hope is the beginning of the end of the COVID-19 pandemic.
Of course, things never truly stop in the Faculty of Dentistry – even in the summer! Our DDS3 and DDH1 students have been working in the clinic and are now taking a well-earned break until August 23. Three new GPR students started their programs in June. Debby Chao and Catherine Murphy scarcely had time to let the ink dry on their DDS degrees before starting and Jace Watson had the added challenge of finishing off his paediatric GPR at the same time as starting his second GPR program with us. In the 2021-22 paediatric GPR program, we welcome Eibhlin Storey, who graduated from Western Ontario, and Rachel Korman, a graduate of McGill University.
Two first-year periodontics residents, Mahmoud Elian and Haider Hussein, have also joined us. Mahmoud studied dentistry and prosthodontics in Baghdad, Iraq, and worked as an adjunct clinical professor in prosthodontics at Western University before joining us. Haider comes to us from the UK, where he studied dentistry and periodontics before working as an associate dentist in Bradford. We are pleased to welcome them both. In OMFS, Amr Alsabbagh joined the six-year residency program after spending last year as the department's oral surgery intern. Abdul El-Rabbany is our new OMFS intern for the next 12 months.  
New faculty members
As we prepare for in-person teaching in the upcoming academic year, we are delighted to welcome three new faculty members to the Dentistry Building, including our first ever Canada Research Chair, Dr. Anjali Sharma. A polymer chemist, Dr. Sharma joins our Department of Applied Oral Sciences. She is joined in AOS by Dr. Locke Davenport Huyer, a chemical engineer with postdoctoral research in immunology. Our third new faculty member is Dr. Violet D'Souza, a dental public health specialist who is joining our Department of Dental Clinical Sciences. We look forward to meeting them in person and working with them.
Even though our clinics are relatively quiet for much of July and August, our staff are still busy assembling student kits, updating computer systems, inspecting and repairing equipment, and carrying out other maintenance activities. Faculty members spend the "down time" updating and preparing their courses for the next academic year and continuing their research activities. Someone who does one of the hidden jobs in our Faculty is Dal music student Megan Clark. She is normally to be found picking up laundry and sorting clinic coats, but she also has some exciting news.
Online graduation celebration
The 2020-21 academic year was wrapped up on June 2 with an online celebration for the class of 2021. We plan to hold a convocation ceremony when in-person events are possible again, but until then, we were pleased to get together with all our graduating students, their friends and families, to celebrate their tremendous accomplishment.  Our virtual event included the reading out of all our grads' names, Moe Alshateel (DDS'21) and Meghan Nazer (DDH'21) gave their valedictory speeches, the winners of the W. W. Wood Award and the newly created Above and Beyond Award were announced, and the Dr. David Precious Gold Medal in Dentistry was presented to Debby Chao. You can watch the celebration on YouTube.
June – National Indigenous History Month – was also a sombre month. The whole country was appalled to learn about the discoveries of the graves of Indigenous children at former residential homes in British Columbia and Saskatchewan and to hear of the attack on a Muslim family in London, Ontario.  My message to everyone is that we must redouble our efforts to make our Faculty and profession a place where racism and discrimination have no place. We cannot undo what has happened in the past, but we can make sure our future is different. We do this by starting where we are, with the people around us. We must ensure that our Faculty is a safe and welcoming environment to all who learn, work, and receive care here. I urge us all to do the same, starting by reaching out in friendship and care to those around us. We must commit in our day-to-day work to listening to our patients and trying to understand their lives. It is also essential that, in our role as professionals and leaders, that we recognize our duty to be aware of, and respond to, incidents of injustice whenever we see them.
Looking forward to September
In my September Dean's Message, I'll report on our return to campus, the launch of our strategic plan, and other plans for the term. In the meantime, please mark your calendars for September 23-25, when we will celebrate Homecoming Weekend through a mixture of virtual and in-person events, including our White Coat Ceremony, the JD McLean lecture with speaker Rick Guidotti, a Live@5 event, a full day of continuing education, and the presentation of our Outstanding Alumni Awards.  More details will follow.
If you have any questions for me, please send them to dean.dentistry@dal.ca. I will be pleased to answer them in a future Dean's Message.
Ben Davis
Dean, Faculty of Dentistry
Dean's Message - May 2021
The end of another academic year is drawing to a close, and what a year it has been! As I write this, Premier Iain Rankin and Dr. Robert Strang have announced that our current restrictions have been extended to the middle of June. We ended 2019-20 in lockdown, never dreaming that we would be in the same position again this year.
Without question, it has been a challenging time – for students, faculty, staff, and all our alumni and other oral healthcare providers who are working to operate clinics safely. I think we all learned a lot from the early stages of the pandemic last spring and now have plans – and back-up plans! – in place to enable us change direction quickly and respond to new restrictions.
Here in our Faculty, I'm pleased to report that, apart from a couple of brief shutdowns and some adjustments to accommodate new restrictions, our clinics have remained open this academic year, enabling students to complete their clinical requirements and provide patient care.
I am immensely proud of – and grateful to – all our students, who have worked tremendously hard, treated their patients and colleagues with compassion and respect, stepped up to volunteer wherever possible, and maintained their sense of humour throughout this time, even when many were not able to return home for the Christmas holidays.
I am truly sorry that we are not able to celebrate our grads at an in-person convocation ceremony – again – this year. However, we have been planning behind the scenes and an online celebration is scheduled for June 2, 5:00-7:00. We hope you will be able to attend. Please save the date and a link to the celebration will be made available later. If you follow our social media accounts, starting next week you will see posts about the award winners from our graduating classes.
Some of the major news from the Faculty includes the upcoming retirements of Drs. Mary McNally and Blaine Cleghorn. Dr. Mark Filiaggi has been appointed the new associate dean of research and graduate studies to replace Dr. McNally, and Dr. Tammy Wright is taking up Dr. Cleghorn's role as the associate dean of clinics.
I am also pleased to announce that the title of professor emeritus has been conferred upon Drs. Bob Loney and Reg Goodday. Just last month, Prof. Shauna Hachey from the School of Dental Hygiene, and Dr. Rebecca Affoo from the Faculty of Health, both Healthy Populations Institute scholars, hosted Open Dialogue Live. This discussion on oral health and the barriers to care across the lifespan featured many faculty and alumni. You are still able to watch the discussion on YouTube.
Our third-year student, Rebecca Marr, recently received a 2021 Impact Award for her contributions to the Faculty of Dentistry, and her classmate, Hannah MacDonald, received the original research award at this year's Research in Oral Health Student presentations in March. A full list of winners is available here.
Looking ahead – which we must continue to do, despite the pandemic! – I hope to see many friends, colleagues, and alumni at the Atlantic Virtual Dental Convention on June 10-12. I'll be speaking on the evening of June 11 at the reunion event.
Of course, we always have plans and ambitions for the Faculty of Dentistry, all of which have one end goal: to teach our students the latest and best oral health care sciences and methods using the most efficient and up-to-date equipment so that our patients receive the best possible care. To that end, we are beginning to see the impact of some new digital dentistry equipment in our labs and clinic. It is a great start, and we hope that supporters will continue to partner with us to bring in more of this equipment, which will make such a difference to both our students and patients.
Some of you may have been involved in the strategic planning sessions we held over the past several months. This process has helped us to think big about our future as a Faculty and to sharpen our focus on the priorities that matter most to us, including research, oral health care outreach, the student experience we provide, and the ways in which we can transform our Faculty so that we are able to provide the highest levels of oral health care to the widest range of people in our community. We are in the final stages of gaining approval for our strategic plan and will be able to make it widely available this summer.
My last Dean's Message, written shortly after I took up the role of dean in 2018, had acquired a few cobwebs. My plan is to update you every two months on the latest developments in the Faculty. This message will be shared widely, including in the alumni newsletter, The Current, through our internal newsletter, The Loop, and via social media. If you have any questions for me, please send them to dean.dentistry@dal.ca. I will be pleased to answer them in a future Dean's Message.
Ben Davis
Dean, Faculty of Dentistry
Dean's Message - January 2018
It gives me great pleasure to welcome you to the Faculty of Dentistry. I want you to know that you are all – students, faculty, staff, and alumni – part of a collegial and caring community here at the Faculty of Dentistry.

I was honoured to be appointed dean of the Faculty, beginning on January 1, 2018 for a five-year term. This is a great privilege for me and I am pleased to be able to lead the Faculty over the next few years.

For those of you who don't me, I am an oral maxillofacial surgeon and have been on the faculty here at Dal for 20 years, most recently as the chair of the Oral and Maxillofacial Sciences Department. I received my dentistry and surgery training at the University of Western Ontario and the University of Toronto respectively. Although I didn't study dentistry here at Dal, my experiences elsewhere have made me keenly aware of what an extraordinary education our students receive here.

A special year lies ahead. Not only will our clinic renewal project draw to a close in early 2018, but next year also marks the 200th anniversary of Dalhousie University. It is fitting that these two milestones should coincide and provide us with many opportunities to celebrate both the Faculty's and university's achievements.

My plan for the year ahead is to continue with the projects Dr. Tom Boran, our past dean, was working on, including the re-opening of the renovated clinic early in 2018 and maintaining and extending our wide-ranging outreach program, which is a particular passion of mine.

I look forward to working with you to uphold and extend our mission to provide quality education, carry out research, and to serve our communities.
Dr. Ben Davis