Dean's Message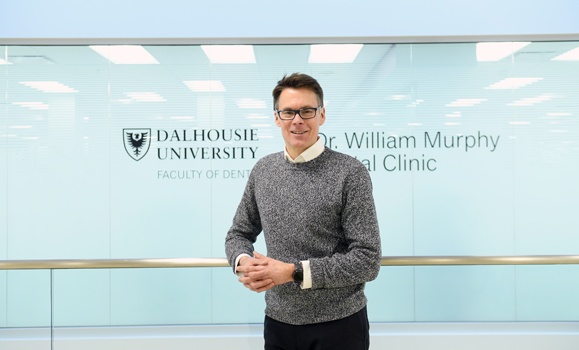 February 2023

It's that time of the year! Pacific Dental Conference is coming up March 9-11. Our fourth-year dentistry students are girding themselves for board exams, and our third-year DDS and second-year DDH students are preparing their posters and presentations for the Research in Oral Health Student Showcase on March 24. Plus, our CDAC Accreditation Survey visit will take place March 27-31. In short, things are busy – but that's a good thing.

We are really looking forward to connecting with alumni at PDC after a long absence because of COVID-19. We have an east coast-themed reception planned on March 9 and we hope to see as many of you there as possible. We have been working hard on a video about the priorities for the Faculty of Dentistry and we look forward to sharing that with you – you'll be our first audience.

During the spring and summer we will be on the road – and in the air – to the Ontario Dental Association Conference in May, to New Brunswick, PEI, and Newfoundland, and we also have a visit to Alberta planned in the autumn. Dr. Leigha Rock, director of the School of Dental Hygiene, and I look forward to providing you with an update from the Faculty and having an opportunity to catch up with all of you.  Watch for your invitations!

Closer to home – but accessible to all – is the upcoming Open Dialogue Live (ODL) event on February 23, 6:30-7:30 PM (AST). This event is being held in Theatre C of the Sir Charles Tupper Medical Building and online. This is an opportunity to listen to four panelists, moderated by Dr. Brenda Merritt, dean of the Faculty of Health, speak about how they are working to address global gaps in health care. On the ODL panel are Drs. Brendan Leung and Leigha Rock from the Faculty of Dentistry who will speak about their efforts to diagnose and treat cancer. Registration is free but required for both in-person and online attendance.

As always, our faculty and staff are busy making us proud. At the end of January, the Atlantic Canada Opportunities Agency (ACOA) was in the Faculty of Dentistry to announce loan funding of $948,750 for ClearDynamics Inc., a company co-founded by Dr. Danny Boyd. The loan will support pre-clinical trials of its drug-free pain management solution aimed specifically at knee osteoarthritis. The treatment involves injecting tiny irradiated beads into the bloodstream where they block the pain receptors associated with osteoarthritis and then naturally degrade in the body. Dr. Boyd is an associate professor in the School of Biomedical Engineering and the Department of Applied Oral Sciences. He is also the founder of IR Scientific, which has devised a new way to treat sensitive teeth, also using glass particles.

I am also delighted to report that Dr. Blaine Cleghorn is this year's winner of the ACFD Distinguished Service Award. Established in 2008, the ACFD Distinguished Service Award recognizes individuals or groups who have made significant contributions to teaching, research, or service within dental education in Canada.  The award is not presented every year, but only when the contributions of an individual or group warrant it. To be deemed worthy of this award is a tribute to Dr. Cleghorn's contributions to dental academia, research, teaching, and the broader dental profession. It also recognizes his leadership and commitment to dental academic across Canada and reflects the esteem and admiration in which he is held by his peers. The award will be presented at the ACFD's annual general meeting in Vancouver on March 10.

We always enjoy seeing our faculty members and alumni receive awards. In that spirit, I encourage you to think about nominating someone you know for a Faculty of Dentistry Outstanding Alumni Award. The deadline for nominations is May 1, 2023.

As always, I welcome your comments and feedback. If you have any questions, I would be delighted to answer them in a future Dean's Message. You can email me at dean.dentistry@dal.ca.
Ben
Dr. Ben Davis
Dean, Faculty of Dentistry




Dean's Message - December 2022
December 2022
The end of 2022 and the drawing to a close of the term seem like the perfect opportunity to look back on the past few months here in the Faculty of Dentistry – both the challenges and the highlights.
Some of the challenges will be familiar to you: COVID-19 is still with us and has been joined by the flu and RSV. Earlier in the term we had to work around a couple of new holidays on relatively short notice, Hurricane Fiona played havoc with our Homecoming weekend in September, and there have been power outages and some difficulties with our information systems. And like so many of us, the Faculty is dealing with rising costs and difficulties in obtaining supplies.
I mention this as a backdrop to the wonderful achievements and triumphs we've been able to pull off, despite some adverse conditions.
In September, despite Hurricane Fiona, we managed to officially name our new paediatric and adult special needs clinic and present Dr. Theresa Chiang with her Outstanding Alumni Award. There is still a lot of work to be done before we begin taking patients, but we should all be proud that we have this new – and much-needed – facility that will eventually be helping these patients. Watch out for updates in the New Year.
In October, seven of our students received QE II Foundation Diversity in Health Care Bursaries. From speaking with these students, I know how much it means to them to be recognized in this way.
The School of Dental Hygiene received a trio of awards from the Canadian Journal of Dental Hygiene: the award for best original research article, on which Leigha Rock was an author; the research award for best literature review, won by Kim Haslam and two former students - Kelsey Henneberry and Shannon Hilland; and BDH student Jessie Yang won the student writing competition in the best essay category.
Jessie also won the CADR-NCORH Student Research Award Competition (junior category) for her summer research project. She will present her research at the 2023 AADOCR/CADR Annual Meeting in Portland in March.
At the Legacy Awards in November, our Faculty received three awards. Drs. Brendan Leung and Danny Boyd collected President's Research Awards for their work and Angela Pitman received the Gladys Littler Award.
At the end of November, Dr. Cristiane Maucoski, a PhD student from Brazil who worked with Richard Price for 11 months, won the 2022 Mitacs Award for Outstanding Innovation – International. It's the first time the Faculty of Dentistry has won a Mitacs Award, so this is a wonderful feather in our cap.
I am delighted to let you know that Green Shield Canada has awarded us with a further $500,000 to support our outreach efforts in 2023 and 2024. I will share more information as things progress.
Earlier this month, staff and faculty were able to gather together for a holiday luncheon and a continuing education activity, led by Eventology. It was an excellent exercise in team building and cooperation. Not only that, but it was fun and we now have a magnificent artwork that we created together. It says so much about who we are and what we believe in. Early in the new year, the painting will be mounted in the stairwell that runs between level 1 and level 2 of the Dentistry Building.
Looking ahead to 2023, we are eagerly anticipating Starr Cunningham's J D McLean Lecture, which was postponed from September 23. Starr is the president and CEO of the Mental Health Foundation of Nova Scotia and will speak to us about how we can help ourselves and others and be aware of the danger signals we should watch out for. Alumni are welcome to attend this event. To find out more about her lecture, read this interview with Starr.
Mark your calendars for our annual Research in Oral Health event, which is taking place on March 24. More information will follow.
Also in March, our CDAC Accreditation Survey visit will take place March 27-31. Many people in the Faculty are doing a tremendous amount of work to prepare for this visit and I am grateful to them all.
Finally, my five-year term as dean of the Faculty of Dentistry is coming to an end soon. I hope to serve for another five-year term and look forward to the Dean's Review early in 2023.
I would like to wish you all very happy holidays and all the best for 2023. Please remember that you are welcome to visit the Faculty of Dentistry at any time and we would be delighted to see you.
I welcome questions or suggestions from you at any time. You can email me at dean.dentistry@dal.ca.
Ben
Dr. Ben Davis
Dean, Faculty of Dentistry
Dean's Message - October 2022
October 2022
This post-Thanksgiving message comes to you from Kuala Lumpur in Malaysia, where I am attending the International Medical Education Conference 2022 meeting before attending the Academic Council meeting at the International Medical University (IMU). I'm also participating in a symposium on the topic of ensuring EDI in Oral Health.
Being here is a great opportunity to connect with representatives from other IMU partner universities in Australia, New Zealand, the UK, and Canada, to meet with IMU students who are interested in completing their dentistry studies at our Faculty of Dentistry, and to reconnect with our alumni in Malaysia. Partnerships such as these help to build our connections around the world and enrich the cultural breadth and diversity of our Faculty and I am delighted to be here.
In my last Dean's Message in August, we were looking forward to our first full and fully in-person Homecoming celebrations since 2018. Hurricane Fiona had other ideas, however, and we regretfully had to cancel our JD McLean Lecture, CE Day, and the Homecoming Dinner.
Luckily, we were able to hold a couple of Homecoming events ahead of the storm: our White Coat ceremony to welcome all new first-year students to the profession, and the official naming of the new Tze/Chiang Paediatric and Adult Special Needs Clinic. Unfortunately, I was off with COVID that week, so Dr. Sachin Seth, our associate dean of academics, represented me at both events -- you will see him in all the event photos.

At the White Coat ceremony, we were delighted to present 30 first-year dental hygiene students and 49 dentistry students with their white coats and it was heartening to hear three of our senior students, Sierra Lovell, Sam Soni, and Marie Sukkar, share their thoughts on what it means to be a professional. You can look at the White Coat photo album on our Facebook page.

Cutting the ribbon on the new Tze/Chiang Paediatric and Adult Special Needs Clinic was a special and significant event for our Faculty, made possible through Dr. Theresa Chiang's (DDS'65) $1 million gift in honour of her late husband, Dr. Wah Jun Tze (MD'65). As a result of her vision, two state-of-the-art surgical suites will provide care for paediatric and adult special needs patients, help to reduce wait lists, and benefit our faculty and students, who will gain valuable learning and research opportunities. We are very thankful for Dr. Chiang's generous support.
Although the presentation of our Outstanding Alumni Awards, scheduled to take place at the Homecoming Dinner, could not take place, we were able to present Dr. Chiang with her award at the end of the ribbon-cutting ceremony. Our other OAA winners, Aaron Burry, Jason Noel, Robert Roda, and Wendy Stewart, will receive their awards at events over the next few months.
This week we are looking forward to hosting a group of alumni who are celebrating their 60th anniversary. Watch out for a photo in the next issue of The Current. And please remember that you can hold an anniversary celebration any time. Just contact Kathy at alumni.dentistry@dal.ca. She will help to make the arrangements.
I look forward to seeing some of you at PDC and ODC over the next few months.
I welcome questions or suggestions from you at any time. You can email me at dean.dentistry@dal.ca.
Ben
Dr. Ben Davis
Dean, Faculty of Dentistry
Dean's Message - August 2022
August 2022
It has been nearly five years since I became dean of the Faculty of Dentistry. Little did we know then what the years ahead would hold!
Even though COVID-19 is still with us, we have cautiously begun to enjoy in-person events again, including convocation celebrations during May and July for the classes of 2020, 2021, and 2022.
Now we are looking forward to a full – and fully in-person – line-up of 2022 Homecoming activities on September 22-24, including the White Coat ceremony, a JD McLean lecture by Starr Cunningham, president and CEO of the Mental Health Foundation of Nova Scotia, a Live@5 reception, class reunions, clinic tours, CE Day, and a Homecoming Celebration Dinner with the presentation of five Outstanding Alumni Awards. I am delighted to announce that these awards will be presented to Drs. Aaron Burry (DDS'86), Theresa P. Chiang (DDS'65), Robert S. Roda (DDS'81), and Jason Noel (DDS'00), and Ms. Wendy Stewart (DDH'01).
Please plan to join us for as many of the activities and events as you are able to attend. The past few years have taught us a lot about the importance of getting together to celebrate and mark special events. Homecoming 2022 will be truly special.
As we look to the year ahead, you will see us focus on four key priorities, which are covered in the strategic plan we launched in 2021. You can expect to hear me talk a lot about these priorities over the upcoming months:
· Enriching the student learning experience
· Community engagement and outreach
· Research for new knowledge and better health
· Transformation through improving our facilities and technology
These goals are important to us because we believe they will help us tackle systemic issues of access to oral health care and support our diverse community of students, faculty, staff, alumni, and external partners as we work together on big solutions with far-reaching impact.
A mask mandate for instructional and clinical spaces is being reinstated at Dalhousie University for the autumn term. The events of the past two and a half years have taught us a lot about keeping each other safe and shown us how quickly we can adapt to changing circumstances. Please stay safe and I hope to see you at Homecoming 2022.
I welcome questions or suggestions from you at any time. You can email me at dean.dentistry@dal.ca.
Ben
Dr. Ben Davis
Dean, Faculty of Dentistry
Dean's Message - June 2022
June 2022
What a great pleasure it was to celebrate convocation in person this year, our first one since 2019. The Rebecca Cohn Auditorium was full of delighted parents and other family members as 43 DDS, 29 DDH, five BDH, two Masters of Periodontics, and one MSc in oral and maxillofacial science graduates walked across the stage on May 31. (A full list of graduates is available here).
We were delighted to present the Dr. D. S. Precious University Medal to Hannah MacDonald and to hear the inspiring convocation speech delivered by Dr. Bob Loney, a retired faculty member and professor emeritus from the Faculty of Dentistry. Several other students also received academic awards at the dentistry and dental hygiene convocation banquets held on May 30.
"Many of us remember what it felt like to be your age," he said, "to have so much potential and so much ahead of us. We remember thinking that perhaps we knew what lay ahead of us. We realize now that some of what lies ahead is both unknowable and unpredictable."
Convocation is always a season of awards, and this year we were delighted to present the W.W. Wood Award for Teaching to Dr. Tanya Cook. Both Dr. Cook's students and colleagues admire her for her leadership, work ethic, extensive knowledge, professionalism, kindness, willingness to help, and her great dedication to student learning and patient care. She is very deserving of this award.
We were also pleased to recognize Angela Faulkner and Jo-Anne Roski as this year's recipients of the Above and Beyond award and Angela Pitman as the recipient of Gladys Littler award. They were presented with their awards at the Faculty Retreat on June 8.
More recently, Dr. Sachin Seth, our associate dean of academics, was presented with the ACFD National Teaching Award at a ceremony in Edmonton on June 17.
In other exciting news, we were able to announce that we have a successful candidate for the Tier 2 Canada Research Chair in Functional Polymeric Biomaterials. Dr. Vahid Adibnia will join the Department of Applied Oral Sciences in July and submit an application to the CRC Secretariat this fall. When he joins our Faculty, Dr. Adibnia plans to establish a program of research focused on biosourcing and bioinspired materials design aimed at addressing several important clinical areas.
We look forward to celebrating the classes of 2020 and 2021 at convocation ceremonies in early July and to welcoming the class of 2026 at the end of August. Wherever you are this summer, I hope you enjoy some fine weather and time to relax.
I welcome questions or suggestions from you at any time. You can email me at dean.dentistry@dal.ca.
Ben
Dr. Ben Davis
Dean, Faculty of Dentistry
Dean's Message - March 2022
March 2022
Can you believe that this academic year is nearly at an end? Our DDS4 students wrote their NDEB exams at the beginning of March, and are excited to be one step closer to the finish line.
Our DDS3, DH2, and BDH students also completed a major milestone for the year on the evening of March 25 as they presented their Research in Oral Health (RIOH) projects. If you tuned in, I hope you found the sessions interesting. I'm always amazed by the breadth of topics our students choose to work on. This was our second virtual RIOH event and we are grateful to all our judges – many of them alumni and current students – and our sponsors who donated a great selection of prizes. Watch out for the results on April 9 by going to the RIOH section of the website: www.dal.ca/daldentistry/rioh.
For the past year, our Faculty of Dentistry has been participating in a national COVID-19 Immunity Task Force research project that was carried out in all 10 dental schools in Canada, led by Dr. Paul Allison at McGill and co-led by Drs. Mary McNally and Leigha Rock here at Dal. The objective was to investigate COVID-19 infection rates among dental school students, faculty, and staff. That study is now wrapping up and I am very proud that the participation rate here in our Faculty was the envy of all the other dental schools. For one part of the study, we provided over half of all participants. We look forward to hearing the results of the study.
In staff and faculty news, Dr. Sachin Seth was appointed our new associate dean of academics in January. He takes over from Dr. Debora Matthews, who completed her five-year term as associate dean and is now working as the director of the graduate periodontics program.
We are currently recruiting for a department chair in our Dental Clinical Sciences department and are also interviewing for a Canada Research Chair – the first for our Faculty – in biomaterials. We are excited about strengthening our already strong biomaterials team.
As you know, the Faculty's Strategic Plan was launched in the autumn. It sets out four key pillars that will guide our work until 2026. Key to our progress is the upcoming Dal-wide fundraising campaign that will help us to achieve our priorities, including a research centre for oral cancer and a clinic for adults with special needs and paediatric patients. We hope that you will be interested to learn more about these exciting projects and to partner with us.
We are looking forward to some much-needed updates and renovations to parts of the Dentistry Building that did not form part of the clinic renewal program in 2018. These include upgrading our loading dock and the main entrance of the building. Construction on our new Biomaterials Innovation Lab will begin this summer and we also have plans to add new equipment to our operating rooms.
Right now, we are looking forward to holding our first in-person convocation in two years on May 31. I am also excited that we will finally be able to celebrate the accomplishments of the classes of 2020 and 2021 with a convocation in early July.
Please mark your calendars for Homecoming on September 22 to 24. We are busily planning it and other alumni events and hope that we will see more of you in person this year.
I welcome questions or suggestions from you at any time. You can email me at dean.dentistry@dal.ca.
Ben
Dr. Ben Davis
Dean, Faculty of Dentistry
Dean's Message - January 2022
January 2022
Happy new year to you all!

Since my last message, the COVID-19 omicron variant arrived in Nova Scotia, making my tentative prediction that we would continue to live with COVID-19 protocols for some time more accurate than any of us could have foreseen.

At the time of writing this message, Dalhousie has extended online learning until the end of January. Here in the Faculty of Dentistry, we took the decision to delay the opening of clinics until January 10 and to deliver didactic classes using a hybrid model until at least the end of the month. We are also once again screening patients at the main doors of the Dentistry Building until at least the end of January. By taking these steps, our aim is to keep our students' education on track and to minimize exposure to the virus for our patients, students, staff, and faculty.

Despite the uncertainty we continue to live with, we had a rewarding and satisfying end to 2021. One of our DDS2 students – and a dental hygiene alumna – Zoe Rolle, received a QEII Foundation Diversity in Health Care Bursary. Her story is a testament to the value of sticking to a goal – even if the path to achieving it takes you in a different direction – and provides insights into the process of applying for bursaries and grants.

Some holiday cheer
As the holidays approached and omicron cases began to rise, we cancelled some planned holiday activities in the Faculty, including our annual faculty and staff continuing education day and holiday luncheon. But it was not all gloom and doom. December 12 found us glued to our televisions and computers to watch as Dr. Sachin Seth, our acting associate dean of academics, baked his way to the top on The Great Canadian Holiday Baking Show, demonstrating his great ability to produce highly polished and ambitious creations under pressure. It was a sparkling moment for us all!

Another uplifting event took place in mid-December at the North End Community Health Centre dental clinic, one of the Faculty's outreach locations. COVID-19-related shutdowns had created a backlog of around 160 restorations and over 300 extractions. So Dr. Nada Haidar (DDS'97), her daughter Mya (both regular volunteers at the NECHC), and Francine Leach, a faculty member in the School of Dental Hygiene and the NECHC oral health outreach coordinator, had the idea of holding an eight-day Dental Blitzen to 'blitz' the backlog. With the help of 35 alumni volunteers, 124 patients received the care they needed, which proved to be a welcome and much-needed Christmas present. Future volunteer clinics are planned, including during spring study break in February. If you would like to be involved, please email dental@nechc.com.

In the spirit of giving back, two of our alumni, Drs. Dawn Webster (DDS'03) and Matt Evans (DDS'02) of Avenue Family Dental in Victoria, BC, save the gold from crowns and bridges that their patients donate each year and then make a donation to a charity. This year they were able to support transplant children across Canada with a donation of $13,122.86. What a great gift, Dawn and Matt!

Finally, we were also delighted that Dr. Ferne Kraglund, was presented with this year's Rosemary Gill Award winner at the 2021 Legacy Awards event on December 14. Dal established the Rosemary Gill Award in 1995 to recognize those individuals at the university who have provided outstanding service to students in a non-teaching capacity. Known for her dedication to the overall health and well-being of our students, Dr. Kraglund is a very deserving recipient of this award.

Despite the ongoing challenges of the pandemic, we are excited about the year ahead, not least because we have some exciting building projects taking shape which will make our Faculty more attractive and more efficient.

Space is currently being prepared on the third floor for the creation of our new Biomaterials Innovation Centre, with construction expected to begin in the next few months. In the summer, we hope to see work begin on a much-needed extension to our delivery bay, which will make the space safer and more accessible. Plans are also moving ahead to update the entry lobby of the Dentistry Building, an eagerly-awaited project which should start to take shape in 2023.

I look forward to speaking with some of you at the Halifax County Dental Association meeting on January 19 and the South Shore Dental Association meeting on February 17.

I welcome questions or suggestions from you at any time. You can email me at dean.dentistry@dal.ca.

Ben
Dr. Ben Davis
Dean, Faculty of Dentistry



Ben
Dr. Ben Davis
Dean, Faculty of Dentistry

Dean's Message - November 2021
November 2021
The last weeks of our first term are rapidly approaching and I am delighted to say that we have had a safe and productive few months since the term began. We are all enjoying the return to a more normal way of teaching and learning, and everyone seems happy to be back in the Dentistry Building again.

Over the past year, the Faculty of Dentistry has been hard at work behind the scenes consulting with its different audiences and developing a strategic plan that will take us through the next five years. Faculty, staff, students, alumni, and patients all participated in this process and we are grateful to everyone for their help. The strategic plan is our road map for the next five years and we will be reporting regularly on progress towards our goals. The strategic plan can be found on our website.

BDH study
I would like to make an appeal to our Bachelor of Dental Hygiene (BDH) alumni. Our School of Dental Hygiene is participating in the Pan-Canadian Dental Hygiene Graduate Outcomes Study and we would appreciate it if you could take 15-20 minutes to answer a few questions about why you decided to study for a BDH degree and how you are using your BDH in professional practice. Your answers will help the researchers to understand how the BDH has affected your career and underpin the development of future dental hygiene-specific graduate programs here at Dalhousie. There are prizes to be won for participating! This also feels like a great opportunity to give a shout-out to Rachael Dvorski and Michaela Dederich, our most recent BDH grads. They received their degrees at the autumn convocation.

Although we are still living with restrictions, we are starting to hold live events again and streaming them for external audiences. During Homecoming Weekend in September, it was special moment to welcome both the classes of 2024 and 2025 into the professions of dentistry and dental hygiene at our White Coat ceremony. This year's Outstanding Alumni Award winner, Kelly Antosh (DDH'94) was with us in person to receive her award and to speak about both her teaching in Vancouver and her outreach work in Africa. You can watch the video of the White Coat ceremony here.

Even though Rick Guidotti was not able to travel from New York City to deliver the J D McLean lecture in person, a large audience tuned in to hear him speak about recognizing the beauty and potential of individuals with visible differences, accompanied by stunning photographs. You can hear his lecture and read an interview with Rick.

Homecoming weekend normally includes a full day of continuing education classes and this year we were pleased to be able to offer in-person classes for the first time in a long while.

Looking ahead to next term, it's hard to know what the future holds, but I anticipate that we will continue to be living with COVID-19 protocols – masks, vaccine mandates, and limits on gathering numbers – until the end of the academic year.

As always, if you have questions for me, please send them to dean.dentistry@dal.ca and I will be pleased to answer them in a future Dean's Message.
Ben
Dr. Ben Davis
Dean, Faculty of Dentistry

Dean's Message - September 2021
September 2021
There is nothing quite like that 'back to school' feeling: cooler days, the first coloured leaves, new notebooks, and the excitement of what lies ahead. For some of us in our Faculty, everything is new. For others, there is the excitement of returning for a final year before being launched into the 'real world'.
For all of us, I think I can safely say that this year's back-to-school moment feels a bit different. We have been through a lot over the past 18 months. Even when were able to be on campus, we couldn't be in classrooms, our Fillings Café was closed, it wasn't possible to gather together in the same way, and we were always wearing masks and following protocols. Not surprisingly, working, learning, and socializing over Teams and Zoom and other online platforms required extra work and it all felt less personal.
I am delighted to report that things are beginning to look more normal in the Faculty of Dentistry. We were able to welcome both new and returning students at the end of August and early September and classes and labs are now taking place in person. Both faculty and staff are working in the Dentistry Building, with some staff continuing to work from home part of each week. Masks are still with us, of course, but it is great to see and hear people in the hallways again.
Homecoming 2021
We are looking forward to our Homecoming celebrations on 23-25 September. Both our in-person White Coat ceremony and JD McLean lecture events are limited to Faculty of Dentistry students, staff, and faculty members, but alumni and friends can attend virtually via livestream. We can thank the pandemic for giving us new ways in which to hold events, making them accessible to more people. We look forward to welcoming alumni and friends from across the country to these events. Register here for both the on-line White Coat Ceremony and JD McLean Lecture, and the in-person CE day.
Our annual White Coat Ceremony will be held on Thursday, 23 September. Because we were not able to hold a White Coat Ceremony in 2020, we will be celebrating last year's new students and this year's. We will also present an Outstanding Alumni Award at the ceremony.
On Friday evening, we are excited to welcome Rick Guidotti, founder and director of Positive Exposure, as the presenter of this year's JD McLean Lecture. He will talk about his decision to give up fashion photography in order to photograph, film, celebrate, and advocate for individuals living with visible differences. You can read an interview with Rick about his upcoming lecture.
On Saturday, 25 September, you have the opportunity to add to your oral health knowledge and receive CE points by attending our Continuing Education Day, which is being held in the Faculty of Dentistry. Three sessions are available:
AM Session (1 session)
Gingival recessions: The why, what, when and how, Dr. Eraldo Batista
PM Sessions (2 sessions)
Digital dentistry: Application of concepts into practice, Dr. Mohamed Gebril
The Erosion of Professional Satisfaction: Exploring the toll of burnout syndrome in dental hygienists, Kim Haslam, Lindsay MacDonald, Alma Wade, and Dr. Leigha Rock
Register here for Homecoming events.
I would like to thank everyone for their extraordinary efforts to keep our Faculty of Dentistry functioning as well as it has during these many pandemic months. We have taught and graduated our students, we have undertaken major projects, and we have supported and cared for our patients and one another. And we have benefited from a most extraordinary learning experience. So even as things are returning to normal, in fact, things will probably never be the same again. We have a unique opportunity to take what we have learned over the last 18 months and make positive changes.
Whether you are new to our Faculty community or are enjoying a happy return to the Dentistry Building, we welcome you and are glad you are here. All the best for the academic year ahead.
If you have any questions for me, please send them to dean.dentistry@dal.ca. I will be pleased to answer them in a future Dean's Message.
Ben
Dr. Ben Davis
Dean, Faculty of Dentistry

Dean's Message - July 2021
We are delighted to welcome summer, with the prospect of some time off to enjoy the good weather, and to celebrate what we hope is the beginning of the end of the COVID-19 pandemic.
Of course, things never truly stop in the Faculty of Dentistry – even in the summer! Our DDS3 and DDH1 students have been working in the clinic and are now taking a well-earned break until August 23. Three new GPR students started their programs in June. Debby Chao and Catherine Murphy scarcely had time to let the ink dry on their DDS degrees before starting and Jace Watson had the added challenge of finishing off his paediatric GPR at the same time as starting his second GPR program with us. In the 2021-22 paediatric GPR program, we welcome Eibhlin Storey, who graduated from Western Ontario, and Rachel Korman, a graduate of McGill University.
Two first-year periodontics residents, Mahmoud Elian and Haider Hussein, have also joined us. Mahmoud studied dentistry and prosthodontics in Baghdad, Iraq, and worked as an adjunct clinical professor in prosthodontics at Western University before joining us. Haider comes to us from the UK, where he studied dentistry and periodontics before working as an associate dentist in Bradford. We are pleased to welcome them both. In OMFS, Amr Alsabbagh joined the six-year residency program after spending last year as the department's oral surgery intern. Abdul El-Rabbany is our new OMFS intern for the next 12 months.
New faculty members
As we prepare for in-person teaching in the upcoming academic year, we are delighted to welcome three new faculty members to the Dentistry Building, including our first ever Canada Research Chair, Dr. Anjali Sharma. A polymer chemist, Dr. Sharma joins our Department of Applied Oral Sciences. She is joined in AOS by Dr. Locke Davenport Huyer, a chemical engineer with postdoctoral research in immunology. Our third new faculty member is Dr. Violet D'Souza, a dental public health specialist who is joining our Department of Dental Clinical Sciences. We look forward to meeting them in person and working with them.
Even though our clinics are relatively quiet for much of July and August, our staff are still busy assembling student kits, updating computer systems, inspecting and repairing equipment, and carrying out other maintenance activities. Faculty members spend the "down time" updating and preparing their courses for the next academic year and continuing their research activities. Someone who does one of the hidden jobs in our Faculty is Dal music student Megan Clark. She is normally to be found picking up laundry and sorting clinic coats, but she also has some exciting news.
Online graduation celebration
The 2020-21 academic year was wrapped up on June 2 with an online celebration for the class of 2021. We plan to hold a convocation ceremony when in-person events are possible again, but until then, we were pleased to get together with all our graduating students, their friends and families, to celebrate their tremendous accomplishment. Our virtual event included the reading out of all our grads' names, Moe Alshateel (DDS'21) and Meghan Nazer (DDH'21) gave their valedictory speeches, the winners of the W. W. Wood Award and the newly created Above and Beyond Award were announced, and the Dr. David Precious Gold Medal in Dentistry was presented to Debby Chao. You can watch the celebration on YouTube.
June – National Indigenous History Month – was also a sombre month. The whole country was appalled to learn about the discoveries of the graves of Indigenous children at former residential homes in British Columbia and Saskatchewan and to hear of the attack on a Muslim family in London, Ontario. My message to everyone is that we must redouble our efforts to make our Faculty and profession a place where racism and discrimination have no place. We cannot undo what has happened in the past, but we can make sure our future is different. We do this by starting where we are, with the people around us. We must ensure that our Faculty is a safe and welcoming environment to all who learn, work, and receive care here. I urge us all to do the same, starting by reaching out in friendship and care to those around us. We must commit in our day-to-day work to listening to our patients and trying to understand their lives. It is also essential that, in our role as professionals and leaders, that we recognize our duty to be aware of, and respond to, incidents of injustice whenever we see them.
Looking forward to September
In my September Dean's Message, I'll report on our return to campus, the launch of our strategic plan, and other plans for the term. In the meantime, please mark your calendars for September 23-25, when we will celebrate Homecoming Weekend through a mixture of virtual and in-person events, including our White Coat Ceremony, the JD McLean lecture with speaker Rick Guidotti, a Live@5 event, a full day of continuing education, and the presentation of our Outstanding Alumni Awards. More details will follow.
If you have any questions for me, please send them to dean.dentistry@dal.ca. I will be pleased to answer them in a future Dean's Message.
Ben Davis
Dean, Faculty of Dentistry
Dean's Message - January 2018
It gives me great pleasure to welcome you to the Faculty of Dentistry. I want you to know that you are all – students, faculty, staff, and alumni – part of a collegial and caring community here at the Faculty of Dentistry.

I was honoured to be appointed dean of the Faculty, beginning on January 1, 2018 for a five-year term. This is a great privilege for me and I am pleased to be able to lead the Faculty over the next few years.

For those of you who don't me, I am an oral maxillofacial surgeon and have been on the faculty here at Dal for 20 years, most recently as the chair of the Oral and Maxillofacial Sciences Department. I received my dentistry and surgery training at the University of Western Ontario and the University of Toronto respectively. Although I didn't study dentistry here at Dal, my experiences elsewhere have made me keenly aware of what an extraordinary education our students receive here.

A special year lies ahead. Not only will our clinic renewal project draw to a close in early 2018, but next year also marks the 200th anniversary of Dalhousie University. It is fitting that these two milestones should coincide and provide us with many opportunities to celebrate both the Faculty's and university's achievements.

My plan for the year ahead is to continue with the projects Dr. Tom Boran, our past dean, was working on, including the re-opening of the renovated clinic early in 2018 and maintaining and extending our wide-ranging outreach program, which is a particular passion of mine.

I look forward to working with you to uphold and extend our mission to provide quality education, carry out research, and to serve our communities.
Dr. Ben Davis
Dean's Message - May 2021
The end of another academic year is drawing to a close, and what a year it has been! As I write this, Premier Iain Rankin and Dr. Robert Strang have announced that our current restrictions have been extended to the middle of June. We ended 2019-20 in lockdown, never dreaming that we would be in the same position again this year.
Without question, it has been a challenging time – for students, faculty, staff, and all our alumni and other oral healthcare providers who are working to operate clinics safely. I think we all learned a lot from the early stages of the pandemic last spring and now have plans – and back-up plans! – in place to enable us change direction quickly and respond to new restrictions.
Here in our Faculty, I'm pleased to report that, apart from a couple of brief shutdowns and some adjustments to accommodate new restrictions, our clinics have remained open this academic year, enabling students to complete their clinical requirements and provide patient care.
I am immensely proud of – and grateful to – all our students, who have worked tremendously hard, treated their patients and colleagues with compassion and respect, stepped up to volunteer wherever possible, and maintained their sense of humour throughout this time, even when many were not able to return home for the Christmas holidays.
I am truly sorry that we are not able to celebrate our grads at an in-person convocation ceremony – again – this year. However, we have been planning behind the scenes and an online celebration is scheduled for June 2, 5:00-7:00. We hope you will be able to attend. Please save the date and a link to the celebration will be made available later. If you follow our social media accounts, starting next week you will see posts about the award winners from our graduating classes.
Some of the major news from the Faculty includes the upcoming retirements of Drs. Mary McNally and Blaine Cleghorn. Dr. Mark Filiaggi has been appointed the new associate dean of research and graduate studies to replace Dr. McNally, and Dr. Tammy Wright is taking up Dr. Cleghorn's role as the associate dean of clinics.
I am also pleased to announce that the title of professor emeritus has been conferred upon Drs. Bob Loney and Reg Goodday. Just last month, Prof. Shauna Hachey from the School of Dental Hygiene, and Dr. Rebecca Affoo from the Faculty of Health, both Healthy Populations Institute scholars, hosted Open Dialogue Live. This discussion on oral health and the barriers to care across the lifespan featured many faculty and alumni. You are still able to watch the discussion on YouTube.
Our third-year student, Rebecca Marr, recently received a 2021 Impact Award for her contributions to the Faculty of Dentistry, and her classmate, Hannah MacDonald, received the original research award at this year's Research in Oral Health Student presentations in March. A full list of winners is available here.
Looking ahead – which we must continue to do, despite the pandemic! – I hope to see many friends, colleagues, and alumni at the Atlantic Virtual Dental Convention on June 10-12. I'll be speaking on the evening of June 11 at the reunion event.
Of course, we always have plans and ambitions for the Faculty of Dentistry, all of which have one end goal: to teach our students the latest and best oral health care sciences and methods using the most efficient and up-to-date equipment so that our patients receive the best possible care. To that end, we are beginning to see the impact of some new digital dentistry equipment in our labs and clinic. It is a great start, and we hope that supporters will continue to partner with us to bring in more of this equipment, which will make such a difference to both our students and patients.
Some of you may have been involved in the strategic planning sessions we held over the past several months. This process has helped us to think big about our future as a Faculty and to sharpen our focus on the priorities that matter most to us, including research, oral health care outreach, the student experience we provide, and the ways in which we can transform our Faculty so that we are able to provide the highest levels of oral health care to the widest range of people in our community. We are in the final stages of gaining approval for our strategic plan and will be able to make it widely available this summer.
My last Dean's Message, written shortly after I took up the role of dean in 2018, had acquired a few cobwebs. My plan is to update you every two months on the latest developments in the Faculty. This message will be shared widely, including in the alumni newsletter, The Current, through our internal newsletter, The Loop, and via social media. If you have any questions for me, please send them to dean.dentistry@dal.ca. I will be pleased to answer them in a future Dean's Message.
Ben Davis
Dean, Faculty of Dentistry