Dalhousie's Faculty of Dentistry cut the ribbon late last month on a new surgical clinic that will treat paediatric and adult special needs patients, help reduce wait times, and enhance training for dentistry students and residents.
The new Tze/Chiang Paediatric and Adult Special Needs Clinic was made possible through a $1-million gift from alumna Dr. Theresa Chiang (BSc'61, DDS'65) in memory of her late husband, paediatric physician Dr. Wah Jun Tze (MD'65).
More than 1,000 special needs patients across Nova Scotia, who need oral health procedures that require sedation or general anaesthesia, are waiting for treatment. Dr. Chiang's gift will create two dental surgical suites that provide care for those waiting for these treatments.
Dr. Chiang, a paediatric dentist in Vancouver, was in the Dentistry Building to celebrate the clinic naming with her children and an upbeat audience from the Faculty of Dentistry, despite the imminent arrival of Hurricane Fiona. It was Dr. Chiang's first visit back to the Faculty since graduating in 1965, the only female dentistry student in her class that year.
Reducing health disparities

Speaking at the event, Dr. Frank Harvey, provost and VP Academic at Dalhousie University, said that Dr. Chiang and Dr. Tze's passion for improving health outcomes for children and vulnerable populations "perfectly aligns" with Dalhousie's mission to "reduce health disparities and drive positive change in our region".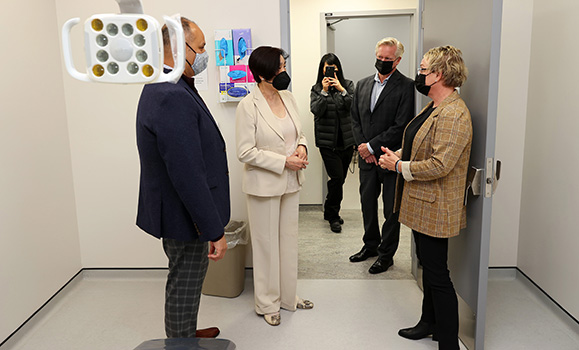 Dr. Chiang and Dr. Tze met at Dalhousie as students and shared a passion for helping children through their work and volunteer efforts. They co-founded the Canada China Health Foundation and the Global Child Health Society in the 1980s, which have contributed to better access to health care for many children in underserved areas of China. Dr. Chiang's gift to Dalhousie Dentistry is a continuation of that work.
Following the event, Dr. Ben Davis, dean of Dentistry, noted that Dr. Chiang approached the Faculty of Dentistry with a vision for a clinic that would make it possible to care for more children and adults with special needs and to train more dentists in the treatment of these patients.
"Dr. Chiang knows how urgently clinics like these are needed everywhere," said Dr. Davis. "We are so grateful that she approached her alma mater with this vision."
Increasing capacity and access to care in Nova Scotia

Dr. Evan Shaw, director of Dalhousie's paediatric dentistry general practice residency program and a paediatric dentist at the IWK Health Centre, said that access to care for the children, adolescents, and teenagers with medical diagnoses or behavioural challenges is limited in Nova Scotia.
"These patients often come to us because they are unable to receive care elsewhere," he said. "This is particularly the case with advanced procedures, when sedation and general anesthesia are needed to perform treatments safely."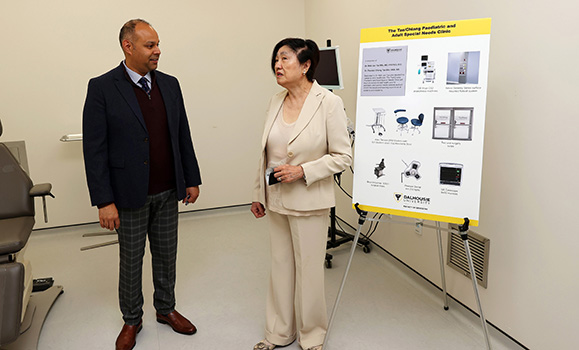 Dr. Shaw said he could see great potential for the new clinic to increase capacity and reduce wait times. He also expects the new clinic to enable more dentistry students to work with paediatric and special needs patients early in their education and gain the experience and confidence to continue to provide those patients with routine and preventive care throughout their professional careers, reducing the need for more invasive care in the future.
"An optimal outcome requires the coordination of paediatric dentistry, anesthesiology, hospital interdepartmental support, adequate facilities and equipment, as well as support from government and the dental society," said Dr. Chiang. "I can see the success of this program at Dalhousie because of the multi-level support Dean Davis was able to obtain." Dr. Chiang hopes to expand this kind of program to other provinces in the future.