News
»
Go to news main
Ctrl + Alt + rethink: Computers in the Faculty of Dentistry
Posted by
Cheryl Bell
on June 30, 2021 in
News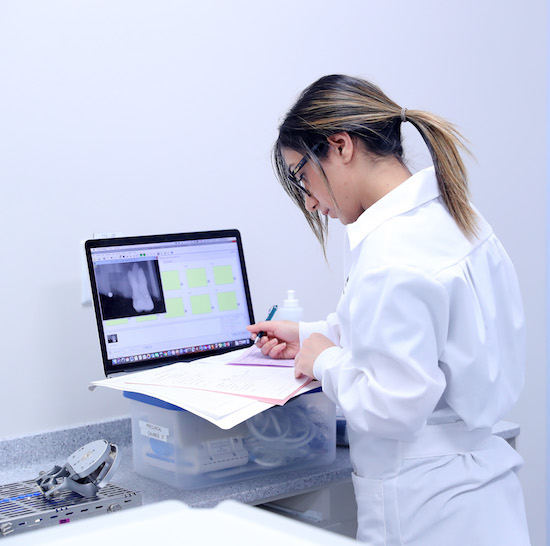 In 2018, Barrington Consultants conducted a review of the Faculty's IT systems and support and made several recommendations, which have gradually been implemented over the past two years.
Some of the biggest changes that have taken place include the discontinuation of the student laptop program and the gradual phasing out of Citrix Receiver. There were several reasons for these changes, including infection control, the greater security of patient information, and a reduction in the cost of licensing and supporting Citrix.
In 2019, dedicated Micro Form Factor (MFF) PCs were installed in the radiology, undergrad, and student group practice clinic cubicles. This step was taken as part of a migration from a Mac to a Windows platform, which will improve integration with university systems. The MFFs are connected to axiUm via a secure clinic subnet or firewall, which meant that the Faculty was able to significantly reduce the number of Citrix licences.
Laptop program discontinued
The laptop program for students was discontinued in 2020. Students are now able to choose their own laptops, following new Faculty standards for acceptable devices. Onsite help desk support was also discontinued in 2020, partially as a result of COVID-19, but also to enable the Faculty to conform with the university model for IT support, which is a centralized, ticket system.  
The next step will be to remove axiUm from student laptops. This means that students will no longer have access to live patient data on their laptops. Instead, they will use a dedicated computer lab through which they can connect to axiUm using the secure clinic subnet. The logistics are still being worked through, but the goal is to achieve this goal for September 2021 and completely discontinue the use of Citrix by June 2022.
"Over the past couple of years we have been working hard to implement the recommendations made by Barrington Consulting," says Dr. Ben Davis, dean of the Faculty of Dentistry. "It has meant a lot of changes, but we feel that the integration with university systems, increased security and infection control, and cost reductions will all be worth it."