News
»
Go to news main
Ashley Fletcher reflects on RIOH 2022: Just know that you know
Posted by
Cheryl Bell
on March 23, 2023 in
News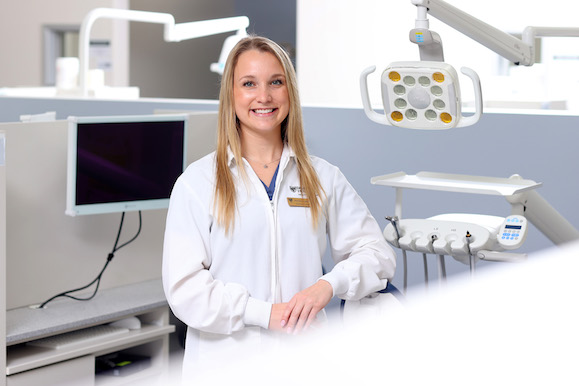 When Ashley Fletcher was awarded first prize at the 2022 Research in Oral Health (RIOH) Student Presentations Showcase, it was the culmination – like it is for all third-year dentistry students – of three years of planning, researching, assembling data and statistics, and preparing and presenting a power point presentation.

But Ashley also had a deeper involvement with her topic, which looked at what paediatric hospital nurses at the IWK Health Centre know about oral health care and how they deliver it to their patients.

A connection to her topic
Ashley's mother is a nurse at the IWK and Ashley herself had worked there as a ward clerk for three years in between her biology degree at Saint Mary's University and starting her dentistry studies.

"My mother's and my experiences at the IWK got me thinking about paediatric topics for my RIOH project," says Ashley, explaining how she chose her topic. "I also have an interest in children and patients with special needs and it's definitely a population I want to treat in my practice."

Ashley knew from her mother that the mouths and teeth of children receiving treatment at the IWK were often in poor condition. Many of the children arrive at the hospital with multiple systemic diseases and conditions that take priority over oral health care for the parents. There are also oral manifestations of some chronic diseases. On top of that, nurses do not receive a lot of formal oral health care training.

"It seemed to me that this presented a great opportunity for oral health education and improvement," says Ashley. "So when I discovered that there were no patient oral health guidelines for nurses, my project took shape from there."

The project
Working with her supervisors, Dr. Tracy Doyle and Prof. Shauna Hachey, Ashley designed a survey-based study that would explore the status of oral care in a hospital setting by identifying nurses' knowledge, attitudes, practice patterns, and barriers to oral care.

With a 40% response rate to her survey, Ashley had a good sample to work with. What she found was that the IWK nurses had a general lack of understanding about caries as an infectious disease and their transmissibility through bacteria.

Over half of the nurses surveyed did not recall oral care content during their formal education and 84% reported no continuing education about oral care. Other areas investigated included barriers to care, preferred oral care tools (pink swabs rather than toothbrushes), and the degree to which oral care is documented in nursing notes.

Although the majority of nurses surveyed valued the importance of oral care and expressed an interest in oral care education, Ashley found that oral care practices are lacking.

"I was surprised by the lack of knowledge surrounding oral health care," admits Ashley, "but I wasn't surprised by the practices currently used."

Ashley credits the clinical leaders at the IWK for the success of her survey, plus a few prize draws for electric toothbrushes. "They are the nurses who are responsible for continuing education," Ashley explains. "I set up meetings with them early on and they really promoted my survey."

What impressed the judges
Ashley thinks the relevance of the research to Halifax appealed to the judges, particularly that it was concerned with the improvement of oral health care to deserving populations.

"I think the high response rate on the survey and its clinical relevance were also factors," says Ashley, "plus it's something that can be expanded on and moved forward."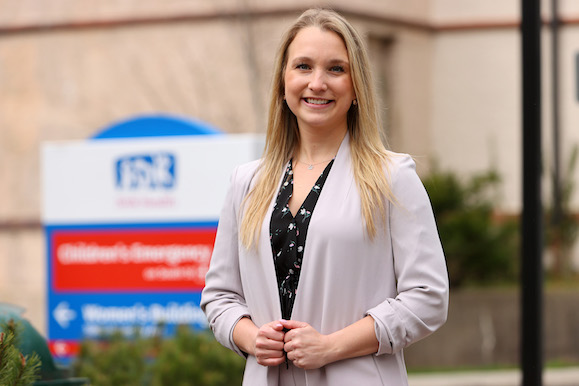 What next
And moving forward with her research is something Ashley plans to do. Her aim is to be involved in the creation of a learning module for the nurses that Ashley or someone else could present, and an oral health guideline that nurses can use on their shifts.

Still passionate about her project, Ashley is working with her two supervisors to publish a paper on her research in a nursing or paediatric journal. Fourth year of dentistry school has been hectic so far, but Ashley has her sights set on submitting the paper later this spring.

RIOH dentistry students have the option of doing their project on an original research topic or conducting a literature review. For Ashley, the decision to take on an original research project was the right one.

"I thought an original research project would be more engaging and fun for me," says Ashley. "The topic that was meaningful for me and at the end I felt like I had accomplished something."

Wise words for this year's RIOH students
What advice would Ashley give to this year's students who are preparing to give their presentations?

"Have fun with it, and don't take it too seriously," she says. "Just know that you know you are the experts on your topic. The questions you are asked are to give you an opportunity to elaborate – they're not to put you on the spot."

The Research in Oral Health Student Presentations Showcase is taking place in person this year in the Dentistry Building, March 24, 5:00-8:00, with reception and awards to follow.