This article is part of a series focusing on the grads of the Dalhousie Class of 2023. Spring Convocation runs from May 29 to June 7 in Halifax and Truro. Read all our profiles here as they are published, and for more information visit the Convocation website.
While Brian Lawrence (DDH'23) was earning a BSc in chemistry from Memorial University in St. John's, he considered applying to dental schools as the next step on his career path. While no one his family worked in dentistry, he thought it would be an interesting and fulfilling profession. There was one major snag, however — when he graduated in 2021, he wouldn't have the required biology prerequisites.
After meeting with a Memorial academic advisor, Brian learned that he'd need one more undergraduate year to get those credits. Not interested in that plan, he came up with another one that would get him closer to his goal: he'd earn a diploma in dental hygiene.
Born and raised in Gander, NL, Brian knew he wanted to stay close to home, which meant not leaving Atlantic Canada. There were only two programs offering a dental hygiene diploma in the region: Dalhousie and a private college in Moncton. "I had heard Dal's dental hygiene program was good and the faculty was experienced, so I didn't apply anywhere else," he says.
Like many first-year dental hygiene students starting the program right after finishing an undergraduate degree, Brian was initially daunted by the demanding course load. At Memorial, he had taken five courses each semester; at Dal, it doubled to 10. "I wasn't prepared!" he says. "But I stayed organized, made schedules, and had a good group of classmates to help with assignments." To relieve stress, he played hockey with other Dal students on the weekends.
Working as a team

Brian's favourite part of the program was working in the Dalhousie Dental Clinic. "You're getting all of the practice and experience you need to work in the real world with instruments, and it's where you treat your first real patients," he says. "I enjoy talking to people and joking around with them a bit to help make them feel comfortable. The relationships you form with your patients are really meaningful."
Some interactions could also be challenging, but the program prepared Brian for those, too. One patient at the clinic needed fillings. Terrified of needles, she started crying while sitting in the chair. "That was tough to watch, and we tried our best to comfort her, but she couldn't go through with it and decided to leave and go home," he says.
The next week, the woman came back, but this time only to have a cleaning. It was just her, Brian, and a supervising professor. "I asked her how school was going, and when I learned she liked doing board games, we talked about that for a while," he says.
Brian also walked the patient through deep-breathing exercises, which he had learned in a class on dental fear, pain, and anxiety. "She knew she wasn't going to have a needle that time, so she was more relaxed," he says. "Hopefully at some point, she'll feel comfortable enough to have the fillings done."
Treating patients at the Faculty of Dentistry's Harbour View Elementary School paediatric clinic in Dartmouth and at a dental clinic at Halifax's North End Community Health Centre gave Brian varied patient perspectives. "We saw all ages and demographics," he says. "I really liked the variety of people and cases the clinics offered."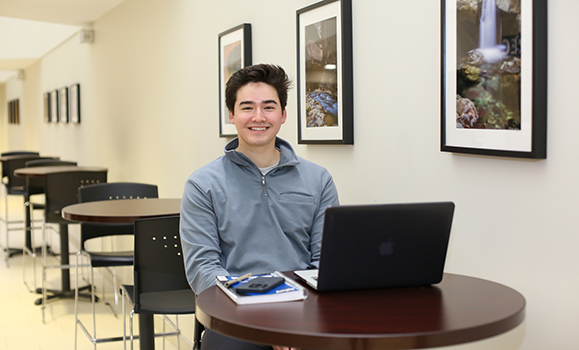 Lining up the next shot

As Brian was preparing to write his dental hygiene exams in mid-April, with board exams on the near horizon in May, he was thinking about whether he wanted to pursue further education. While he isn't leaning toward a bachelor of dental hygiene at the moment, he hasn't ruled out his original plan of applying to dental school. "I want to work as a dental hygienist for at least one year, to get some additional experience" he says. "After that, we'll see!"
In the short term, after exams are over, Brian has a couple of job interviews lined up in Nova Scotia, where he plans to stay for a while. "Halifax is the perfect size – big enough that there's lots to do but small enough that you don't get lost in it," he says. "I'm looking forward to making some money, and to golfing all the courses around Halifax this summer."
Brian is looking forward to more than just a paycheque, however. "I liked the routine of school," he says, "and I think I'll like the routine of work even better, because there will be more free time to have work-life balance."
With dental hygiene school soon to be in his rear-view mirror, does he have any advice for incoming students to the program? "They'll love it! It's lots of work and challenging at times, but the support is there," he says. "The professors are great, and they're focused on making sure you'll get through the program. Everyone wants you to succeed. There's teamwork, and it's such a positive environment. I feel more than prepared to start working."