News
»
Go to news main
Convocation is a family affair
Posted by
Cheryl Bell
on June 1, 2023 in
News

Photos contributed. Justin is shown with his wife Jenessa (holding Blakely), with Nixon (left) and Kylo (right.

Justin Morgan (DDS'23) crossed the Rebecca Cohn auditorium stage to receive his degree on May 30 with his 16-month-old daughter Blakely in his arms and his two sons, Nixon (5) and Kylo (3) by his side. So far, so normal.

It's customary for the children of Dal grads to cross the stage with their parents at convocation. What caught everyone's attention, however, were the graduation gowns and mortarboard caps – featuring a tooth on the top – Nixon and Kylo wore as they accompanied their dad.

"The idea came from my mother-in-law," explains Justin, who comes from Utah. "She bought the gowns and designed the caps and had them made."

But it wasn't just an opportunity to dress her grandchildren in fun costumes. Justin's mother-in-law was acutely aware of the number of bedtimes and family meals Justin had missed because of the demands of his program. COVID-19 also imposed its own limitations, with border closures making getting together with grandparents and cousins impossible for long periods of time.

"My mother-in-law saw convocation as a family affair and an opportunity for us all to celebrate what we had come through together, so that was the thinking behind the gowns and caps," says Justin. "It was certainly a special moment for me."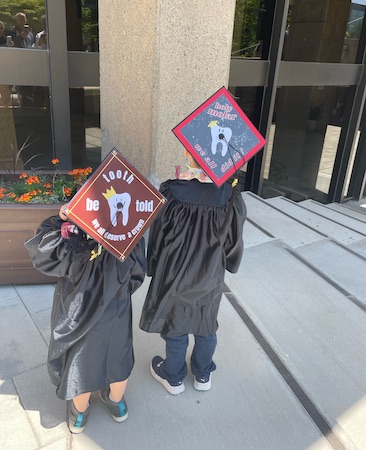 The right place
Justin describes the Dal dentistry program as "demanding and challenging", but he felt confident from the start that he was in the right place for him. Recommended by a couple of people he knew who had studied there, Justin was impressed by Dal Dentistry when he arrived for his interview. He liked the small class size and he felt he would get a good education. It was also cheaper than his options in the US.

Now with the benefit of hindsight, Justin says he was lucky to have been part of a "phenomenal class" and to have had the support of the "awesome" Dr. Clare Champoux, his small group practice leader.

"I feel I was meant to be there at this time with this class," he says. "The challenge of COVID-19 meant that we wrapped our arms around each other and got through. That was cool."

A mere hours after convocation was over, Justin, his wife, and three children were in the car, driving through New Brunswick on their way back to Utah where Justin will start work in July at a private practice in Vernal, a small city in the north-east corner of the state. It's the next step in what will continue to be a family affair.