Katherine
Fierlbeck
Professor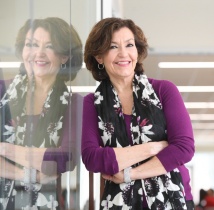 Email:
K.Fierlbeck@dal.ca
Phone:
(902) 494-6631
Mailing Address:
Department of Political Science, Rm 344, Henry Hicks Bldg Dalhousie University, 6299 South Street PO Box 15000 Halifax, NS B3H 4R2

Research Topics:
Canadian political thought
Canadian social union
Comparative health policy
Health care politics
Healthcare governance
Human rights (theory, institutions, politics)
Network governance
New or experimental governance
Republican political thought
Education:
University of Alberta (B.A. Hon.)
York University (M.A.)
Cambridge University (Ph.D.)
Katherine Fierlbeck works in the areas of public policy and political theory. She teaches classes in the history of political thought, Canadian political thought, the philosophical development of human rights, neo-romanticism, and the politics of health care.
Selected Publications:
Service and Activity:
Dr. Fierlbeck is cross-appointed to the Department of Community Health and Epidemiology, the Department of International Development Studies, and the European Studies Program; and is a Senior Research Fellow at the Healthy Populations Institute. She is currently serving on the Nova Scotia Judicial Council.