Leah
Sarson
Assistant Professor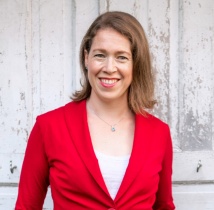 Email:
Leah.Sarson@dal.ca
Mailing Address:
Department of Political Science Rm 344, 3rd Floor, Henry Hicks Bldg Dalhousie University, 6299 South Street PO Box 15000 Halifax, NS B3H 4R2

Research Topics:
International Relations
Indigenous Global Politics
Canadian Foreign Policy
Arctic Studies
Gender and International Relations
Education:
BSocSc (University of Ottawa); MA (University of Waterloo); PhD (Queen's University)
Brief Biography
Leah Sarson is an assistant professor at Dalhousie University, where her work explores Indigenous global politics in the extractive resource sector. Her broader research interests focus on Canadian foreign policy, International Relations, gender, and the Arctic. Prior to joining Dalhousie, she was a Fulbright researcher and SSHRC post-doctoral fellow at Dartmouth College in Hanover, New Hampshire, where she remains a fellow at the Dickey Center for International Understanding and a visiting Arctic fellow at the Institute of Arctic Studies. She completed her PhD in Political Studies in December 2016 at Queen's University in Kingston, Ontario, where she is also a fellow at the Centre for International and Defence Policy. Dr. Sarson holds additional positions at the Bill Graham Centre for Contemporary International History at the University of Toronto and the Canadian International Council. She is a member of the board of directors of Women in International Security-Canada and has held professional positions at the Asia Pacific Foundation of Canada and Global Affairs Canada, among others.
Selected Publications
Sarson, Leah. 2022. "Shifting Authority: Indigenous Law-Making and State Governance." Millennium: Journal of International Studies 1-22.

Sarson, Leah. 2017. "La spécialisation disciplinaire et professionnelle basée sur le genre en Relations internationales." Études internationales 48.1: 83–104.
Sarson, Leah and Asa McKercher. 2016. "Dollars and Sense?: The Harper Government, Economic Diplomacy, and Canadian Foreign Policy." International Journal 71.3: 351-370. (Winner of the Marcel Cadieux Distinguished Writing Award for best article on Canadian foreign policy.)
Nossal, Kim Richard and Leah Sarson. 2014. "About Face: Explaining Changes in Canada's China Policy, 2006-2012." Canadian Foreign Policy Journal 20.2: 146-162.
Follow Professor Sarson on Twitter @LeahSarson.