Leah
Sarson
Associate Professor / Director, Centre for the Study of Security and Development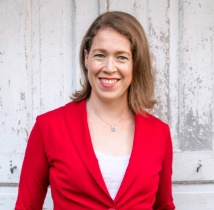 Email:
Leah.Sarson@dal.ca
Mailing Address:
Department of Political Science Rm 344, 3rd Floor, Henry Hicks Bldg Dalhousie University, 6299 South Street PO Box 15000 Halifax, NS B3H 4R2

Research Topics:
International Relations
Indigenous Global Politics
Canadian Foreign Policy
Arctic Studies
Gender and International Relations
Education:
BSocSc (University of Ottawa); MA (University of Waterloo); PhD (Queen's University)
Brief Biography
Dr. Leah Sarson is an associate professor of International Relations in the Department of Political Science and cross-appointed to the Law, Justice, and Society program. Dr. Sarson's research focuses on Indigenous global politics, Canadian foreign policy, Arctic studies, and gender. She is also the Director of the Centre of the Study of Security and Development and holds affiliations with the North American and Arctic Defence and Security Network (NAADSN) and the Bill Graham Centre for Contemporary International History at the University of Toronto, among others. Her recent work appears in Millennium: Journal of International Studies and American Review of Canadian Studies, as well as books on Canadian foreign policy, Arctic security, and gender and security.
Selected Publications
Levin Bonder, Jennifer and Leah Sarson. 2023. "Stephen Harper and Justin Trudeau on the International Stage," Statesmen, Strategists & Diplomats: Canada's Prime Ministers and the Making of Foreign Policy, ed. Patrice Dutil, University of British Columbia Press.  
Sarson, Leah. 2022. "Shifting Authority: Indigenous Law-Making and State Governance." Millennium: Journal of International Studies.
Sarson, Leah, with Heather Smith, Maya Eichler, and Sarah Tuckey. 2021. "Finding Community in Feminist International Relations Methodology," Women, Peace, and Security: Feminist Perspectives on International Security, eds. Cassandra Steer and Caroline Leprince. McGill-Queen's University Press.
Sarson, Leah. 2020. "Becoming Comfortable Being Uncomfortable: Canadian Foreign Policy and Indigenous Global Politics," Canadian Foreign Policy: Reflections on a Field in Transition, eds. Brian Bow and Andrea Lane. University of British Columbia Press.
Follow Professor Sarson on Twitter @LeahSarson.