Today@Dal
»
Go to news main
Pets of Dalhousie: Meet Atticus and Calpurnia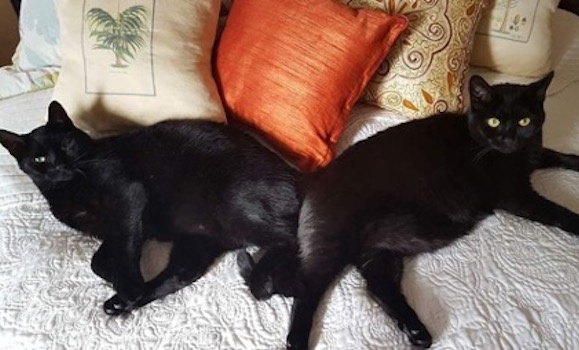 Get to know Atticus and Calpurnia, two cats who live with Louise Spiteri, professor in the School of Information Management and vice-chair (academic programs) of Senate.
Names: I adopted Atticus (l) and Calpurnia (r) seven years ago from a local cat society. Calpurnia was pregnant when she was rescued and gave birth to a litter of kittens, including Atticus. The family was named by the rescue society after characters in To Kill a Mockingbird.
Editor's note: Coincidentally, today (April 28) is the anniversary of Harper Lee's birth (1926).

Nicknames: A+C

Species/breed: Part Bombay breed, part who knows? Atticus has two polydactyl front paws that look like mittens.

Age: Calpurnia is approximately 9 years old, and Atticus is seven.

Favourite food: Anything that I'm eating. They are particularly fond of popcorn, pizza crust, and pastries.

Special tricks: Wrapping me around their paws. Getting belly rubs and treats whenever they want to.

Best quality: They are both sweet, gentle and affectionate creatures. Atticus is larger than many breeds of dogs and can look intimidating, but he is a sweetie.

Social media platform or handle, if available: They dominate all my social media posts, so they don't see the need to have their own.
Read more about this series on Dal News. And don't forget to check out the previous pets we've featured in this space this month, Suzy, friendly fish, Cello, Fionn and Bran, Matou and Minou, Dodger, Shubie, Soca, Aspen, Reimer, Plum, Thomas T. Cat, Sean, Sir Walter and Lola, Alpha and Omega, Jojo, Jerry Berry and Dexter, Noëlle, as well as those from previous months:

The month in pets: January

The month in pets: February