Today@Dal
»
Go to news main
Pets of Dalhousie: Meet Dodger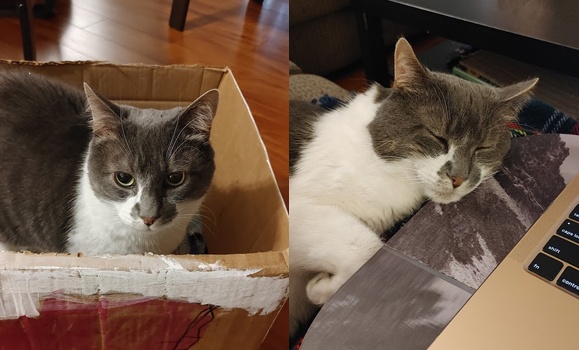 Dodger is a cat who lives with Cynthia Younker, a staff member with academic affairs in the Faculty of Dentistry.

Name: Dodger. When I adopted him as a kitten I'd already had another big, orange tabby named Oliver, so, as a literary nerd, his name was a no-brainer.
 
Nickname: Dodge, Furry Meowmies, Stinky Baby Mister.
 
Species/breed: American Shorthair (aka: standard cat mutt), although I think he might have some Russian Blue somewhere in his background because he's ridiculously affectionate – sometimes to the point of annoyance! – which is an characteristic of that breed.
 
Age: He just turned fourteen on New Year's Day.
 
Fave food: Bananas, tuna, yogurt, buttered toast, and raw chicken – all given sparingly alongside his kitty kibble.
 
Special tricks: He plays fetch! If you throw him a crinkle/felt ball, he'll bring it back to you. Note: Not a good idea to do this at Christmastime around the tree...
 
Best quality: He's a A+ snuggler - he's never met a lap he doesn't like!
 
Social media platform or handle, if available: In true cat fashion he's far to lazy to commit to any of that, but he sometimes makes appearances on my accounts.
Read more about this series on Dal News. And don't forget to check out the previous pets we've featured in this space this month, Suzy, friendly fish, Cello, Fionn and Bran, Matou and Minou, as well as those from previous months:

The month in pets: January

The month in pets: February