Today@Dal
»
Go to news main
Pets of Dalhousie: Meet Soca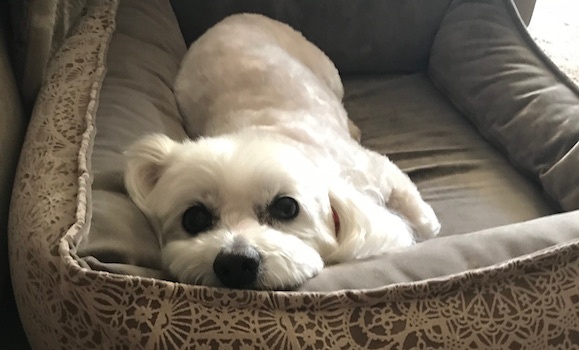 Soca is a bichon, cocker spaniel mix who lives with Andrea Macedo, a graduate student in the Master of Public Administration (Management) program.

Name: Soca. The word is short for "SOul of CAlypso"– a type of music we heard while visiting Barbados. Our trip took place the same year we brought her home and both events brought us instant joy.

Nickname: Soca-Bear, Boo, Little Boo, SocaBocaChocaLoca, Sweet-Pea.

Species/breed: She is a princess, and she knows it! Officially though, she is Bichon X Cocker Spaniel.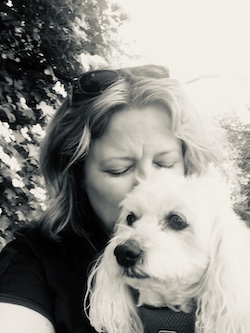 Age: Thirteen, but she is playful and energetic as ever.

Fave food:
Peanut-butter, chicken, or green apple. She doesn't like carrots. She seems oddly fascinated each time we slice an avocado, which we find both funny since we have never fed her any, as it is toxic for dogs. She continues to behave as though it is a favourite of hers, nonetheless.
Special tricks: Soca has a knack for finding sunbeams to nap in and is an expert at playing hide and seek (we hide, she seeks!). Also, she is ambidextrous and can give us high fives with either front paw.

Best quality: Our girl does everything 110% - be it playing, snoring, rounding us up at bedtime or cuddling. She is a great traveller and has gone on many long road trips with us. She is smart, sassy and has an endearing nature. I am grateful to have her around for study breaks and to have been able to spend so much time with her this past year. 
Social media, if available: Soca is not on social media. As a senior dog (91 in people years!), she doesn't have much use for "The Google." She showed her initial distrust of cellular technology early on, by chewing the first flip-phone we brought home!

Read more about this series on Dal News. And don't forget to check out the previous pets we've featured in this space this month, Suzy, friendly fish, Cello, Fionn and Bran, Matou and Minou, Dodger, and Shubie, as well as those from previous months:

The month in pets: January

The month in pets: February