Today@Dal
»
Go to news main
Pets of Dalhousie: Meet Minou and Matou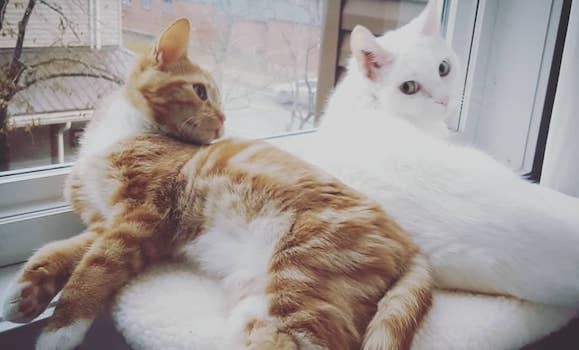 Minou and Matou are a pair of rescue cats who live with Isabelle Aubé, an instructor in the Department of Biology.

Minou

Name: Minou (French for Kitty)

Nickname: Ma-Minette

Species/breed: Domestic-short-haired-rebel-with-an-ear-tattoo.

Age: 7.5 years.

Fave food: Ham, cat/oat grass and watermelon rinds.
Special tricks: Diving under blankets and doorbell buzzer Houdini!
Best quality: Loves belly rubs & "asks" how I'm doing.
Fun facts: Minou was found with a litter of kittens in a garage in Vancouver by an organisation called VOKRA; she was less than a year old. After weaning her kittens and sporting a new ear tattoo with her special number, I was able to adopt her a few months later. She was a champ when we moved from Vancouver to Halifax a year later, essentially having to be in her carrier for about 11 hrs in total that day!

Matou

Name: Matou (French for Tomcat)

Nickname: Mon-Matou or Mon-Garçon.

Species/breed: Domestic-medium-haired-mackerel-tabby-tux-primordial-pouch-show-off.

Age: 1.5 years.

Fave food: Anything that's in my cup/plate & water from the faucet if that counts!
Special tricks: Parcourt, 4-foot jumps and lazy-lion impressions in passageways.

Best quality: Loves to play and makes me laugh!

Fun facts: Matou was part of a new litter of TNR kittens by the Dartmouth SPCA, who I adopted a day before my own birthday! He was neutered very young at the time (2 months; a practice in the event they can't adopt out and have to return to the wild), and I think that is why he is still a kitten-at-heart. Super playful, mischievous, a total ham, and balks at boundaries (mine and his older sister's!), but he brings a tremendous amount of joy in my every day life.

Read more about this series on Dal News. And don't forget to check out the previous pets we've featured in this space this month, Suzy, friendly fish, Cello, Fionn and Bran, as well as those from previous months:

The month in pets: January

The month in pets: February