Today@Dal
»
Go to news main
Pets of Dalhousie: Meet Jojo, Jerry Berry and Dexter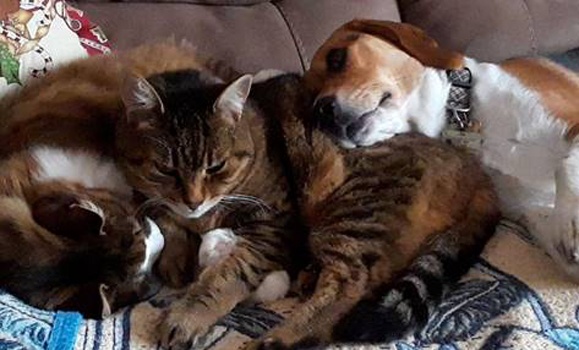 Jojo, Jerry Berry and Dexter, two cats and a dog, live with Tiffany Coolen-Jewers, an administrative officer in the Schulich School of Law.
Names:  Jojo, Jerry Berry and Dexter

Nickname: N/A

Species/breed: Domestic Cats and a Beagle

Age: Jojo & Jerry Berry are brothers, aged 10.  Dexter is 3.

Fave food: Catnip – all 3 of them love it. Dexter is also referred to as the catnip vacuum. Whatever the kitties leave behind, he cleans it up.

Special tricks: Dexter will sit pretty, shake hands, etc. The boys just love to hang out together and occasionally the cats will chase Dexter around the house. Dexter also loves to pull Jojo's fur.

Best quality: They are all super friendly, love attention and cuddles and bring so much joy to the family.

Social media platform or handle, if available: We don't have any.
Read more about this series on Dal News. And don't forget to check out the previous pets we've featured in this space this month, Suzy, friendly fish, Cello, Fionn and Bran, Matou and Minou, Dodger, Shubie, Soca, Aspen, Reimer, Plum, Thomas T. Cat, Sean, Sir Walter & Lola, Alpha and Omega, as well as those from previous months:

The month in pets: January

The month in pets: February