Today@Dal
»
Go to news main
Pets of Dalhousie: Thomas T. Cat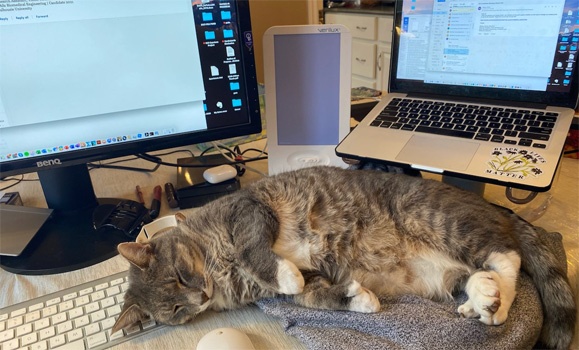 Thomas T. Cat lives with J. Michael Lee and Sarah Wells, faculty members in the School of Biomedical Engineering.
Name: Thomas T. Cat

Nickname: Tommy, Tom-Tom, Tom Boy, Big Kitty, Doughhead

Species/breed: Domestic shorthair with polydactyly (extra toes)

Age: Somewhere round about 10. He wandered up out of the woods and adopted us, so it's a best guess.

Fave food: Squirrel (it's the nuttiness really). Thomas was living wild for some time before he found us, so he still has an unfortunate taste for wild game and for sleeping in the middle of the hydrangea in the garden.

Special tricks: Thomas speaks fluent "cat" and can't enter a room without announcing himself. Enjoys delivering prolonged solos of "The Song of My People" at about 5 in the morning. During the warm weather he lives part-time at our house and part-time with Sarah's parents next door. We found out last year that he has another life at two houses behind us where he is known as "Mittens." As soon as we sit down to watch a movie, Thomas will stand and stare at Mike until he pours some fresh cat chow and strokes him for a while; failure to do so is rewarded with a full set of claws in the buttocks. With the advent of the pandemic, Thomas has become an avid participant in online teaching and Zoom conferences, not always showing his best end to the camera. Mike's classes often begin with the students asking, "Where's Thomas?"

Best quality: Thomas is the most level-headed, calm cat we've ever known (except when Vacoom comes into the room). He's getting old and bony, and more than ever loves a good lap—but he'll still walk you down the street.

Social media (if available): No profile.
Read more about this series on Dal News. And don't forget to check out the previous pets we've featured in this space this month, Suzy, friendly fish, Cello, Fionn and Bran, Matou and Minou, Dodger, Shubie, Soca, Aspen, Reimer, and Plum, as well as those from previous months:

The month in pets: January

The month in pets: February