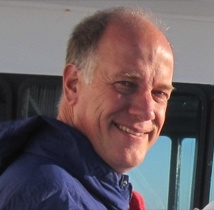 RELATED INFORMATION
CV [PDF - 112 kB]
Courses:

OCEA 2000 - The Blue Planet
OCEA 3004 - The Last Billion Years
OCEA 5240 - Special Topics in Oceanography: Particles Module
Email:
paul.hill@dal.ca
Phone:
902-494-2266
Fax:
902-494-3877
Mailing Address:
Room 5633, LSC Ocean Wing, 1355 Oxford St

PO Box 15000, Halifax, Nova Scotia, Canada B3H 4R2

Research Topics:
Oceanography
Marine geology
Earth science
EDUCATION
AB (Dartmouth)
M.Sc. (Washington)
Ph.D. (Washington)
PUBLICATIONS
Hill, P. S., T. G. Milligan, and W. R. Geyer. 2000.  Controls on effective settling velocity in the Eel River flood plume.  Continental Shelf Research, 20: 2095-2111.
Geyer, W.R, P. S. Hill, and G.C. Kineke.  2004.  The transport and dispersal of sediment by buoyant coastal flows.  Continental Shelf Research, 24(7/8):  927-949.
Hill, P. S et al., 2007.  Sediment delivery to the seabed on continental margins.  Continental Margin Sedimentation:  Transport to Sequence, Special Publication Number 37 of the International Association of Sedimentologists, edited by C. A. Nittrouer, J. A. Austin, M. E. Field, J. H. Kravitz, J. P. M. Syvitiski and P. L. Wiberg, Blackwell/IAS.  pp. 49-99.
Hill, P. S., E. Boss, J. P. Newgard, B. A. Law, and T. G. Milligan, 2011.  Observations of the sensitivity of beam attenuation to particle size in a coastal bottom boundary layer, J. Geophys. Res., 116, C02023, doi:10.1029/2010JC006539
Khelifa, A., and P. S. Hill, 2006a. Models for effective density and settling velocity of flocs. Journal of Hydraulic Research, 44:  390-401.
AWARDS AND HONOURS
2012/13 Award for Excellence in Teaching, Faculty of Science, Dalhousie University