Daniel E.
Kelley
Professor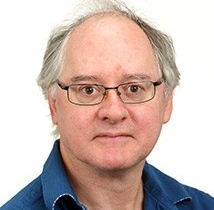 RELATED INFORMATION
Courses:

OCEA4120/5120 - Physical Oceanography
OCEA3001 - Introduction to Physical Oceanography
Email:
dan.kelley@dal.ca
Phone:
902-494-1694
Fax:
902-494-3877
Mailing Address:
Room 5652, LSC Ocean Wing, 1355 Oxford St
PO Box 15000, Halifax, Nova Scotia, Canada B3H 4R2

Research Topics:
Oceanography
Physical oceanography

EDUCATION
BSc - Mount Allison University
PhD - Dalhousie University
PUBLICATIONS
D Bourgault, M Morsilli, C Richards, U Neumeier, DE Kelley, 2013.  Sediment resuspension and nepheloid layers induced by long internal solitary waves shoaling orthogonally on uniform slopes.  Continental Shelf Research, 72, 21-33.
C Richards, D Bourgault, PS Galbraith, A Hay, DE Kelley, 2013.  Measurements of shoaling internal waves and turbulence in an estuary Journal of Geophysical Research, 118 (1), 273-286.
D Bourgault, DE Kelley, PS Galbraith, 2009.  Turbulence and boluses on an internal beach.  Journal of Marine Research, 66 (5), 563-588.
D Bourgault, DE Kelley, 2007.  On the reflectance of uniform slopes for normally incident interfacial solitary waves.  Journal of Physical Oceanography, 37 (5), 1156-1162.
DE Kelley, HJS Fernando, AE Gargett, J Tanny, E Özsoy, 2003.  The diffusive regime of double-diffusive convection.  Progress in Oceanography, 56 (3), 461-481.
AWARDS AND HONOURS
Rosemary Gill award for outstanding service to students
NSERC University Research Fellowship (Dalhousie University)
NSERC Postdoctoral Fellowship (Woods Hole Oceanographic Institution)
Outstanding PhD Thesis (Canadian Meteorological and Oceanographic Society)
NSERC-PhD Scholar (Dalhousie University)
Killam Scholar (Dalhousie University)