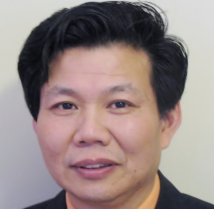 RELATED INFORMATION
CV [PDF - 666 kB]

Courses:


OCEA 4220/5220 - Numerical modelling of Atmospherics and Oceans

OCEA 4222/5222 - Estuary, Coast & Shelf Dynamics
Department of Oceanography
Email:
jinyu.sheng@dal.ca
Phone:
902-494-2718
Fax:
902-494-3877
Mailing Address:
Room 5676, LSC Ocean Wing, 1355 Oxford St
PO Box 15000, Halifax, Nova Scotia, Canada B3H 4R2

Research Topics:
Oceanography
Physical oceanography
Atmospheric science

EDUCATION
BEng - East China Technical University
MSc - Memorial University
PhD - Memorial University
PUBLICATIONS
Zhu, L.S., J. Sheng, and X. Ji, 2016. Tidally-averaged water and salinity transport velocities over estuarine and coastal waters, with an application to the Pearl River Estuary. Ocean Dynamics.
Wang, P., and J. Sheng, 2016. A comparative study of wave-current interactions over the eastern Canadian shelf under severe weather conditions.  Journal of Geophysical Research-Oceans.
Ni, X., J. Sheng, and W. Feng, 2016. Simulation of free surface flow using the smoothed particle hydrodynamics (SPH) method with radiation open boundary conditions.  Journal of Atmospheric and Oceanic Technology..
Béguer-Pon, M., K. Kyoko, J. Sheng, M. Castonguay, and J. J. Dodson, 2016. Modeling the migration of the American eel in the Gulf of St. Lawrence. Marine Ecology Progress Series, 549:183-198, doi: 10.3354/meps11706
Taylor, A., K. Ohashi, J. Sheng, and M. Litvak, 2016. Oceanic distribution, behaviour, and a winter aggregation area of adult Atlantic sturgeon, Acipenser oxyrinchus oxyrinchus, in the Bay of Fundy, Canada. PloS One. doi: 10.1371/journal.pone.0152470.     


AWARDS AND HONOURS
中国水利部2011年度禹水利科学技术二等奖
加拿大Canada Foundation for Innovation (CFI) 2000年度 Researcher
加拿大纽芬兰纪念大学1989年度NSERC-Industry Fellowship
2011 Second award by the Ministry of Water Resources of China
2013 HRM Volunteer Award
2013 Provincial Volunteer Award of Nova Scotia