Today@Dal
»
Go to news main
Pets of Dalhousie: Meet Hazel and Ranger
Posted by
Communications, Marketing and Creative Services
on February 3, 2021 in
Community Highlights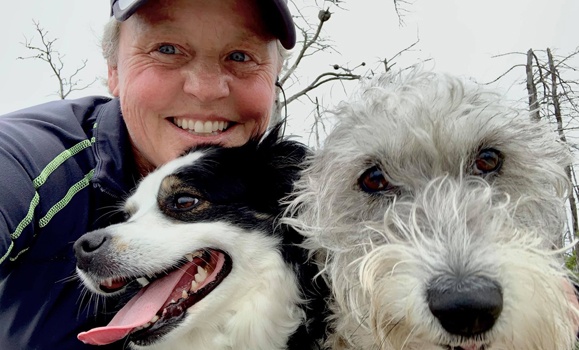 Get to know Hazel and Ranger, a pair of pups belonging Brenda Merritt, dean of the Faculty of Health.

(Find information on how to submit your own pet's profile at the bottom of this profile.)
Name(s): Hazel and Ranger (Ranger is the black/tri-colored pup)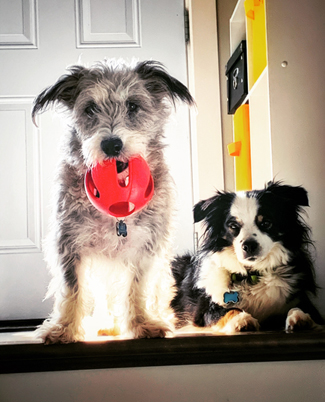 Nickname: Hazel's nickname is Bun Butt, which is short for Bunny Butt. She has a fluffy bunny butt. Ranger's nickname is Mr. Wiggles, a self-explanatory one. 😊

Species/breed: Hazel is a corgi-poodle mix. Ranger is a mini–Australian Shepherd.

Age: Hazel is 5, Ranger 4.

Fave food: Peanut butter is always a household favourite!  Also, a sneaky way to give them their pills!

Special tricks: I can ask Hazel "What do you want?" and she will bring a toy, go to the door to be let our, or lead me to what she wants. Usually this involves a trip to the cookie jar (dog treats). Hazel is also an avid TV watcher, especially when horses, cows or dogs are on the TV. This year she also enjoyed the Grinch (see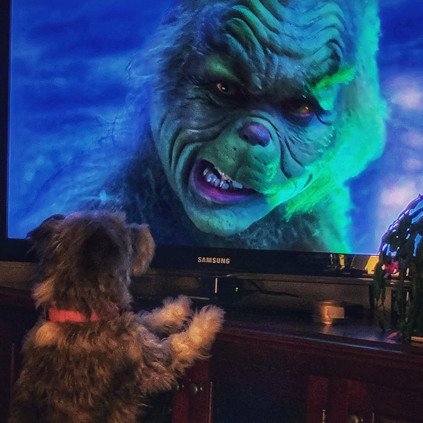 pic, below left).  Ranger's best aptitude is running really fast. He loves to burn up the trails! More recently, they do love to wake up the Teams calls by barking at passing dogs or the mail carrier!

Best quality: They make me laugh every day, and they are great snuggle buddies and walking companions.

Social media platform or handle, if available: They are often highlighted on my Instagram account, @_brenda_merritt
Want to tell the Dal community about your beloved pet? Forward along your image(s) and information using the above categories to today@dal.ca

Read more about this new series on Dal News. And don't forget to check out the previous pets we've featured in this space, including Camden, Juno, Bristow and Milo, Uke, Birdie, Varric, Toby, Charlie and Shuri.