Today@Dal
»
Go to news main
Pets of Dalhousie: Meet Birdie
Posted by
Communications, Marketing and Creative Services
on January 27, 2021 in
Community Highlights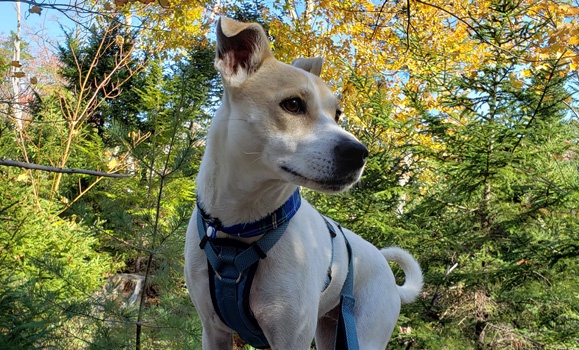 Get to know Birdie, a Heeler/Jack Russell mix belonging to Emma Sutro, donor relations coordinator with the Office of Advancement.
(Find information on how to submit your own pet's profile at the bottom of this profile. Read more about this new series on Dal News.)
Name: Birdie. This name was already on my shortlist when I rescued her. Once I saw her "wings" [ears] in action, all the other names fell away.

Nickname: Skunk. Sometimes I ask her if she is a dog or a skunk in a dog suit. She can be quite the little sneak.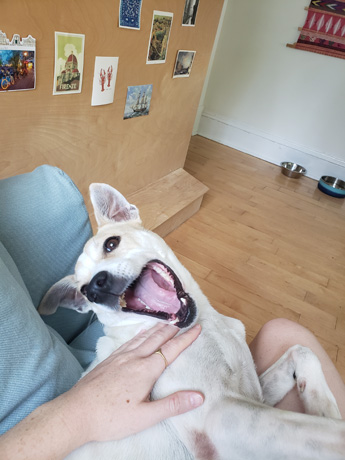 Species/breed: Heeler/Jack Russell mix. Essentially, she has a Jack Russell head on a very small Heeler body.
Age: Approximately three years old, I think?

Fave food: Peanut butter on everything. Also fond of cheese and licking the insides of discarded coffee cups on the ground.

Special tricks: Her over 5ft vertical jump!!

Best quality: Her incredible trust of all people. She has never met a stranger.

Social media platform or handle, if available: Birdie is far too busy to engage with social media as she is an integral member of the canine neighbourhood watch in the North End.
Want to tell the Dal community about your lovely pet? Forward along your image(s) and information using the above categories to today@dal.ca
And don't forget to check out the previous pets we've featured in this space, including Camden, Juno, Bristow and Milo, and Uke.