Today@Dal
»
Go to news main
Pets of Dalhousie: Meet Charlie
Posted by
Communications, Marketing and Creative Services
on February 1, 2021 in
Community Highlights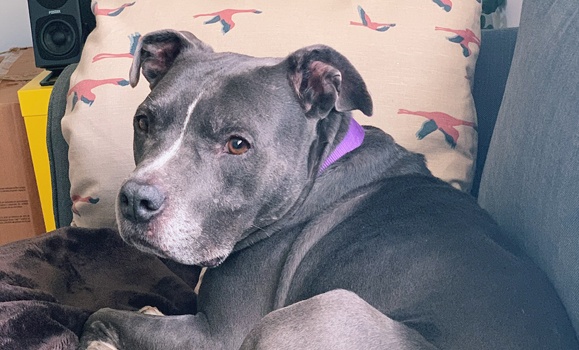 Get to know Charlie, a mystery mutt belonging to Megan Cox, a co-op support specialist with Science, Information Technology, Engineering Co-operative Education.
(Find information on how to submit your own pet's profile at the bottom of this profile.)

Name: Sir Charles Winston Cox-Melanson III ... but we just call him Charlie

Nickname: Charlie Bean, Charleston, Charles Barkley, Teefer Sutherland, Old Man, and Bobo.

Species/breed: Marvellous Mystery Mutt with American Staffordshire Terrier tendencies.

Age: The shelter we rescued him from figures he's about 8-years-old.

Fave food: Anything edible that is not a vegetable and most things that are not edible. He is partial to pizza crust and peanut butter toast.

Special tricks: He builds nests out of pillows and blankets around the house for the ultimate snuggle puddle. He is uninterested in learning other tricks.

Best quality: Despite being a stray and in a kill shelter, Charlie is the sweetest dog alive. He loves to snuggle with his people and in the nests that he builds.

Social media platform or handle, if available: Charlie is on Instagram at darksidecharlie. His feeder lady and account manager is not always great at updating it, and pictures are often of him napping.
Want to tell the Dal community about your beloved pet? Forward along your image(s) and information using the above categories to today@dal.ca

Read more about this new series on Dal News. And don't forget to check out the previous pets we've featured in this space, including Camden, Juno, Bristow and Milo, Uke, Birdie, Varric and Toby.