Today@Dal
»
Go to news main
Pets of Dalhousie: Meet Shuri
Posted by
Communications, Marketing and Creative Services
on February 2, 2021 in
Community Highlights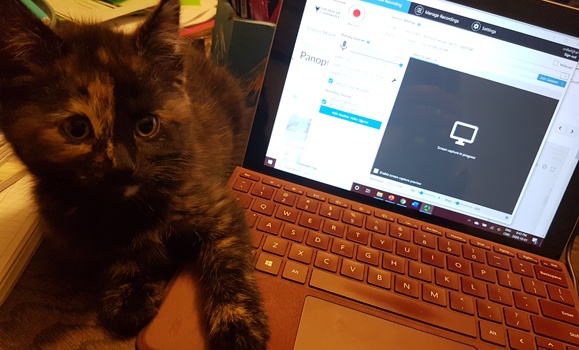 Get to know Shuri, a former barn cat belonging to Jen Frail-Gauthier, an instructor in Dal's Department of Biology and director of the SEASIDE Program.

(Find information on how to submit your own pet's profile at the bottom of this profile.)

We got our kitten Shuri in September when she was only eight weeks old, so all she knows is working — and teaching — from home. She loves to make herself known. From knocking over my camera during videos and jumping across my
computer and clicking things while doing live Kahoot Quizzes to crashing live meetings and knocking everything over and making so much noise while I try to record lectures, she's been the star of the show! And who doesn't love a kitten?!

Name: Shuri (inspired by Marvel's Black Panther. We got her soon after Chadwick Boseman's passing). All of our cats are named after movie characters.

Nickname: We call her Shuri most of the time, but she's also Kitty or Little Monster when she's being a rascal.

Species/breed: She's a barn cat, but her siblings are true Siamese, and I see it in her! Domestic tortoiseshell.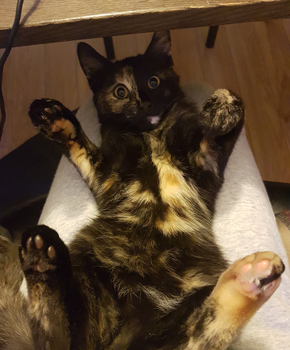 Age: Almost 6 months.

Fave food: She loves her vet kitten food, but is the biggest mooch for people food! Especially sweeter things, like cheesecake!

Special tricks: Playing hide-and-go seek.

Best quality: Knowing she's cute. (She gets away with so much!)

Social media platform or handle, if available:  She's too young for social media.

Want to tell the Dal community about your beloved pet? Forward along your image(s) and information using the above categories to today@dal.ca

Read more about this new series on Dal News. And don't forget to check out the previous pets we've featured in this space, including Camden, Juno, Bristow and Milo, Uke, Birdie, Varric, Toby and Charlie.