News
»
Go to news main
Canadian and Japanese scholars unite to discuss the ocean's future
The world's oceans connect us all.
This truth was evident at the first Canadian-Japanese Scholarly Exchange on the Law of the Sea at the Schulich School of Law on December 6-7, 2019. The first event of its kind in Canada, hosted by the Marine & Environmental Law Institute, brought together Canadian and Japanese law of the sea experts to exchange views on international ocean governance. The participating scholars came from universities in Hiroshima, Sapporo, Tokyo and Yokohama and law schools in Calgary, Halifax, Quebec, Montreal and Victoria.
"Canadian and Japanese scholars share common interest in ensuring a workable law of the sea to enable peaceful and sustainable use of our oceans," explains Professor Aldo Chircop, Canada Research Chair in Maritime Law and Policy at Schulich Law.
The gathering was led by Chircop and Mr. Toru Hotta, Director of the Law of the Sea Section for Japan's Ministry of Foreign Affairs, and inspired by discussions between the pair. The event was made possible by a generous grant from the Japanese government. Other Schulich Law participants included Dean Camille Cameron, Professors Phillip Saunders, Sara Seck and Constance MacIntosh, as well as several doctoral candidates.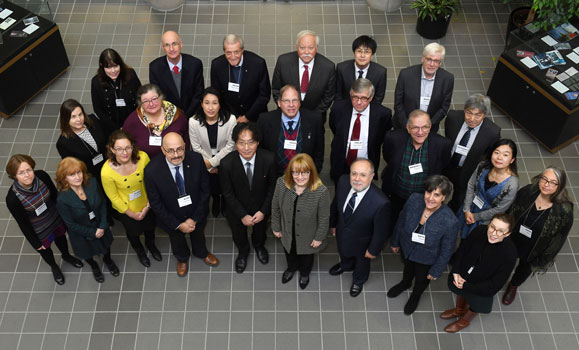 During the two-day event, participants tackled a wide range of topics including ocean governance and sovereignty, the Arctic, seabed mining and human rights and the law of the sea. The issues of climate change and marine preservation pervaded all of the discussions. "The world's oceans are on the point of crisis in part due to human use and abuse and also due to the impact of climate change," says Chircop. And, as environmental and human rights pressures mount, participants from both countries see the need for continued cooperation across borders.
All discussions were governed by the Chatham House Rule, meaning that any comments made were not attributed to individuals in the final report prepared by Olga Koubrak, PhD candidate at Schulich Law. This rule provides a way for speakers to openly discuss their personal views, while allowing outcomes to be made public and contribute to a broader conversation.
The event's formal discussions were very productive and lasting partnerships were forged on both individual and institutional levels. Plans are already underway for future collaborations between Canadian and Japanese law schools that will allow for more mobility between the two countries for faculty and students.
Learn more:
Read the full report on the Canadian-Japanese Scholarly Exchange on the Law of the Sea.