Sara
Seck
Associate Professor of Law; Yogis and Keddy Chair in Human Rights Law; Director, Marine & Environmental Law Institute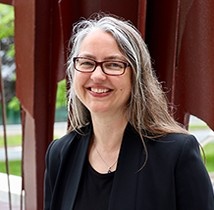 Email:
Sara.Seck@dal.ca
Phone:
902-494-7715
Mailing Address:
Room 416, Weldon Law Building
6061 University Avenue
PO Box 15000
Halifax, Nova Scotia B3H 4R2

Research Topics:
Business, Human Rights & Environment
International Environmental Law
Sustainable Development & Natural Resources Law
Climate Justice
Private International Law
Transnational Law & Legal Pluralism
Education
BMus (MUN)
MMus (Ottawa)
LLB (Toronto)
PhD (Osgoode)
Bio
I am originally from St. John's NL, and have a pre-law professional background in music. I studied law in Ontario where I articled with a Bay Street business law firm. After completing a PhD in law at Osgoode Hall Law School, I joined Western University in 2007, and was promoted to Associate Professor in 2013. I joined the Schulich School of Law in July 2017 where I am a member of MELAW and the Business Law faculty.
Teaching
LAWS 2104: Environmental Law I
LAWS 2153: Business & Environment
LAWS 2005: Private international Law
Areas of supervision: Business, Human Rights & Environment, Sustainable Development & Natural Resources Law, Private International Law, Climate Justice
Research interests
I am particularly interested in the relationship between international human rights law, environment, and business law, with a focus on the rights of local and Indigenous communities, and global south perspectives on sustainable development. I have researched and published extensively on home stateduties and business responsibilities in the extractive industries context. More recently, I consider how lessons from this research as well as insights from feminist and relational theorists might inform approaches to environmental and climate justice.
Grants
2017: SSHRC Connection Grant, Natural Resource Extraction and the Rights of Women and Girls (with Penelope Simons)
2015: SSHRC Connection Grant, International Law Summer Institute (with Neil Craik)
2009: SSHRC Standard Research Grant, "A Critical Analysis of the Home State Duty to Protect"
Selected awards & honours
2015: Emerging Scholarship Award, Academy of Environmental Law, International Union for the Conservation of Nature
2015 - present: Senior Fellow, International Law Research Program, Centre International Governance Innovation
2014-15: University Student's Council, Teaching Honour Roll, Western University
Selected publications
Sara L Seck, "Revisiting Transnational Corporations and Extractive Industries: Climate Justice, Feminism, and State Sovereignty" (2017) 26:2 Transnational Law & Contemporary Problems 383-413 (Symposium: International Environmental Law, Environmental Justice, and the Global South).
Sara L Seck, "Business Responsibilities for Human Rights and Climate Change" - A Contribution to the Work of the Study Group on Business and Human Rights of the International Law Association (May 25, 2017).
Sara L Seck, CIGI Paper No. 129, "The Canadian Country Visit of the United Nations Working Group on Business and Human Rights", International Law Research Program, (Centre for International Governance Innovation, May 2017)
Sara L Seck, "Human Rights and Extractive Industries: Environmental Law and Standards" Human Rights Law and the Extractive Industries, Paper No. 12, Page No. 12-1 – 12-42 (Rocky Mt Min L Fdn, 2016).
Sara L Seck, "Indigenous Rights, Environmental Rights, or Stakeholder Engagement? Comparing IFC and OECD Approaches to the Implementation of the Business Responsibility to Respect Human Rights" (2016) 12:1 McGill Journal of Sustainable Development Law 48-91.
Sara L Seck, "Treaties, and the Emancipatory Potential of International Law" in Michael Coyle & John Borrows, eds, The Right Relationship: Reimagining the Implementation of Historic Treaties (Toronto: University of Toronto Press, 2017) 344-368.
Sara L Seck, "Transnational Corporations and Extractive Industries" in Shawkat Alam, Sumudu Atapattu, Carmen G. Gonzalez & Jona Razzaque, eds, International Environmental Law and the Global South (Cambridge UK: Cambridge University Press, 2015) 380-398.
Anna Dolidze & Sara L Seck, "ITLOS Case No. 17 and the Evolving Principles for Corporate Responsibility under International Law" in Noemi Gal-Or, Math Noortmann & Cedric Ryngaert, eds, Responsibilities of the Non-State Actor in Armed Conflict and the Market Place (Leiden: Brill Publishers, 2015) 235-259.
Sara L Seck, "Business, Human Rights, and Canadian Mining Lawyers" (2015) 56 Canadian Business Law Journal 208-237.
Sara L Seck, "Energy in the Great Lakes Region: Imagining a Shared Strategy" (2015) 39 Canada-United States Law Journal 20-35.
Service & activity
Member, Board of Directors, Canadian Council on International Law
Member, Board of Directors, Canadian branch, International Law Association
Member, Study Group on Business & Human Rights, International Law Association
Director North America, Global Network for the Study of Human Rights and the Environment
Member, Governance Committee, Columbia University Teaching Business and Human Rights Forum
Member, Editorial Board, Business and Human Rights Journal (Cambridge U Press)