News
»
Go to news main
2017 Convocation profile: Angela Simmonds
Posted by
Jane Doucet and Lindsay Loomer
on May 23, 2017 in
News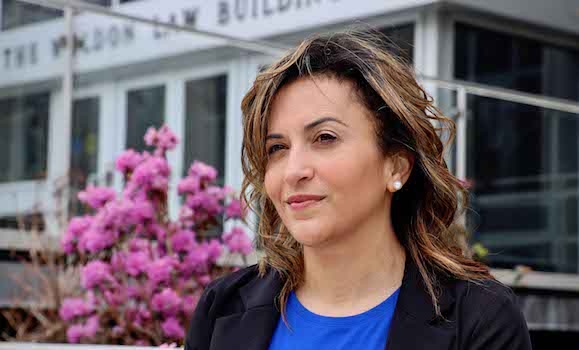 Angela Simmonds, 41, Dartmouth
2017 recipient of Dalhousie Legal Aid Service's Sarah MacWalker MacKenzie Clinical Law Award and co-recipient of the Judge Corrine Sparks Award.
The path that Angela Simmonds took to earning a law degree was both circuitous and challenging. She didn't arrive at the Schulich School of Law as a newly minted undergrad with nothing on which to focus except her studies. When she began first year, she was 38, married, the mother of three children, and working part-time.
As a first-year law student, Angela put her legal education to work on a project of great importance and lasting impact in righting an historic wrong. It is compelling work that is vitally connected to a largely unrecognized chapter in Canadian history: the contributions and struggles of the Black Loyalists in Nova Scotia.
See also: Nova Scotia Black Loyalist advocate Elizabeth Cromwell to receive honorary degree at Schulich School of Law Convocation   
In the summer of 2014, the Nova Scotia Barristers' Society hired Simmonds to carry out a community-based research project on North and East Preston residents' concerns that their land was being expropriated by the City of Halifax.
The problem dates back almost 250 years. The Crown promised freedom, land, and supplies to Black Loyalists in exchange for fighting on behalf of the British during the American Revolutionary War. The Jamaican Maroons at the end of the 18th century, and the Black settlers following the War of 1812, were offered similar promises.
What they received was rocky unfertile land that, in most cases, no one else wanted. They were given access to the land but not legal ownership of it. In spite of monumental challenges, residents have built a strong community on the land for over two centuries. They have paid taxes on the land. But without legal ownership, residents today are in the same situation their ancestors were in centuries ago: they can't legally pass on properties to their families, which means land could be taken away and sold by the government.
As a result of her research, Simmonds wrote a report titled This Land Is Our Land: African Nova Scotian Voices from the Preston Area Speak Up. Her work on the complicated issue of land titles with the North Preston Land Recovery Initiative is featured in the Nova Scotia Community College investigative journalism project Untitled: The Legacy of Land in North Preston. The documentary recently won awards from Amnesty International Canada and the Canadian Association of Journalists, and the issue has garnered national media coverage and international attention from the United Nations. 
Angela exemplifies what the Indigenous Blacks & Mi'kmaq Initiative is all about – students using their legal education to work with their communities on legal issues of concern. She has become an expert in her field by volunteering throughout law school, sharing her knowledge with community, in law school classes and with lawyers, journalism students, and the media more broadly. Angela has done all of this as a mature student and a devoted mother, and with modesty and grace. We are all enriched by her contributions and celebrate her accomplishments, and she is highly worthy of the awards that she has received.

~ Professor Michelle Williams, Director, Indigenous Blacks & Mi'kmaq Initiative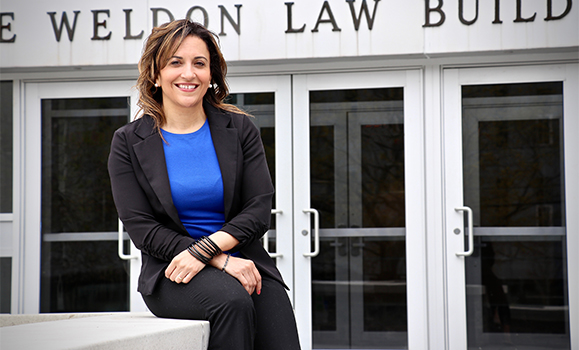 On Friday, May 26, Simmonds' family will celebrate her three years of hard work as they watch her receive her law degree. In June, she'll begin articling with Nova Scotia Legal Aid. Here, she shares her journey in her own words.
On law school
"I grew up in Cherry Brook, an African Nova Scotian community outside Halifax. I have always had an interest and passion in helping youth. I was hired as a community outreach worker in the public school system in the Preston area. I began seeing systemic institutionalized racism in the schools, and I wanted to be at the table to effect change. I realized that law was the best way to be included in those conversations.
"I applied to the Schulich School of Law because I live in Dartmouth with my husband, Dean, who is a sergeant with the Halifax Regional Police, and our three children. Law school was very challenging, and there were times I questioned if I could do this or even belonged. But giving up wasn't an option. Dean and I instilled in our children the value of hard work and we continuously tell them if you don't achieve a goal on the first try, you simply try again.
"All through first year I worked part-time, and for the remainder of law school I worked as the community liaison with the Nova Scotia Barristers' Society while remaining active in my community. It was challenging to juggle law school, work, and a family – I didn't sleep much!
On advocacy
"The research I did for the Barristers' Society revealed that Preston area residents are losing homes that have been in their families for generations where property taxes have not been not paid because of uncertainty over land titles. In some instances, families are building on property without proper subdivision approval and without having a land survey done. The Society continues to support and help residents access resources to resolve land title disputes.
"From this work, I was asked by Professors Jamie Baxter and Joanna Erdman to speak about Nova Scotia's Land Titles Clarification Act to their first-year Property and Public Law classes. I talked about the impacts on our communities and what the legislation means for African Nova Scotians. That was one of the most memorable events during my time at law school.
"Professor Michelle Williams taught the African Nova Scotians and the Law course in second year and was a mentor to me. She was so honest and passionate about how the law can impact people, especially African Nova Scotians. Professor Archie Kaiser, who taught me Mental Disability and the Law and Criminal Procedure in third year, was also a great support when I needed encouragement. While at the Dalhousie Legal Aid Clinic, Shawna Hoyte, a staff lawyer, inspired me to work hard and advocate for all people."
On the future
"There's an adrenaline rush that comes with the studying in law school – a rush to meet deadlines and see results quickly. I'm going to miss it, although I expect that there will be some of that when I'm practicing. I start articling with Nova Scotia Legal Aid on June 1. I'm interested in social justice, access to justice for everyone, and advocating for my community, not just here in Halifax but all of Nova Scotia. I'm excited about making a change as a lawyer as well as a community advocate. I am very aware that respect and privilege come with a law degree.
"Dean, my sons, A.J. and Adré, my daughter, Angelina, and a few friends will attend my Convocation. This day is a time to celebrate not only my success but also our success as a family – I couldn't have done this without their constant encouragement, support, and love."