Michelle
Williams
Senior Instructor, Faculty of Law, Director, Indigenous Blacks & Mi'kmaq Initiative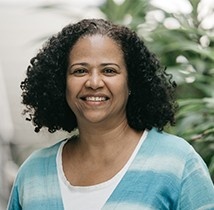 Email:
michelle.williams@dal.ca
Phone:
902-494-1542
Mailing Address:
Room 324, Weldon Law Building, 6061 University Avenue
PO Box 15000 Halifax, Nova Scotia B3H 4R2

Research Topics:
Restorative justice
Feminist theory
Race and the law
Public interest
Human rights
Education
BSW (Dalhousie)
LLB (Toronto)
LLM (New York)
Teaching
African Nova Scotians and the Law (LAWS 2251)

Orientation to the Law: "Critical Race Theory" (LAWS 1002)

Coordinator, IB&M Initiative Pre-law Course
Research interests
Professor Williams' research interests include critical race theory, critical race feminism, African Canadians and the law, restorative justice, and the practice of domestic and global public interest law.
Selected awards & honours
2012 Women of Excellence Award, Canadian Progress Club Halifax Cornwallis
2011 Pathfinder Award, Canadian Association of Black Lawyers
2010 Canadian Bar Association Touchstone Award (to the IB&M Initiative)
2000-2002 Global Public Service Law Scholarship and Fellowship (New York University)
Selected publications
Michelle Williams, "The IB&M Initiative: Reflections on 20 Years" (2009) 27:4 Society Record 33.
Michelle Williams, "Sisyphus's Ongoing Journey: Anti-Black Racism and the Myth of Racial Equality in Canada" in David Divine, ed, Multiple Lenses: Voices from the Diaspora (Newcastle: Cambridge Scholars Press, 2007) 383.
Service & activity
Member of the Race Equity Committee, Nova Scotia Barristers' Society
Member of the Employment Equity Steering Committee, chaired by NS Deputy Minister of Justice
Member of the Research team, "Evaluation of the Implementation and Efficacy of the Marshall Inquiry Recommendations in Nova Scotia", led by Principal Researcher Dr Jane MacMillan, St FX University
Academic Researcher with the Nova Scotia Restorative Justice-Community University Research Alliance (NSRJ-CURA)
Presentations
"Providing Leadership within the Legal Framework for Diversity, Equity and Intersectionality", NS Department of Communities, Culture and Heritage, February 21, 2013
"Racing Restorative Justice: Creating Ripples or Revolution?", 14th World Conference on Restorative Justice entitled, Institutionalizing Restorative Practices, Halifax, Nova Scotia, June 15-17, 2011
"Post-Durban Realities and the International Year for People of African Descent" Presentation as part of the African Diaspora Heritage Trail Conference, Halifax, Nova Scotia, September 24, 2011