Michelle
Williams
Associate Professor of Law and Co-Chair, Dalhousie University African Nova Scotian Strategy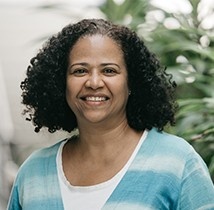 Email:
michelle.williams@dal.ca
Phone:
902-494-2863
Mailing Address:
Room 322, Weldon Law Building, 6061 University Avenue
PO Box 15000 Halifax, Nova Scotia B3H 4R2

Research Topics:
African Nova Scotian Law
Critical Race Theory and Practice
Critical Race Feminism
Anti-Racism, Equity, and Inclusion in Higher Education
Human rights
Criminal Law
Education
BSW (Dalhousie)
LLB (Toronto)
LLM (New York)
Bar admissions
Ontario, 1996-2021
Nova Scotia, 2021
Bio
Prof. Michelle Williams B.S.W. (Dal), LL.B. (Tor), LL.M. (NYU) teaches criminal law and African Nova Scotians and the law and has served as an academic researcher on restorative justice. She served as a Dalhousie Provost Fellow and continues to co-lead the University's African Nova Scotian Strategy. She served as the inaugural chair of Schulich's Equity, Diversity and Inclusion Committee. She served as Director of the award-winning Indigenous Blacks and Mi'kmaq (IB&M) Initiative (2004-2020) and is a member of the African Nova Scotian Access to Justice Judicial Committee, Watershed Legal Projects Board  (formerly Canadian Centre for Legal Innovation in Sexual Assault Response (CCLISAR), and the African Nova Scotian UN Decade for People of African Descent (ANSDPAD) Coalition. In the latter capacity she worked with the Coalition's Justice Strategy Working Group on a range of legal issues including eradicating street checks, the use of African Nova Scotian Impact of Race and Cultural Assessments (IRCAs), and the establishment of the African Nova Scotian Justice Institute (ANSJI).
Teaching 
Criminal Law (LAWS 1011/1021)
African Nova Scotians and the Law (LAWS 2251)

Law in National and International Context
African Nova Scotian Legal History & issues and Critical Race Theory (ANS/CRT)
Research interests
Professor Williams' research interests include critical race theory and praxis, critical race feminism, African Nova Scotian Law, research ethics and understanding African Nova Scotians as a distinct people, and the practice of domestic and global public interest law.
Selected awards & honours
Inaugural Dalhousie University Provost Fellow (2020-2022)
Dalhousie Law Alumni Association and Law Students' Society Award for Excellence in Teaching Law
Schulich School of Law, 2016
Lexpert Zenith Award for Diversity and Inclusion (To the IB&M Initiative)
Toronto, 2016
Canadian Race Relations Foundation Award of Excellence (Education) (To the IB&M Initiative)
November 2014
Queen Elizabeth II Diamond Jubilee Medal, Presented by Senator Donald Oliver
Halifax, March 2013
Women of Excellence Award, Canadian Progress Club Halifax Cornwallis
November 2012
Pathfinder Award, Canadian Association of Black Lawyers (CABL)
Toronto, October 2011
Selected publications
"African Nova Scotian Restorative Justice: A Change Has Gotta Come" (2013) 36 Dal LJ 419-459.
Michelle Williams, "The IB&M Initiative: Reflections on 20 Years" (2009) 27:4 Society Record 33.
Michelle Williams, "Sisyphus's Ongoing Journey: Anti-Black Racism and the Myth of Racial Equality in Canada" in David Divine, ed, Multiple Lenses: Voices from the Diaspora (Newcastle: Cambridge Scholars Press, 2007) 383.
Service & activity
Co-Chair, Dalhousie University African Nova Scotian Strategy
Inaugural Chair, Schulich School of Law, Equity, Diversity and Inclusion Committee
Board Member, Watershed Legal Projects, (former Canadian Centre for Legal Innovation in Sexual Assault Response (CCLISAR))
Member, African Nova Scotian Access to Justice Judicial Committee
Presentations
"From Reimagining to Reinventing Justice" (30 July 2022) Moderator, National Black Canadian Summit, Michaelle Jean Foundatio
"Anti-Black Racism v. African Nova Scotian Criminal Justice Innovation" Schulich School of Law Criminal Justice Series (March 3, 2022)
"African Nova Scotian Reparations" keynote speech on reparations at the 40th Anniversary Conference of the Association of Black Social Workers (September 27, 2019)
"Historical Context of African Nova Scotians as a Distinct People" International Black Health Conference (8 October 2022)
Judicial Conference, "Broadening our Horizons: Understanding African Nova Scotian Access to Justice," Black Cultural Centre, Cherrybrook, NS (June 7, 2018) (panel)
National Black Canadians Summit, organized by the Michaelle Jean Foundation, Toronto
"African Nova Scotian Education Concerns" (December 6, 2017) (panel)
United Nations Working Group of Experts on People of African Descent (UNWGEPAD), Halifax
"Understanding African Nova Scotians as a Distinct People" (October 19, 2016)