Chike
Jeffers
Associate Professor; Honours Advisor; Cross-Appointed with Canadian Studies; Cross-Appointed with International Development Studies; Undergraduate Advisor - Winter 2018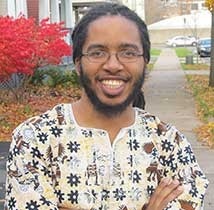 Teaching
Fall 2017
PHIL1000
PHIL4700
Winter 2018
PHIL 2165
PHIL 2260

Office Hours
Monday: 3:00-4:00
Wednesday: 3:00-5:00
Room 3136, Marion McCain Building
Department of Philosophy
Email:
chike.jeffers@dal.ca
Phone:
902.494.3547
Mailing Address:
Room 3136, Marion McCain Building
Dalhousie University
6135 University Avenue
PO Box 15000
Halifax, NS B3H 4R2

Research Topics:
Africana Philosophy
Philosophy of Race
Social and Political Philosophy
Ethics
Education
Ph.D in Philosophy (2010) - Northwestern University
Dissertation title: The Black Gift: Cultural Nationalism and Cosmopolitanism in Africana Philosophy
B.A., Honours, in Philosophy (w/ minor in Film Studies) (2004) - York University

Selected Publications
Edited Books:
Listening to Ourselves: A Multilingual Anthology of African Philosophy (Albany, NY: State University of New York Press, 2013).
Articles:
"Anna Julia Cooper and the Black Gift Thesis,"  History of Philosophy Quarterly 33 (January 2016):79-97

"The Ethics and Politics of Cultural Preservation," The Journal of Value Inquiry 49 (March 2015): 205-220

"Appiah's Cosmopolitanism,"  The Southern Journal of Philosophy 51 (December 2013):488-510.
"A Westian Vision of the Role of Black Philosophy," The Black Scholar 43 (Winter 2013):24-31.

"Embodying Justice in Ancient Egypt: The Tale of the Eloquent Peasant as a Classic of Political Philosophy," British Journal for the History of Philosophy 21 (May 2013): 421-442.
"The Cultural Theory of Race: Yet Another Look at Du Bois's "The Conservation of Races,"" Ethics 123 (April 2013): 403-426.
"Do We Need African Canadian Philosophy?" Dialogue: Canadian Philosophical Review/Revue canadienne de philosophie 51 (December 2012): 643-666.
Book Chapters:
"W.E.B. Du Bois'"Whither Now and Why,"" in Eric Schliesser (ed), Ten Neglected Classics of Philosophy (New York: Oxford University Press, 2017) 222-254
"Should Black Kids Avoid Wearing Hoodies?" in George Yancy and Janine Jones (eds.), Pursuing Trayvon Martin: Historical Contexts and Contemporary Manifestations of Racial Dynamics (Lanham, MD: Lexington Books, 2012), 129-140.