Tyler
Hildebrand
Assistant Professor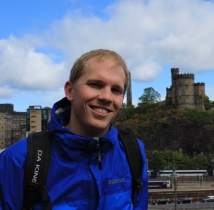 Teaching
Fall 2020
PHIL 2620
PHIL 3851/5851


Winter 2021
PHIL 1820(02)
PHIL 3051/5051

Email:
hildebrand@dal.ca
Phone:
902.494.8493
Mailing Address:
Room 1131, Marion McCain Building
Dalhousie University
6135 University Avenue
PO Box 15000
Halifax, Nova Scotia, B3H 4R2

Research Topics:
Education
PhD in Philosophy (2011) - University of Colorado at Boulder
Dissertation: Empiricism, Natural Regularity, and Necessity
BA in Philosophy and Economics (2006) - Pacific Lutheran University
Selected Publications
"Natural Properties, Necessary Connections, and the Problem of Induction." Philosophy and Phenomenological Research (forthcoming).
"Two Types of Quidditism." Australasian Journal of Philosophy 94 (3): pp. 516–532 (2016).
"Can Bare Dispositions Explain Categorical Regularities?" Philosophical Studies 167 (3): pp. 569–584 (2014).
"Rational Intuitions and Analytic Metaphysics." Contributed chapter in Chapman et al, In Defense of Intuitions, Palgrave Macmillan: pp. 73–101 (2013). 
"Can Primitive Laws Explain?" Philosophers' Imprint 13 (15): pp. 1–15 (2013).
"Tooley's Account of the Necessary Connection Between Law and Regularity." Philosophical Studies 166 (1): pp. 33–43 (2013).