Kirstin
Borgerson
Associate Professor; Undergraduate Advisor. Cross-Appointed with Gender and Women's Studies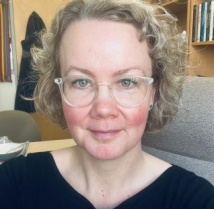 Teaching
Fall 2022
PHIL2805
PHIL 3170/5170/GWST 3500
PHIL 4680/5680
Email:
kirstin.borgerson@dal.ca
Phone:
902.494.3338
Mailing Address:
Room 1127, Marion McCain Building
Dalhousie University
6135 University Avenue
PO Box 15000
Halifax, NS B3H 4R2

Research Topics:
Philosophy of Medicine
Bioethics
Feminist Philosophy
Epistemology
Education
PhD (2008) - University of Toronto
MA (2001) - Univeristy of Toronto
BA  (2000) - University of Saskatchewan
Selected Publications
Bluhm R., Borgerson K. "An Epistemic Argument for Research-Practice Integration in Medicine." The Journal of Medicine and Philosophy: A Forum for Bioethics and Philosophy of Medicine 43.4(2018)468-484

Borgerson, K. "An Argument for Fewer Clinical Trials." Hastings Center Report 46 (2016): 1-11. DOI: 10.10002/hast.637

 Borgerson, K. "Redundant, Secretive, and Isolated: When Are Clinical Trials Scientifically Valid?" Kennedy Institute of Ethics Journal 24 4 (2014):385-411

Borgerson, K., "Are Explanatory Trials Ethical? Shifting the Burden of Justification in Clinical Trial Design." Theoretical Medicine and Bioethics 34 4 (2013):293-308
Borgerson, K., "Amending and Defending Critical Contextual Empiricism" , European Journal for Philosophy of Science 1 3 (2011): 435-449.
Bluhm, R., Borgerson, K. "Evidence-based Medicine" in Handbook of the Philosophy of Science Series, Volume: Philosophy of Medicine. Fred Gifford, Ed. London: Elsevier (2011): 203-238.
Borgerson, K. "Why reading the title isn't good enough: An evaluation of the 4S approach to evidence-based medicine," The International Journal of Feminist Approaches to Bioethics    2 2 (2009): 152-175.