Stephanie
Kapusta
Assistant Professor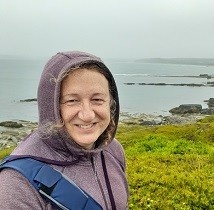 Teaching
Fall 2019
Phil 1010x(02)


Winter 2020
Phil 3211/5211
Phil 4500/5500/GWST 4500


Office Hours
Thursday
2:30-3:30

Room 1138
Marion McCain Building
Email:
stephanie.kapusta@dal.ca
Phone:
902.494.3541
Mailing Address:
Room 1138, Marion McCain Building
Dalhousie University
6135 University Avenue
PO Box 15000
Halifax, NS B3H 4R2

Research Topics:
Feminist Philosophy
Social and Political Philosophy
Ethics
Education
PhD Philosophy (2015), University of Western Ontario
MA Philosophy (2011), University of Western Ontario
PhD Theology (2005), Phil-Theologische Hochshule St. Georgen, Frankfurt am Main, Germany
PhD Theoretical Physics (1990), Imperial College, London, UK

Selected Publications
Stephanie Kapusta has been interviewed by the American Philosophical Association Blog at https://blog.apaonline.org/2018/08/09/transfeminism-how-trans-issues-and-feminism-overlap/
"Intersex Diagnostics and Prognostics: Imposing Sex-Predicate Determiniacy." 2017. Topoi 36:539-548
"Misgendering and its Moral Contestability." 2016. Hypatia 31(3):502-519
"Trans Authenticity and the Feminist 'Legacy' of Relationality." 2013. In Stewart, R.S., ed., Talk About Sex: A Multidisciplinary Discussion, 146-155 (Sydney, NS; Cape Breton University Press0.