PEI Berries Ltd.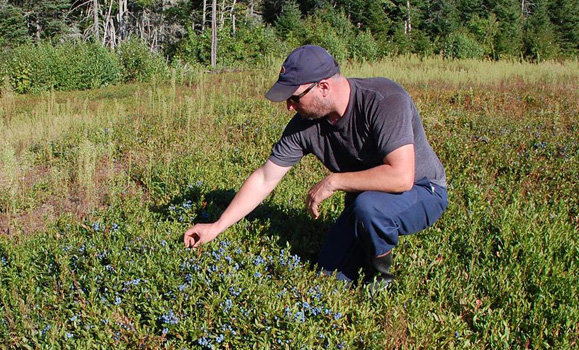 Kevin Carver
PEI Berries Ltd.
Kevin Carver (Class of '84) is, above all else, a farmer. Like most farmers, he pours his heart and soul into his operation and cares deeply about the land he works. Like most farmers, he seeks knowledge on how to improve upon his business and shares what he learns with others. Like most farmers, he supports the community that supports him.

And like most farmers, Kevin Carver is also an innovator.

Kevin is the owner and president of PEI Berries Ltd., a blueberry and poultry farm out of Alliston, PE, and the home of PURE Blueberries, a wild blueberry puree that makes use of the entire fruit with an advanced technology known as Tekmash. This technology uses hydrothermodynamics (HTD) to process and pasteurize products in one step. A relatively new product on the market, PURE Blueberries was born out of Kevin's desire to be what he considers a better farmer.
"I wanted to implement a more sustainable system," says Kevin. "I wanted to work with nature to grow my crops, not against it."
After graduating from the then NSAC in 1984, Kevin returned home to PEI to partner with his family to grow the farm. At the time, it was a hog farm, but soon transitioned to a broiler chicken operation. Eventually, Kevin found his way to wild blueberries, and this is where he found his penchant for innovation.
Established in 2007, Kevin's original intent for PEI Berries was to research reduced-input growing methods for wild blueberries to increase sustainability and produce healthier food. This research involved using alternative approaches for every stage of the management cycle. Insecticides and fungicides were eliminated and compost teas and manures replaced conventional fertilizers.

"We understand what our soils need to be fed," says Kevin. "Soil is a living thing with bacteria, fungi and microbes. We want to feed them so they feed our blueberries what they need."

The farm grows berries using an integrated strip-crop and hedgerow layout in the fields. For every 120 feet of blueberries, 22 feet of naturalized hedgerows are co-managed with Mother Nature, and subsequently serve as important sources of forage and habitat for native pollinators. This is one way PEI Berries has tried to reduce its dependency on managed bee colonies.

"Our pollinators live directly in the ground. If you're spraying insecticide it makes life really tough for them. If you want bees in your fields every year, you need to feed them and create a home for them."
Harvesting methods were also improved so as to transport whole, intact berries post-harvest and minimize damage to soil and plants.
All of these management changes were major stepping stones on Kevin's path to farming sustainably. But there was more to come.
Several years after PEI Berries was established, Kevin was introduced to Tekmash technology. Tekmash uses HTD in combination with the physical process of cavitation to simultaneously heat and blend materials in a single, energy efficient step. The technology can be used to process a variety of fruits, berries, vegetables and beans. It allows the entire blueberry – skin, seeds and pulp – to be used to create a puree. Unlike juicing, nothing goes to waste – and this is in keeping with Kevin's vision of sustainability. The perfect final product for a crop grown so diligently year after year – minimal inputs, minimal waste.  
After conducting research trials with the Faculty of Agriculture's Dr. Alex Martynenko, the technology was ready to implement. PURE Blueberries puree was born.
Each bottle of PURE Blueberries contains over 800 wild blueberries. HTD allows the skin to be broken down to molecular form and the seeds to be cracked so the oils are released into the product, creating a smooth texture ideal for drinking or as a sauce or topping.

"It's fresh fruit in a bottle," says Kevin. "Nothing added, nothing taken away. This is nature at its finest."
A 350 ml bottle of PURE Blueberries retails for $6.99 and can be found at Sobeys in Atlantic Canada and major retailers in Quebec. It is currently exported to the US, Taiwan, Japan, Korea and China, and the product line is expanding to include a cranberry and maple puree in the immediate future. Kevin plans for further market expansion across Canada and internationally after launching the cranberry puree.
Although the vision for PEI Berries is certainly Kevin's, he is quick to credit the many people he considers to be part of his team. With over 20 employees, PEI Berries is far from a one-person show. Fellow AC alumni Nathan Archibald (Class of '99) and Alison Walsh (Class of '08 and '09), general manager and project coordinator respectively, work closely alongside Kevin to ensure the financial health and management of the operation. PEI Berries maintains relationships with many research partners around the world, actively researching every aspect of crop production and sharing new knowledge with fellow producers.
However, in Kevin Carver's opinion, Mother Nature deserves the most credit. "We are blessed with natural beauty and bounty in this province, but it means nothing if we do not protect it and work with what we have been given."
He should know – since he is, above all else, a farmer.