Lutz Family Farm
Labour of love
Lutz Family Farm- Janice and Larry Lutz (both Class of '85)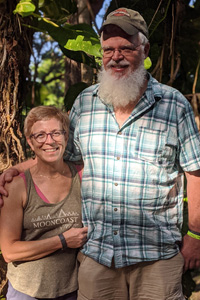 For Janice and Larry (both Class of '85) Lutz, growing their farming operation has been a humbling and rewarding experience. With a shared passion for creating quality products to help feed the world, Janice and Larry certainly understand the importance of hard work and perseverance.
"We started with very little and raised a family and expanded the farm to be a valuable enterprise," Larry says. "That's what gives me the most pride."
"We've also accumulated so much through hard work and being knowledgeable in our industry," Janice adds. "We operate very efficiently- we may not have the newest equipment, but we have what we need and this helps our financial security."
Janice and Larry own and operate Lutz Family Farm, a fifth-generation family farm specializing in apple and peach production. Located in Rockland, in the heart of the Annapolis Valley, N.S., Janice and Larry own about 1,000 acres of land. Of that, 106 acres is operational apple and peach orchards along with an apple tree nursery, forest and vacant land that they are currently cultivating to be used in future apple production.
"Besides the established orchards, we grow our own trees from rootstock in the nursery, about 20,000 each year," Janice explains. "Purchasing full grown trees is a large expense. We can grow high quality trees and it fits well with our labour capacity."
While the farm has been in the Lutz family for five generations, Janice and Larry have tailored it over the years to align with their passion and expertise. In 1988, Janice and Larry took ownership of the farm from Larry's family. At that time, the farm consisted of about 50 acres. The family had apple orchards, beef cattle, hay land, pasture, and woodland. Janice and Larry began the farms transition to primarily apple orchards when they took over 32 years ago.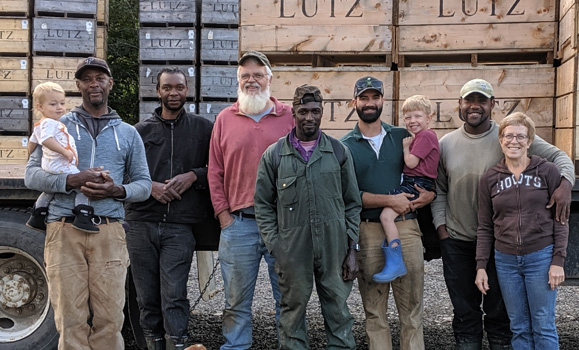 For the duo, transitioning the farms focus to apple orchards was a no-brainer. Both studied plant science at NSAC. Janice completed her undergraduate project in cereals- plant and growth regulators while Larry focused on plant science and plant protection for his Bachelor of Science. While Larry grew up with farming in his blood, Janice didn't have as much first-hand experience with farming.
"My father's work provided several transfers, so I grew up in several towns around the Maritimes," Janice explains. "My connection to farming was limited- we lived near rural areas and I enjoyed the rural landscape. My father convinced me to do my first year of college at NSAC and live at home. He secretly hoped I'd like it at AC- he had a hunch and he was right!"
Since discovering her love for agriculture while studying at the AC, Janice has become passionate about providing food for her community and beyond.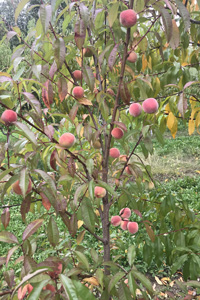 "I fell in love with the idea of feeding 6 billion people in my first plant science 101 class," Janice smiles. "Growing food comes with a lot of responsibility. I feel sometimes it is a privilege, sometimes it feels like an obligation. When I started at NSAC, I was struck by the responsibility we have, on a global level, to provide nutrition and food to the world."
Today, Janice and Larry pride themselves on developing quality products that contribute to feeding the world. They also provide employment for their community and beyond. Their greatest challenge has been labour- with their rapid expansion over the years, finding enough help to harvest the crops had become a bit of a challenge. They enrolled in the Seasonal Agriculture Worker Program and began employing people from Jamaica about 12 years ago, allowing them to grow and expand their acreage with confidence. They also pride themselves on their farm's self-reliance. With their background and experience in different industries working off-farm, they've come to be quite self-sustainable.
"Our farm is quite vertically integrated," Janice explains. "We have acquired a lot of machinery over the years, so we are less reliant on contracting services."
Not only is Lutz Family Farm fairly self-sustainable, Janice and Larry built their farming business each while working full time jobs off the farm and raising four children. Five years ago, Larry began farming full-time while Janice has joined him full time as of 2019. They've got their sights set on continuing to grow the farm and ensure their children follow their passions, the same as their parents had done.
"The farm is structured to allow our children to join the business if they are interested," Janice explains. "We have worked hard to build a business that is progressive, efficient, and interesting. The most important goal we have is for us and our children to be comfortable, supportive, hardworking and engaged in our community and appreciate the land we have, the business, and each other."
When reflecting on their accomplishments and growth of the farm over the years, Janice and Larry admit their greatest achievement with a smile.
"We did it!"