Dickinson Bros Farm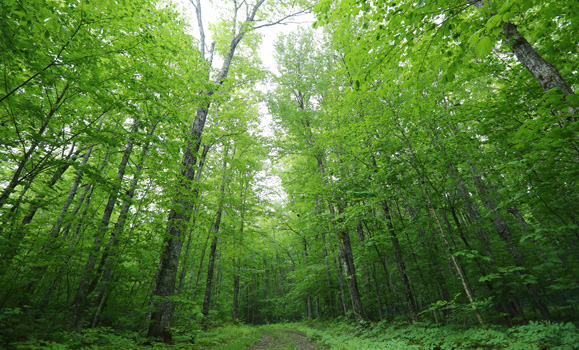 David (Class of '63) and Karen Dickinson
As the old adage goes, 'don't put all of your eggs in one basket.'
For David and Karen Dickinson of Dickinson Bros. Farm, perhaps their mantra can be 'don't put all of your blueberries in one basket.'
A fifth generation farmer, David Dickinson has been farming on Dickinson Bros. Farm in West Brook, NS for over 50 years. David admits that the secret to the farms unwavering success has been diversity. Although predominantly a wild blueberry and maple operation, Dickinson Bros. has seen a variety of commodities over the years including maple, wild blueberries, strawberries, beef cattle, logging, and grain. While they've done away with their beef cattle operation, they currently have 200 acres of wild blueberries, 19,000 tapped maple trees, 120 acres of grain, five acres of strawberries, and a 2,000 acre woodlot. David believes it's this diverse mix of commodities that has ensured the farm's prolonged success.
"Mixed farming has been good for us in that it all balances out," David explains. "You don't have the highs and lows others do because they all don't go up or down at once."
Growing up on the family farm, David always knew he would one day return to take over the farm. David attended the Nova Scotia Agricultural College (now Dalhousie University Faculty of Agriculture), completing the first two years in 1963 for the degree program, then going on to MacDonald College in Montreal for his BSc Agriculture, graduating in '65. After graduating, David didn't hesitate to return to the family farm. Today, Dickinson Bros. Farm employs four full-time and seasonal workers, in addition to David himself, David's wife Karen, and their sons and grandchildren who pitch in during peak maple season.
"I always knew I'd be a farmer's wife!" Karen, David's wife of 50 years, laughs.
Although there are still a variety of commodities on the farm today, it is their maple and wild blueberry operation that is most prominent. Each spring, David, his family, and the farms dedicated employees, spend countless hours collecting, trucking, boiling, and packaging sap to meet the demand of their consumers.
"Maple season is David's most favorite time of year," Karen explains. "He takes great pride in his product and it shows!"
With the ever-changing and unpredictable Nova Scotia weather, David explains that maple season seems to be arriving earlier with each passing year. Back in the 1960's, a typical maple season would run from the end of March until the end of April. This past season, David was tapping trees in mid-February and bottling syrup before the end of February. Despite the changing season, the high quality of the sap remains constant.
"This year, we produced 10,206 litres of maple syrup" David explains.
Over the years, the Dickinson family has made many changes to their maple operation to make the process more efficient. With the addition of an oil-fired evaporator and other improved technologies, David rarely has to spend tiresome nights boiling sap. The resulting products are used year-round to fill orders for markets, custom orders, and other retail stores.
During maple season, eighty miles of pipelines bring sap from the tapped trees to several storage tanks around the mountain. From there, the sap is pumped into a 1,000 gallon tank and trucked to their processing building, which is located six kilometers from the sugar woods. The sap is then processed using reverse osmosis, a technique that pumps the sap under high pressure to remove the majority of the water and increase the sugar content.
Although their sugar woods is located six kilometers from their processing building and may seem like poor planning to some, David explains that a lot of thought went into the placement of the building.
"It's a prime location for us as it's accessible and road-side," David explains. "We built it in the early 1970's. It's also a great spot for visitors to stop in."
When the sap is done flowing each spring, David's attention is shifted to his wild blueberry crop. Dickinson Bros. Farm cultivates over 200 acres of wild blueberries, with some fields producing wild blueberries since 1927.
Not only is he a passionate farmer, David has been a valuable advocate for the wild blueberry industry in Nova Scotia for over 50 years. In the early years, David provided test plots for research to improve berry quality and yield. He was also among the first producers to implement a double-cropping system, a two-year harvest cycle which eliminates the production costs of weed control, making it cost-effective and highly productive. Among his own increased wild blueberry production, David was also one of the founding organizers of the Wild Blueberry Producers Association of Nova Scotia, the organization that oversees the production and marketing of wild blueberries in Nova Scotia.
Although wild blueberry production in Nova Scotia has been at an all-time high for the last number of years, the success of this year's harvest remains uncertain. Many blueberry farmers across the region suffered extensive loss after a late spring frost swept the region in early June. Despite their hard work over the winter and early spring preparation to maintain their wild blueberry fields and produce a high yield, David admits that this this year the wild blueberry yield is questionable. Some farmers suffered widespread frost damage to their wild blueberry fields while others lost entire fields completely.
"It's a hard time of year right now," David says. "We can't quite tell what kind of loss we may be facing. Damage will start to show in the coming weeks. We're fertilizing the crops whether it's worth it or not."
It's during times like these that David is most satisfied with his mixed farming operation. While the blueberry yield may not be as high as he would like, the other commodities on his farm are thriving, keeping the farm balanced and operable. As for the future of the Dickinson Bros. Farm, that is still undecided.
"David thinks he's going to live forever so we don't know what the future will hold!" Karen laughs.
Despite what the future brings, Dickinson Bros. Farms is sure to thrive with its diverse farming operation and a family as passionate and as dedicated as the Dickinsons.