Taco Stiles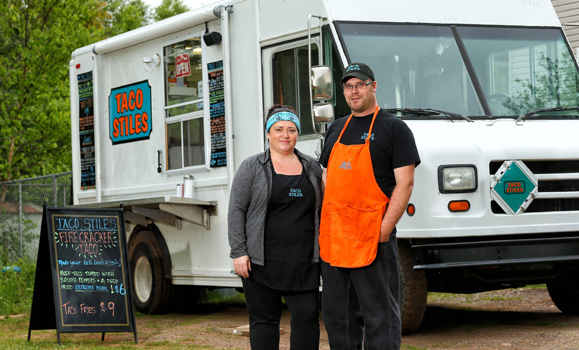 John (Class of '97) and Mari Ann Stiles
by Emma Geldart
John and Mari Ann Stiles have a different "Stile" of farm.
The Stiles farm wild blueberries but the other half of their operation is truly unique.
John and Mari Ann own and operate a taco food truck, the first of its kind in their hometown of Truro, NS.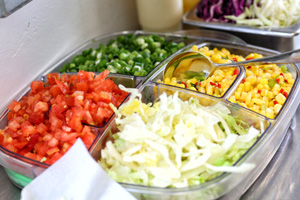 "I have always had a passion for cooking and entertaining," Mari Ann explains. "But we wanted flexibility with our menu so we decided to open a food truck."
Serving Truro and surrounding areas, John and Mari Ann developed their business on a hunch that Truro was ready for a food culture change. With evidence of a "foodie" culture in Truro and excitement for the local food movement, John and Mari Ann searched for 18 months before finding the perfect food truck.
"We bought the truck in the spring of 2014," Mari Ann explains. "I finalized the menu planning, acquired all the necessary permits and inspections and we were off and running."
Only in their second year of operation, the Stiles have been overwhelmed with the support from the community. With a variety of different types of tacos on their menu, Mari Ann explains that what makes them truly unique is the ingredients that they use. The Stiles only use fresh, local ingredients in their taco truck. For them, it is important to know where their food came from and it's important to help out local farmers.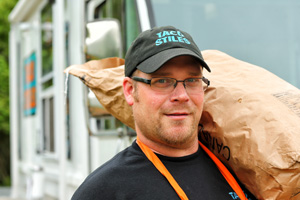 "Buying local is important to us because we can see how much it does for a small community," she explains. "I can see how much it helps the farmer down the road and I want to invest in that. I have a buying relationship with some of the suppliers at the local farmers market and we also source our meats from Moxsom Meats in Shubenacadie. Everyone has been great and supportive and happy to be a part of our buy/sell local goal."
As for the farming half of their operation, John is a second generation farmer. His love for farming blueberries started when he was in high school.
"My father used to farm the land, growing grains and other crops," John explains. "Eventually that ended. He got out of farming but continued to rent the land to local farmers. During my years in high school the woodland was harvested revealing the potential for growing blueberries. Two years after, the woods were harvested and the landscape turned blue with berries which sparked my interest in how to cultivate and grow the blueberries."
John spent several weekends and evenings cultivating the berries with an old lawn mower. When he finished high school, he enrolled in classes at the Nova Scotia Agricultural College (now Dalhousie University Faculty of Agriculture) and took the Agricultural Engineering Technician program. He spent much of his spare time using the university's resources to expand his knowledge of wild blueberries. Over the years, John continued to clear more and more land for wild blueberry growth. He did all the work himself, picking away at the work and keeping his costs low. Now, 16 years later, John has ten acres of blueberry land with 100 per cent coverage.
"For the past 16 years, the berries have been hand raked by local children and families," John explains. "This created some local job opportunities, especially for the kids who were looking to earn money in the summer."
This year, the berries will be hand raked for the last time. Starting next year, John will be harvesting the field using a machine.
"As the fields grow larger it becomes more difficult to manage a raking crew," John explains. "One thing we will miss about hand raking is the opportunity to educate young people, as they always have lots of questions of how the berries grow."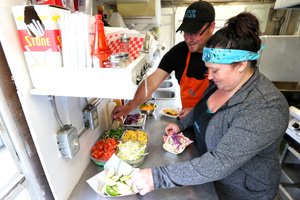 Although the Stiles sell most of their berries, they do keep a portion to use in their taco truck. They use the berries for their blueberry lemon cheesecake dessert taco, a blueberry mango salsa chicken taco, and in a blueberry honey barbeque sauce. All of the sauces are homemade by Mari Ann.
While John can be found preparing tacos for customers on the weekends, he is employed full time as Apiary Manager at Kittilsen's Wildflower Honey, a local honey bee farm. Mari Ann on the other hand, works in the taco truck full time.  
"We are usually open Thursday through to Sunday unless we are vending at a special event," Mari Ann explains. "Monday through Wednesday are used as preparation days where I prepare all the fresh ingredients for the upcoming service."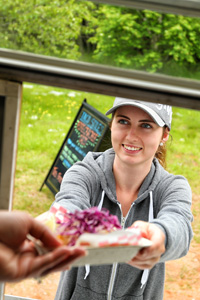 Just like their farm, the Stiles' tacos are not typical at all.
"Although we do offer authentic selections, we tried to switch it up and be more creative," Mari Ann explains. "We usually do a weekly 'special' taco to add to the variety. We try to use what's in season and what's trending in the culinary world."
Along with their tacos, Taco Stiles offers fresh cut fries, taco fries and pulled pork fries. Mari Ann explains that, depending on their location, Taco Stiles can easily have 150-200 customers while street vending. While at festivals or special events, they can service crowds of up to 5000 or more. They are usually open until they run out of fresh ingredients.
While the Stiles may not be your typical family farmers, they still contribute to the local agriculture industry in a unique way. A way that has proven, so far, to be extremely popular with food lovers from all corners of the community and beyond.