Wool Blankets
From Sheep to Shawl
Faculty of Agriculture Wool blankets produced from fleece of campus flock
The Faculty of Agriculture prides itself on providing students with hands-on learning opportunities while encompassing the full view of agriculture from field to fork.  However, one student took this a step further and embarked on what has become a Faculty of Agriculture tradition.
Gary Wallace spent 26 years as the former NSAC 's Shepherd and was looking to identify alternative uses for raw wool. The idea began at a time when raw wool prices in Nova Scotia were very low and ideas were needed to enhance income generation for the producer community.
"The cost of shearing sheep was even more than the return from the raw wool produced," Gary explained.  "The sheep had to be sheared, of course, but at the time many sheep farmers were just storing it on their farms or actually dumping the wool in the landfill to avoid the extra costs of trucking to wool pick-up points."
With MacAusland's Woollen Mills close by in Prince Edward Island, Gary and others began shipping high quality raw wool to the Island for processing.  However, with limited market capacity, there was more wool than the Mills required.
"We then thought, why not make and sell our own blankets," said Gary.
The Faculty now produces wool blankets utilizing the wool from the campus flock.  Students learn how to shear the sheep each spring and clean the fleece and as demand requires, the wool is delivered to MacAusland Woollen Mills in Prince Edward Island for processing on behalf of the university. The finished blankets are used primarily for gifts with a limited quantity available for sale among faculty, staff, students and alumni.  
Gary graduated with his degree in Economics and Agricultural Business in 2005 and eventually earned his Master of Adult Education from St. Francis Xavier in 2009. 
"I completed my Bachelor of Science degree over six years balancing work and study," Gary added. "I often showed up to class in my coveralls having just delivered triplets."
Blankets: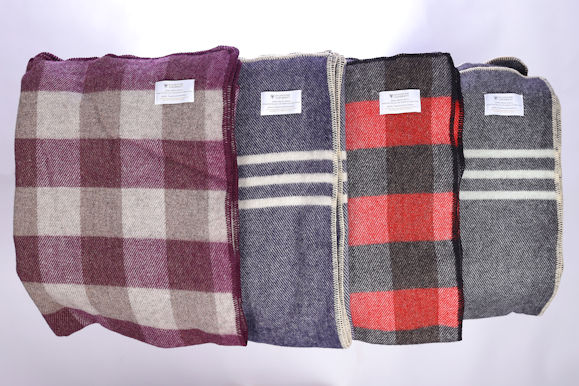 (Left to Right) Maroon&Grey tweed, blue, red&black tweed and black.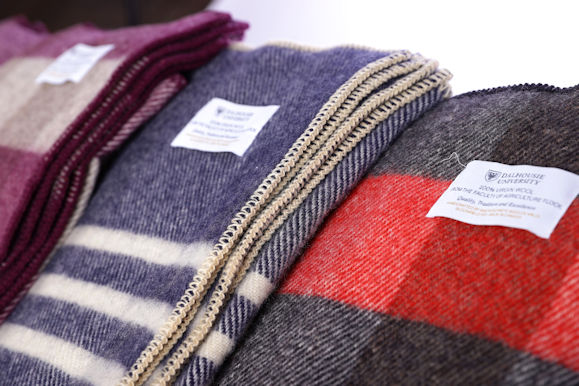 To purchase:
All blankets are manufactured by MacAusland's Woollen Mills in a throw size - 52 x 76 inches
Each blanket is $125.  Shipping anywhere in Canada is $25
Payment accepted included cash, cheque made payable to Dalhousie University, or credit card. 
Please email Stephanie Rogers at s.rogers@dal.ca to purchase.