A & J Bent Farms Ltd.

The Bent Family: Jennafer (Class of '14), Alana, (Class of '17) Jonathan, Jacqueline and Allen (Class of '81). Missing, youngest son, Adrian.


"I had breakfast with Allen," is a joke Allen and Jacqueline Bent hear often. As part of Farmers Dairy's, We are Your Farmers, campaign, their dairy farm (and Allen himself) is featured on cartons of milk in households across the Maritimes.

Although being profiled in such a feel-good campaign is quite an honour, it's not what makes the Bents most proud of their family farm, A & J Bent Farms Ltd in Lawrencetown, NS. It's the fact that their dairy operation is just that – a family farm. Family farming is a lifestyle, a choice. For Allen and Jacqueline it's what they both grew up with, it's what they enjoy. They believe it is the best way to raise a family.
"Watching our four children grow-up on the farm, being in the barns and around the animals gives us so much pride," says Jacqueline. "Raising our kids on the farm has instilled so many important values – responsibility, organizational skills, strong work ethic and punctuality."
Both Allen and Jacqueline grew up in dairy farming families.  Since 1994 they have owned and operated their farm, which they purchased from Allen's parents.  As partners not only in marriage, but in business, they both actively participate in the day-to-day running of their operation.

The Bents milk 135 cows, mostly Holsteins, plus about 10 Jerseys.  The farm is self-sufficient in production of grains and forages. A few years ago, they undertook a major expansion of their operation, installing a new parlour and expanding their quota holdings by 50 per cent. An additional 56 freestalls were also added to their freestall barn.
Within their family-run operation, A & J Bent Farms Ltd have two long-time employees, one-full time and another full-time seasonal. They are thrilled to be welcoming a new Agricultural Campus graduate to their farm this spring.
They truly enjoy what they do. "For us, farming is so much better than a typical day job," says Jacqueline.  As Allen and Jacqueline run their farm each day, their kids are never far. "Allen and I can work here on the farm and the kids have always been able to see what we do. The kids have direct access to their parents, while we work. Our family can be together."
Allen and Jacqueline work hard to maintain a high calibre operation, but at the end of the day they can look back and see a lot has been invested into their children too. "We teach the kids to take the tools they have and apply those tools to do the absolute best they are capable of. We don't preach win, win, just work hard and do your best."
The "best" is just what the Bents do. They are committed to producing top quality milk each and every day so that the best product possible reaches the store shelf and ultimately the consumer. Last year they were named Agropur Region 16 milk quality champion. Prior to this honour, they received the Dairy Farmers of Nova Scotia Excellence Award in all but two of the 20 years they have been shipping milk.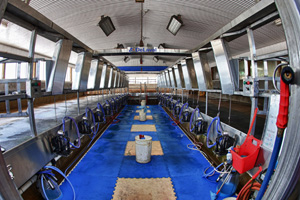 While maintaining milk quality the Bents also strive for image. "Image is so important to consumers and rightfully so," adds Jacqueline. "It is so important to us to maintain a nice property that is neat and tidy, keep a clean barn and make sure the cows are comfortable."
As any other farmer can relate, it's not always easy. "Not everything will go as planned," adds Jacqueline, "plans and trips can get cancelled. There are blips in the road all the time." However, the Bents have learned to adapt. "We just roll with the punches." At the end of the day it comes back to the same thing, they are doing what they love and they are doing it together. "It's always WE, we are a team."
Allen and Jacqueline's oldest daughter, Jennafer graduated from Dalhousie's Agricultural Campus in the spring of 2014 while their other daughter, Alana, finished up this year. The tradition might not stop there. The Bent's oldest son, Jonathan, has the Agricultural Campus on his radar for when he graduates from high school this June. Youngest, Adrian, has a few years to decide.
Regardless where the kids each end up, they'll undoubtedly be reminded of their hard working roots and their family farm, whenever they open the fridge to grab a carton.