Armadale Family Dairy Products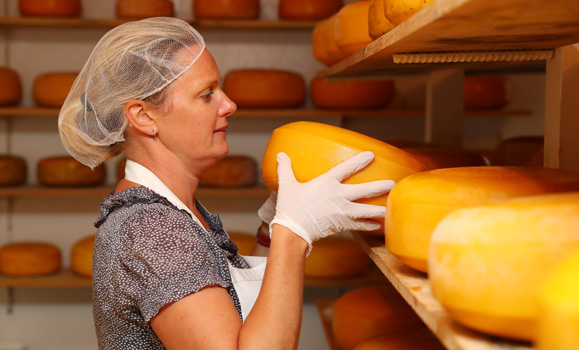 Armadale Farm Dairy Products
Hetty (Class of '01) and Ian Smyth
What began as a little taste of home, is now a bustling business for one dairy farming family.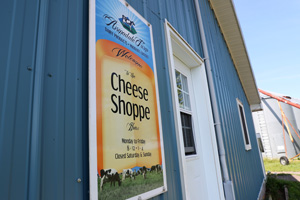 In 1986, the Duivenvooden family immigrated from the Netherlands to start farming in Canada. After settling on a dairy farm in New Brunswick, the family found that the traditional Gouda cheese they were used to in Holland, was hard to come by on the East Coast of Canada. They began making their own cheese using fresh milk from their dairy cows.
"Soon the community caught on and before we knew it people were coming to the door to purchase our cheese!' Hetty Smyth (Class of '01) smiles.
Armadale Farm Dairy Products, located in Sussex, New Brunswick, is home to 100 dairy cows whose fresh milk is used to make a variety of fresh artisan cheeses. While Hetty and her husband, Ian, oversee the dairy processing plant, Hetty's brother, Hubert Duivenvoorden, owns and oversees the dairy farm.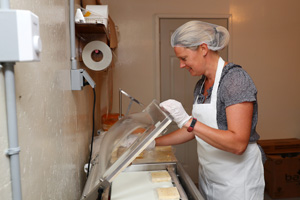 "The barn is set up as a free stall barn," Hetty explains. "We have fans and heaters for the varying degrees of weather. Our cows receive top notch care, as the saying goes "a healthy cow is a happy cow!"
It's those happy, healthy cows that produce such high quality dairy products for customers of Armadale Farm to enjoy. In 1990, not long after the family immigrated to Canada, the cheese plant came into existence. Although the plant opened in 1990, Hetty's family had been making cheese long before that. Upon settling in New Brunswick, Hetty's father, a fifth generation cheesemaker, purchased some used equipment to begin making cheese in the basement of their farmhouse. Soon, the business began to grow, resulting in the construction of a full cheese plant.
"The dairy processing plant had been a part of our family farm for a long time when my parents decided to retire from it," Hetty says. "Not wanting to see a good thing come to an end, my husband and I took over the plant in 2006. My parents both came from farming families so farming is definitely a family gene!"
Each morning, fresh, warm milk is pumped directly from the cows to the cheese vat and pasteurizer. From there, different varieties of cheese are produced through an intricate process. Each variety of cheese has a slightly different production process as each variety has different requirements and characteristics.
"Each morning, I have to be about an hour ahead of Hubert who is doing the milking," Ian says. "I have to sterilize my equipment and prepare the culture all before the fresh milk begins coming through the pipe."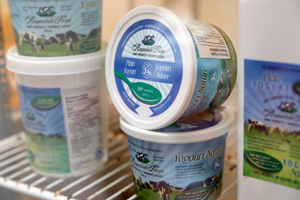 A common product at Armadale Farm Dairy Products is traditional Dutch Gouda cheese. The process of making Gouda cheese begins by adding culture, which raises the acidity of milk by consuming the lactose, to the fresh milk. An enzyme called rennet is also added to help the milk curdle. The milk then sits for 45 minutes to allow for coagulation. The cheese curds are cut and some of the whey, the liquid remaining after milk has been curdled and strained, is removed. Next, hot water is added and the mixture is stirred for 20 minutes. This process is repeated twice to raise the temperature of the curds. The excess whey is drained, leaving the cheese curds in the vat. If necessary, spices are added.
"There is no holding time and no further transport for the fresh milk," Hetty explains. "Since the milk comes directly from our own cows, we can ensure that the milk we use is of the upmost quality and therefore our products will be of the same quality."
The final step in the cheese making process is to press the cheese. The curds are placed into molds and pressed evenly for three hours and then turned so that both sides are evenly pressed. Once pressed, the cheese sits overnight to bring the pH level down before the brining process. The cheese is put into a brine tank for two days where a salt brine adds flavour to the cheese.
"After two days, the cheese is taken out and allowed to air dry," Hetty explains. "Once it is dry, a breathable cheese coating is applied. From there, the aging process begins. Gouda cheese is usually aged two to three months for mild varieties and longer for medium and old. The cheese basically requires constant attention until it is shipped to market."
Although Gouda cheese is their specialty, the dairy processing plant offers an extensive selection of handmade, quality dairy products. Cheddar, Feta, Havarti, and Parmesan cheese, cheese curds, dips, quark, sour cream, yogurt and ice cream can be found at their on-site cheese shop, Fredericton Boyce Farmers Market, Dieppe Farmers Market as well as various country markets and stores in Southern New Brunswick.
Although their cheese making business is booming, it hasn't always been easy getting to where they are today. They faced challenges as any farming business would, especially the high costs of production and overhead costs as Armadale Farm is so small compared to large dairy processing plants.
"Every business has its ups and downs but the trick is to weather the storm and see it through," Hetty says. "Not every business is able to do that but so far we have been lucky."
Overcoming their challenges has certainly been worth it though. It's not hard to tell that farming is important to the Smyth family and they are proud of their dairy processing operation.  
"Farming is the backbone to the economy," Hetty proudly explains. "It's where the food chain starts, be it dairy, vegetables, wheat and grain crops, the list goes on. There is very little that does not begin with a farmer's hand."
And while Armadale Farm Dairy Products strives to provide fresh local products for their customers, their dedication to their community goes far beyond that.
"We want to impact our community by raising awareness of where food comes from, what it actually takes to make a block of cheese, the importance of nutrition and the absence of fillers and additives in food," Hetty says. "Supporting local is so important."