Wood n Hive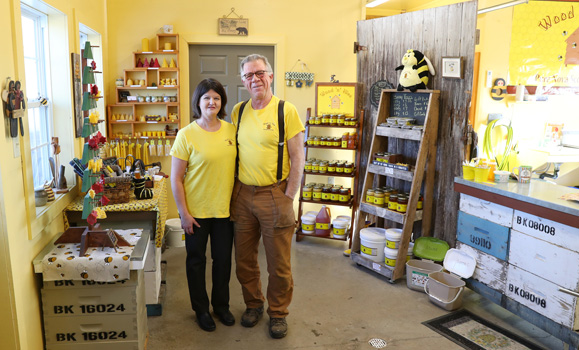 A sticky success
Wood 'n' Hive  - Alex (Class of '82) & Heather Crouse
In 2003, the Crouse family woodlot in Stewiacke, NS was devastated by the infamous Hurricane Juan. For Alex Crouse (Class of '82), the silver lining among the devastation were the wild blueberries that began to grow in place of the trees. Pollination was critical to cultivating the wild blueberries so Alex and his brother Matthew (Class of '96 and '06) invested in 12 honeybee hives.
For Alex and his wife, Heather, that's where it all began.
For nearly 10 years, Alex and his brother sold honey in very limited quantities, to friends and family, using honey produced by the bees that pollinated their wild blueberry fields. Recently retired from his lifelong career in agricultural sales and marketing, Alex decided to turn this hobby and passion into something more. 
"Bee keeping and honey production have always been of interest to me," Alex explains. "Both my grandfather and father were beekeepers years ago."
Alex's first step was to enroll in the Modern Bee Keeping course through Dalhousie University Faculty of Agriculture's Extended Learning department. Then, in 2016, Alex and Heather started Wood 'n' Hive with just 15 bee colonies. Together, the couple nurtured Wood 'n' Hive to the thriving honey bee farm that it has become in a short time.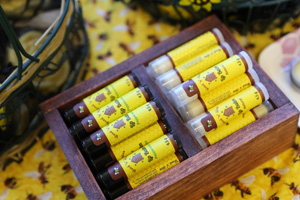 Located in Port Williams, NS, Wood 'n' Hive is now home to 240 bee hives. For the first time in 2018, Wood 'n' Hive saw the first sales of nuclear colonies being sold to other beekeepers in the Maritimes. In addition to the honey that the 9.6 million bees produce, Wood 'n' Hive also has a wide variety of value-added honey products such as lip balms, candles, food wraps and lotion bars. Nearly 20 per cent of Wood 'n' Hives business comes from these value-added products which are hand-made by Heather at their home and sold through the retail store, selected farm markets and more recently, craft fairs.
"I'd say we spend 50 per cent of our time on marketing, and the other 50 per cent on production," Alex says. "We have hundreds of customers come through our doors each year. Many are repeat customers and also lots of new folks, who stumble upon us."
Although Wood 'n' Hive is known for their outstanding honey and beeswax products, the educational component of the farm is what makes it so unique. As a part-time school teacher, the educational piece is a natural fit for Heather.
"Our ultimate goal is education," says Alex with a smile. "It's what we're all about. If we sell products while educating consumers, that's just a bonus!"
Their retail shop is home to an observation hive as well as the extraction equipment. During harvest, customers can visit the bees and see first-hand how honey is handled, all the way from the comb to the consumer. Wood 'n' Hive also offers two types of tours to consumers. Walk-through tours of the extraction, production and retail site, which conveniently sits in front of their home, are great tours for larger groups or anyone passing by. Smaller groups can book a very experiential tour, "Into the Bee Yard", which involves suiting up, much like the bee keeper himself and venturing out to the hives.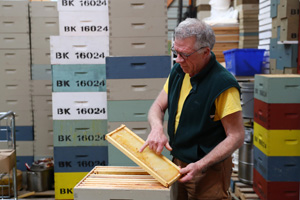 Alex and Heather work in sync, ensuring business operations are seamless. Alex oversees the maintenance and construction of the equipment, while also tending to the bees. As a beekeeper, also known as an apiculturist, Alex works to maintain the bee colonies in a series of manmade boxes called supers and brood chambers. A super or brood chamber is a large box with typically 9-10 frames hanging inside. Honeybees collect nectar and store the processed nectar, the honey, in beeswax honeycombs which they build on the frames within the super. The brood chambers are where queen lays her eggs and are tended to by the young worker bees.
"Each hive needs approximately 70 pounds of honey to get through the winter," Alex explains. "The surplus that the bees produce is what we harvest. Our goal is to harvest 100 lbs per hive with good management and ideal bee yard location."
Unlike some other honey producers, Alex only harvests the honey once per year. In the late summer or early fall when the supers are filled with honey, Alex spends roughly six weeks extracting the honey from the honeycomb. The honey is stored in large pails which they bottle and turn into product as needed. 
While honey production is important to Alex, one of his top priorities is the health of the bees. Like any farmer, the animals, and in Alex's case the insects, are important to him. Alex is currently working with fellow Agricultural Campus alumni Dr. Robyn McCallum, (BSc '13, PhD '17), and Sawyer Olmstead, (BSc '16, and MSc Candidate) of the Atlantic Tech Transfer Team for Apiculture (ATTTA) conducting honey bee research.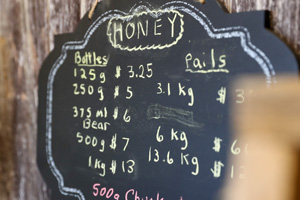 In 2017, ATTTA initiated a scientific experiment with Alex to examine seasonal trends and management of Nosema, a micro-parasites that can compromise bee health. Together, they tracked two Nosema species throughout the year, and investigated techniques to effectively manage this disease. By better understanding and managing this disease, hives could be stronger and healthier. 
Alex also works with Dr. Nancy McLean of the Department of Plant, Food, and Environmental Sciences at the Agricultural Campus to better understand from which plant species the bees collect their pollen. The field in front of Alex's home was planted with a seed mix developed by Nancy to provide high quality food to pollinators. The research team is looking at which bee species are on which flowering species. The project helps to provide high quality food to wild, native bees but also benefits honeybees. Funding for the research that led to the seed mix came from Nova Scotia Department of Agriculture and Syngenta Canada. Testing of the seed mix for providing food to pollinators was funded by the Atlantic Ecosystems Initiative, Environment and Climate Change Canada.
In addition to his enthusiastic cooperation with apiary research, Alex also sits on the board of directors of the Nova Scotia Bee Keepers Association as vice president and secretary.
"I think it's important to give back," Alex says. "I know others who are always pitching in so I wanted to as well."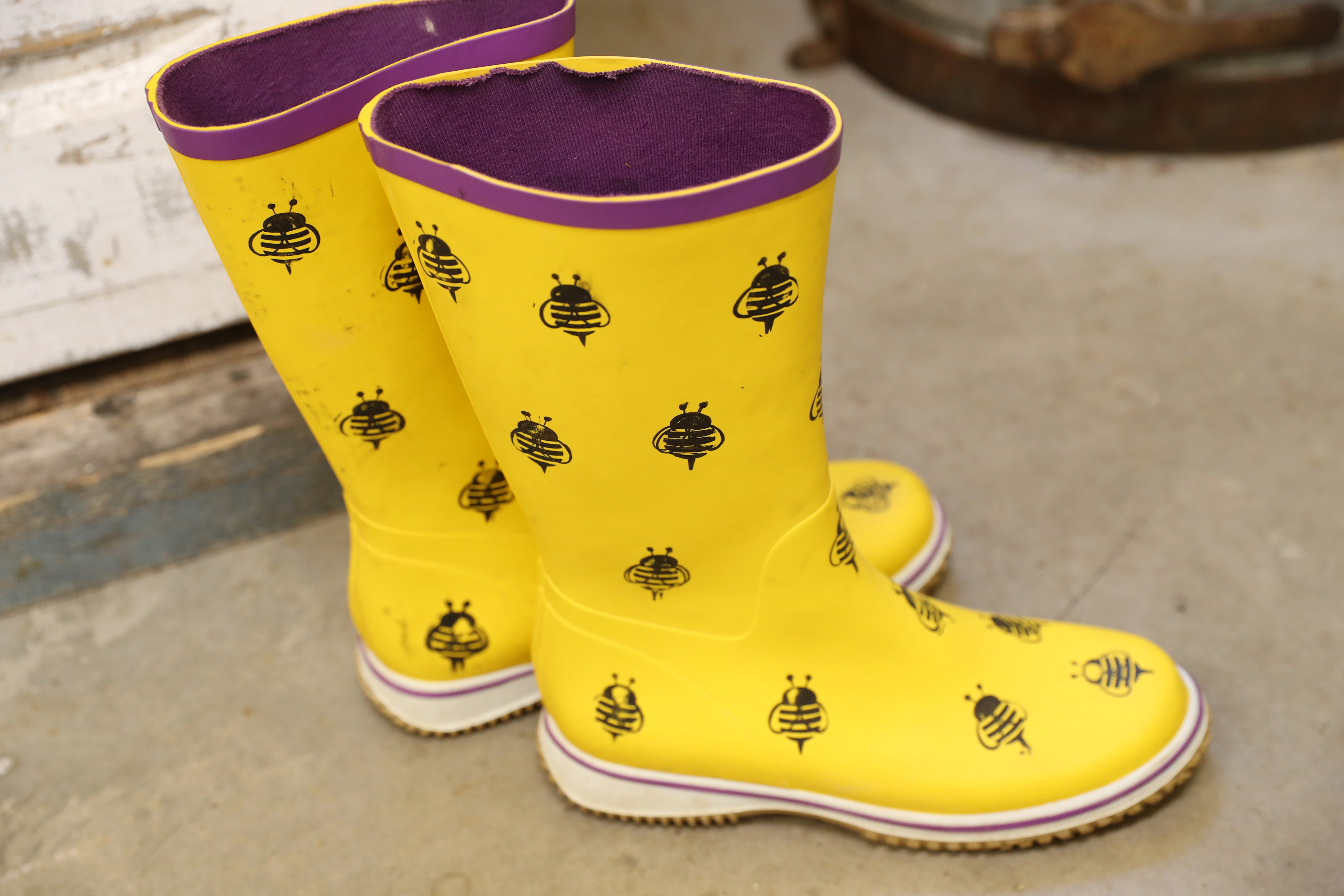 With a new year ahead of them, Alex and Heather are focusing on expanding their production and retail space and improving efficiencies at Wood 'n' Hive. Despite how far they've come in such a short time, Alex and Heather want to take a step back and see what can be adjusted to ease their manual labour. As a beekeeper, the work is hard and the days are long but Alex wouldn't have it any other way.
"I am so passionate about what we are doing," Alex exclaims. "It's certainly not for everyone- it's hot, sticky work and it's physical and repetitive. But there's something therapeutic and peaceful about working with the hives and being in the fields. The bees do their thing and I do mine."
The Crouse family is proud to have had three generations graduate from the Agricultural Campus. Alex's father, Harry (Class of '56), Alex and more recently, his son, Ben (Class of '10).