Today@Dal
»
Go to news main
Pets of Dalhousie: Meet Fitzhugh
Posted by
Communications, Marketing and Creative Services
on August 31, 2021 in
Community Highlights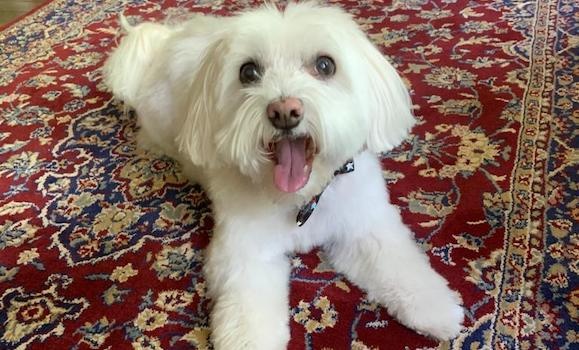 Fitzhugh is a Maltipoo who lives with Deep Saini, president and vice-chancellor of Dalhousie University.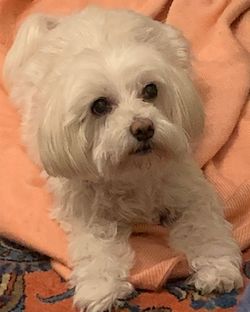 Name: Fitzhugh or "Fitzy" for short. One of my daughters named her after Louise Fitzhugh, who authored Harriet the Spy – my daughter's favourite childhood book.
Nickname: Fitzy.
Breed: Maltipoo (cross between a Maltese and a miniature poodle).
Age: 13 years young!
Favourite food: Fitzy absolutely loves vegetables. If you open the crisper drawer of the refrigerator, she comes running instantly. She is especially fond of carrots and celery.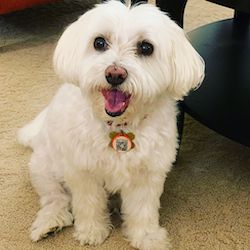 Special tricks: She understands a great deal of what we say and responds to several questions, including "do you want to go outside?" "do you want a treat?" and "do you want to take a bath?" (She almost always chooses the treat.)
Best quality: She has taught us so much about unconditional love.
Social media handle: While Fitzy doesn't have her own dedicated social media account, she is often featured on Instagram @DalPres.
Pets of Dalhousie wraps up today. Thanks to all who have submitted profiles of your animal friends.
Remember that you can browse our archives to check out the pets we've featured in this space over the past eight months.

You'll find pets from this month — Mila, Remy, Bean, Vester and Visby, Ash, Lola, Nibbler and Stormy, Oreo, Kuma, Charlie and Tony, Fozzy, Percy Doodle and Dolly, Saylor, Enzo and Keeper, Marlowe, Luka and Bonita — as well as pets from previous months:
The month in pets: January

The month in pets: February

The month in pets: March

The month in pets: April