Today@Dal
»
Go to news main
Pets of Dalhousie: Meet Keeper, Marlowe, Luka and Bonita
Posted by
Communications, Marketing and Creative Services
on August 30, 2021 in
Community Highlights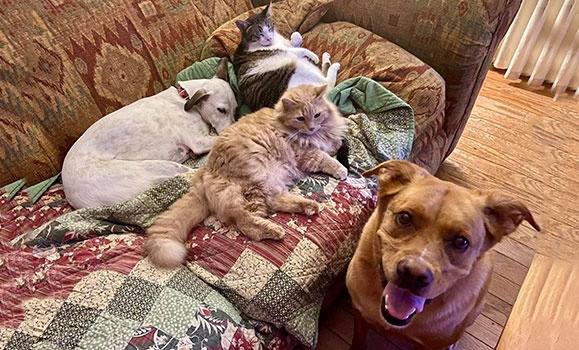 Keeper and Marlowe are the cats and Luka and Bonita are the dogs who live with Marcie Nixon, benefits advisor with Human Resources.
Name: The white/brown cat is Keeper (although the vet once said I should have named him 'Giveaway' because he's quite mischievous), the blonde cat is Marlowe (after fictional detective, Philip Marlowe), the red dog is Luka (liked the name) and the white dog is Bonita (she was a Dominican Republic rescue & distemper survivor — we kept her name).
Nickname: Keeps/KeepyKeep, MarMar, LukieLoo and Bobo.
Species/breed: Keeper and Marlowe are domestic short/long haired cats. Luka is a Lab/boxer mix. Bonita is an American village dog (these evolved separately from modern dog breeds, it's pretty cool - read more about it here if interested). 

Age: Keeper is 11, Marlowe is 9, Luka is 6 and Bonita is 2.
Fave food: Keeper is very picky so just wet food. Marlowe LOVES dog food and picking out any freeze-dried pieces of kibble. Luka will eat anything! Bonita likes any soft/chewy treats; any high quality treats (bones, etc.), she buries in a corner of the backyard. 
Special tricks: Keeper — getting into anything and everything. Marlowe — batting things off tables, nightstands, etc. Luka — catching every ball. Also has amazing recall. Bonita — incredible runner. 
Best quality: Keeper is the best cuddler. Marlowe is very loyal and is my little shadow.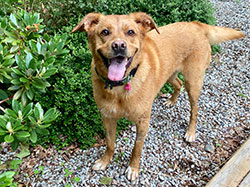 Luka has the goofiest smile and keeps me on my toes with her energy levels. Bonita makes me laugh with her quirkiness; she is also very sweet.
Luka was diagnosed with t-cell lymphoma in February and has been undergoing chemo treatments since March — please keep her in your thoughts! ❤
Pets of Dalhousie wraps up this week. Thanks to all who have submitted profiles of your animal friends.
We'll have new pets to meet in each Today@Dal until August 31, after which time you'll be able to browse our archives to check out the pets we've featured in this space over the past eight months.

You'll find pets from this month — Mila, Remy, Bean, Vester and Visby, Ash, Lola, Nibbler and Stormy, Oreo, Kuma, Charlie and Tony, Fozzy, Percy Doodle and Dolly, Saylor and Enzo — as well as pets from previous months:
The month in pets: January

The month in pets: February

The month in pets: March

The month in pets: April